News > Idaho
CdA wheelchair access advocate dies in crash
Tue., April 21, 2015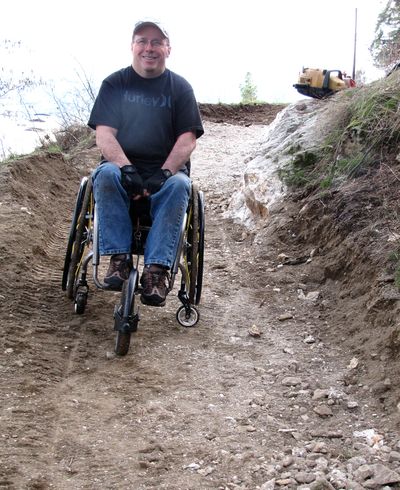 A Coeur d'Alene man who recovered from a severe spinal cord injury to lead an active life and advocate for those with physical challenges was killed Sunday when his all-terrain vehicle went over a cliff above Lake Pend Oreille.
Thomas W. McTevia, 42, died along with a friend, Tina A. Hoisington, 45, of Lewiston. Both were in the Polaris ATV when it plunged down a 500-foot embankment at Bernard Overlook just east of Farragut State Park, the Idaho State Police said.
McTevia, who was paralyzed in 2004 and used a wheelchair, represented the physically challenged community on the Coeur d'Alene Pedestrian and Bicycle Advisory Committee. He was a catalyst for the city to smooth out a portion of the Tubbs Hill trail on Lake Coeur d'Alene to make it accessible to wheelchair users.
"He wheeled into our office some years ago and asked why we didn't have an accessible trail on Tubbs Hill," said Doug Eastwood, the city's former parks director.
"He got to see it finished. He got to use it," Eastwood said. "He will be sorely missed. When I heard the news it was like somebody hit me in the chest with a baseball bat."
Advisory committee members and city officials are discussing a tribute to McTevia, a Navy veteran and former Orofino police officer, as part of an upcoming ribbon-cutting for the rebuilt Tubbs trail.
"We're trying to figure out how best to honor him," said Chris Bosley, chairman of the committee and a project manager at Welch Comer Engineers.
McTevia was involved in a four-wheeler accident in April 2004, suffering a spinal cord injury that left him without the use of his legs and with limited use of his arms and hands.
Despite the injury that ended his law enforcement career, McTevia pushed to lead an independent life full of adventure and outdoor activity, from kayaking and photography to hunting and skydiving.
McTevia also was a passionate hand-cycler, operating a bike with his hands.
"He would pedal or hand-crank this thing for many miles," Bosley said. "I saw him out on the Trail of the Coeur d'Alenes one day and he was putting in like a 20- or 30-mile ride, and then heading back to go ride his ATV and go see the sun set. He was an amazing guy."
Becky Mumford, the records supervisor at the Coeur d'Alene Police Department, became friends with McTevia through his volunteer work with the police.
"He was a wonderful voice for those of the wheelchair-bound community and spoke at many City Council meetings," Mumford said.
McTevia was "more active than most able-bodied people I know," she added.
"His love for adventure and the outdoors was incredible. … He and his son even took our son camping with them. He was someone you could trust with life's most precious treasure, your child."
In a profile in Live Well CdA magazine in February, McTevia said, "You can't live life in fear of what might happen. You have to get out and enjoy the gift you've been given."
McTevia grew up in Orofino and joined the Navy after graduating from high school. He spent four years in the Navy Seabees. In addition to the Orofino Police Department, he had worked part time with the Clearwater County Sheriff's Office.
He moved to Coeur d'Alene in 2006, and in 2009 he participated in the National Veterans Wheelchair Games in Spokane.
McTevia's son, who graduated from high school last year, lives in California.
Local journalism is essential.
Give directly to The Spokesman-Review's Northwest Passages community forums series -- which helps to offset the costs of several reporter and editor positions at the newspaper -- by using the easy options below. Gifts processed in this system are not tax deductible, but are predominately used to help meet the local financial requirements needed to receive national matching-grant funds.
Subscribe now to get breaking news alerts in your email inbox
Get breaking news delivered to your inbox as it happens.
---