Sports
Lelisa Desisa keeping his Boston Marathon medal this time
Tue., April 21, 2015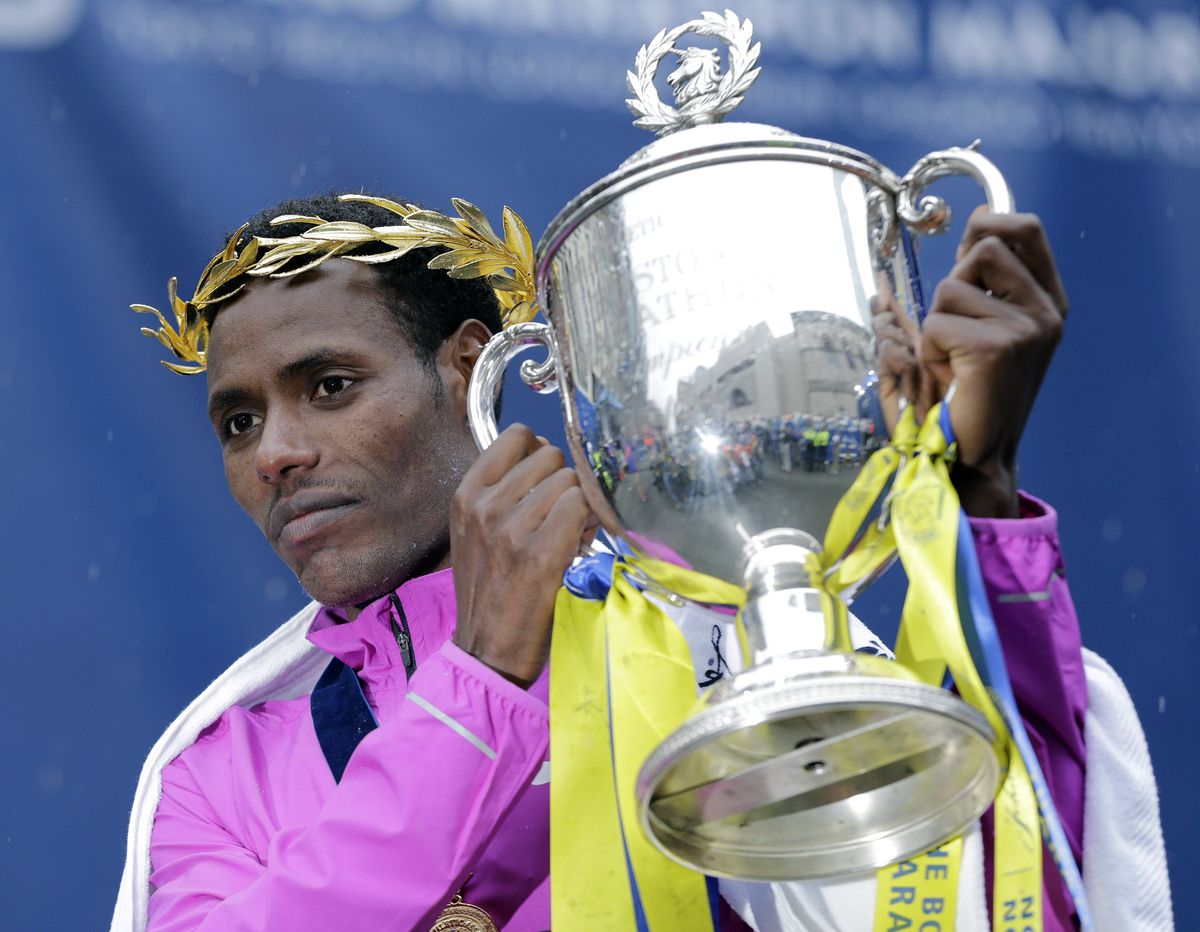 Lelisa Desisa wins at Boston for himself. (Associated Press)
BOSTON – He returned his winner's medal last time. Two months after the Tsarnaev brothers decided hate was the answer, Lelisa Desisa decided hate was no answer at all.
So there stood the lithe Ethiopian in late June 2013, in Boston Common for a 10-kilometer race organized by the Boston Athletic Association. He was presenting his Boston Marathon medal to Mayor Thomas Menino, returning it to the city to honor those murdered and injured in the marathon bombings.
Only a few hours after Desisa had crossed the finish line on April 15, 2013, for the greatest victory of his life, the earth trembled a few feet away on Boylston Street with horrifying defeat. Boston would grow strong from that ugly day when three perished and 260 were injured. And when Desisa honored Boston with his medal, the city would grow stronger.
"Sport holds the power to unify and connect people all over the world," Desisa said in June 2013. "Sport should never be used as a battleground."
With a determined late-race move Monday, Desisa pulled away from countryman Yemane Adhane Tsegay to win the 119th Boston Marathon in 2:09:17. He will keep this winner's medal.
"This," Desisa said with a smile, "is for me."
Desisa injured an ankle early in 2014. As a result, he said he had trouble keeping his balance on the hills of the Boston Marathon. He dropped out of the race he had won a year earlier.
Last year? Last year was Meb Keflezighi's time. Maybe it had to be that way in the first race after the bombings. With so much talk of "Boston Strong" and "America Strong" and thousands of Stars and Stripes unfurled along the 26.2-mile route, maybe an immigrant in our land of immigrants was meant to become the first American to win the men's race since 1983.
Meb pumped a fist that day last April as he crossed the finish line. He made the sign of the cross. He fell into the arms of 1983 champion Greg Meyer. We healed some in that moment.
"I cried last year," Keflezighi said after his 2014 triumph. "I cried this year. This time, it was tears of joy."
Filled with emotion, he teared up once again Monday at the finish line. Keflezighi had been among the leaders for most of the day before vomiting repeatedly late in the race. He would finish eighth in 2:12:42, one place and 1 minute, 22 seconds behind American Dathan Ritzenhein.
"The crowd was phenomenal," Keflezighi said. "I heard a lot of, 'Repeat! Repeat!' I was definitely thinking of that. It was a great field. We went together for a long time. I thought I had a shot at it. But at 35K, I went for a drink. They made a big move. I took a couple of sips. The water decided not to go down. I stopped five times and threw up. I looked at my watch."
The split times for his closing miles were not good.
"Still people were chanting like crazy, saying, 'USA! USA!' and, 'Go, Meb! Go!' I was chanting 'USA' with them. They still wanted to see me run, especially after I had stopped. I just wanted to get to that finish line. It took a long time."
As he approached the finish, Keflezighi slipped behind an unsuspecting woman runner. "I wish I knew her name. I never met her," Meb said.
Her name is Hilary Dionne, the 2012 Hartford Marathon winner. The elite women started a half hour before the elite men. That's why she was ahead of Keflezighi. At any rate, he grabbed Dionne's hand and raised it as they completed the race. The two hugged.
"Not my best time," Dionne later tweeted, "but by far my most memorable finish."
"I had to sprint to catch up to her," Keflezighi said. "I saw an opportunity for us to finish together and, hopefully, be memorable for both of us. You start together, a 26.2-mile journey, you know the struggle, good and bad."
Usually when an event sponsor interrupts a press conference, it is tacky, self-serving or both. When BAA spokesman Jack Fleming walked up and put the marathon trophy on the table where the top finishers sat, it seemed all together fitting.
"In 2013, we were sitting in these same chairs," Fleming said. "Soon after, unfortunately, Lelisa did not really get to have the kind of victory celebration that a champion of the Boston Marathon should have. Lelisa, we want you to get your due today after 2013."
Good stuff.
Maybe we are meant to move slowly, surely, one step in front of the other away from April 15, 2013. Slowly, surely, like in a 26.2-mile marathon, there is a return to normalcy. Yet those who suffered that day and why they suffered must never be forgotten. The athletic ties to that day, some obvious, others gently nuanced, are stories that will keep their memories alive.
Tatyana McFadden, who won the women's wheelchair race for the third year in a row, wore No. 8 in honor of 8-year-old Martin Richard, killed in the bombings. McFadden, a Russian orphan born with spina bifida, forged a personal bond with Martin's younger sister. Jane Richard, who had a leg amputated below the knee, underwent 14 surgeries and received a prosthetic leg. Keflezighi, meanwhile, raised thousands for the Martin Richard Foundation.
Boston Strong means Boston does not forget.
Keflezighi, who'll be 40 next month, said he is down to his last handful of marathons. He will run in the U.S. Olympic trials Feb. 13 and hopes to qualify for the Rio Games, but this could be his last elite level Boston Marathon. We'll see.
The marathon has meant great things for him: an Olympic silver medal in 2004, a New York triumph, last year's epic race when he won with the names of the three bombing victims and murdered MIT police officer Sean Collier written on his racing bib. Pushing on, while puking his guts out? He expected no less of himself.
"I dug deep today," Keflezighi said. "My wife said, besides London 2012, this was the gutsiest race I've run."
As he sat easily between the two top finishers, both Ethiopians, it was easy to forget Keflezighi's own father had once walked hundreds of miles through Eastern Africa to leave Eritrea in search of a new life for his family. Russom Keflezighi supported Eritrean liberation from Ethiopia, a bloody conflict that lasted decades. Young Meb, who became a naturalized American citizen in 1998, saw violence, saw the horrible results of land mines.
Keflezighi did not run Boston in 2013. He watched from the grandstands near the finish line before he left to appear for a race analysis for Universal Sports at the Fairmont Copley Plaza. Five minutes later, he heard a noise and then another.
How do you forget such a day? And how do you forget the tears of victory of last year?
"I was very emotional at the end of the race today," Keflezighi said. "I was crying on Boylston Street, because it was bringing up memories, good and bad. I saw this lady in front of me."
So he grabbed for Hilary Dionne's hand.
Local journalism is essential.
Give directly to The Spokesman-Review's Northwest Passages community forums series -- which helps to offset the costs of several reporter and editor positions at the newspaper -- by using the easy options below. Gifts processed in this system are not tax deductible, but are predominately used to help meet the local financial requirements needed to receive national matching-grant funds.
Subscribe to the sports newsletter
Get the day's top sports headlines and breaking news delivered to your inbox by subscribing here.
---