Sports > Seattle Mariners
Luis Valbuena hits two home runs in Houston's 7-5 victory over Seattle Mariners
Tue., April 21, 2015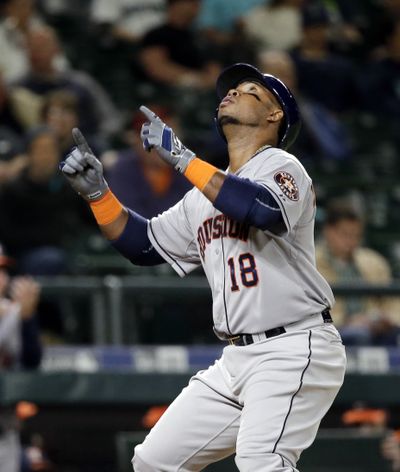 SEATTLE – At some point, presumably, the Mariners' vaunted rotation is going to perform to expectations. Until then, it figures to be one wild ride after another.
Monday's ride ended in a 7-5 loss to the Houston Astros when Luis Valbuena's second home run of the night provided the winning margin in a back-and-forth battle at Safeco Field.
Valbuena's game-winner came in the eighth inning against reliever Danny Farquhar and broke a 5-5 tie. The Astros nicked Farquhar (0-2), for another run later in the inning.
"It was a cutter away," Farquhar said. "I was trying to backdoor a cutter, and it just came back over the middle. Most of the time, you can get away with a cutter. Not that one."
And, no, the bullpen hasn't performed to last season's lockdown form in the first two-plus weeks.
But the Mariners' blueprint shows scoring five runs for Hisashi Iwakuma should be good enough. And for his second straight start … well, it wasn't.
"He has not been sharp," manager Lloyd McClendon said. "The ball was up again tonight. We've got to figure out a way to get him down in the zone. (His) fastball command just had not been good.
"He threw a couple of fastballs that just ran back to the middle of the plate, and they were up. Usually, that's a disaster."
The Mariners have scored 31 runs in the six combined starts by James Paxton and Iwakuma, their No. 2 and No. 3 starters, and have won just one of those games.
That one victory came Sunday when, after Paxton yielded seven runs in 2 2/3 innings, the Mariners stormed back for a stirring 11-10 victory over Texas.
"Obviously, when you don't pitch well," McClendon said, "that's a reason to be concerned. I'd be lying if I said I wasn't concerned.
"We've got to get it straightened out because we're much better than what we've shown to this point. When you score five runs in a game, you should win the ballgame."
On Monday, the Mariners overcame three separate one-run deficits behind Iwakuma and staked him to a 5-3 lead entering the sixth inning. Iwakuma and the bullpen couldn't hold it.
And the Mariners are 5-8.
Iwakuma labored through 5 1/3 innings before handing a 5-3 lead to Yoervis Medina with a runner on second.
The runner came around when Evan Gattis' grounder skipped through Gold Glove third baseman Kyle Seager for an error. Jed Lowrie fouled off five 1-2 pitches before pulling an RBI single to right. Tie game.
That meant a no-decision for Iwakuma, whose final line showed four runs on five hits with three strikeouts and no walks. His ERA through three starts is 6.61.
"I actually feel pretty good on the mound," Iwakuma said. "Even today, I felt like my stuff was working. It's just some of the pitches that were up in the zone, they didn't miss."
It remained 5-5 until Valbuena's homer off Farquhar.
Astros lefty Tony Sipp (1-0) pitched 1 1/3 scoreless innings in getting the victory. He stranded two inherited runners in the seventh inning before working a one-two-three eighth.
Luke Gregerson pitched a scoreless ninth inning for his third save.
Houston built its three one-run leads for starter Asher Wojciechowski, but he let each quickly slip away before exiting two batters into the fifth inning. He gave up four runs and eight hits.
The Mariners finished with 10 hits, including two doubles. Their three-four-five heart of Robinson Cano, Nelson Cruz and Kyle Seager had six hits, scored four runs and drove in three.
Just not good enough.
Cruz player of week
Cruz was picked Monday as the American League Player of the Week for the period that ended Sunday after the outfielder hit six homers and drove in 10 runs in six games.
Cruz had two homers and five RBIs in Sunday's 11-10 comeback victory over Texas at Safeco Field, including a walk-off RBI single with two outs in the ninth inning.
"That at-bat (Sunday) to win the ballgame," said M's manager McClendon, "you saw a very calm guy at the plate. He really slowed things down and did quite a good job of winning that ballgame."
This marks the fourth time in Cruz's career that he was picked as the A.L. Player of the Week. He initially won the award in 2010 while playing for Texas and won it twice last season while playing for Baltimore.
"When you're feeling good," Cruz said, "you see the pitches well, and you can drive the ball to any part of the field. Especially when I'm driving the ball the other way, that's when I'm feeling (my best)."
Cruz was 12 for 24 overall in the six games while compiling a 1.806 OPS (on-base plus slugging percentage). He also hit homers in the two games preceding the one-week award period and leads the majors with eight.
Five teams have fewer homers than Cruz: Cleveland and Miami (seven), Philadelphia and St, Louis (six) and Milwaukee (three).
Local journalism is essential.
Give directly to The Spokesman-Review's Northwest Passages community forums series -- which helps to offset the costs of several reporter and editor positions at the newspaper -- by using the easy options below. Gifts processed in this system are not tax deductible, but are predominately used to help meet the local financial requirements needed to receive national matching-grant funds.
Subscribe to the sports newsletter
Get the day's top sports headlines and breaking news delivered to your inbox by subscribing here.
---