News > Nation/World
Videos add to debate over police
Footage leads to some officers being charged
Tue., April 21, 2015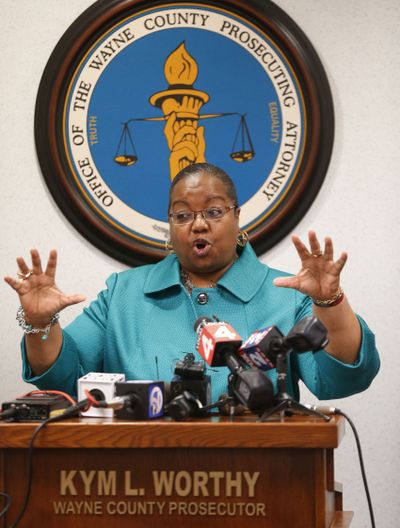 Killings of unarmed black men by white police officers in the past year have touched off a national debate about police conduct, which has only escalated as additional interactions between police and suspects – lethal or otherwise – are captured on video by law enforcement or civilians. Here are some recent developments.
DETROIT-AREA OFFICER CHARGED IN VIDEOTAPED BEATING
A prosecutor filed charges Monday against a police officer who pulled a man from his car during a Detroit-area traffic stop and beat him.
Wayne County Prosecutor Kym Worthy said public confidence in law enforcement is "eroded" when officers abuse citizens.
Inkster Officer William Melendez, who was recently fired, is charged with mistreatment of a prisoner and assault. Melendez has said "there are always two sides to every story."
Floyd Dent, 57, was bloodied by repeated punches to the head during the January traffic stop, which came to light in March when a TV station obtained the police dashcam video.
Meanwhile, no charges will be filed in a separate videotaped incident involving officers from Grosse Pointe Park and Highland Park. Carjacking suspect Andrew Jackson was kicked and punched while on the ground during an arrest in Detroit.
POLICE: BALTIMORE MAN WHO DIED ARRESTED 'WITHOUT FORCE'
A Baltimore man who died a week after his spine was nearly severed while in custody had been arrested "without force or incident," police said in court documents obtained Monday.
The officers had asked before 25-year-old Freddie Gray died of his injuries that he be charged with carrying a switchblade, punishable by a year in prison and a $500 fine, according to court records. One record says he suffered a medical emergency on April 12 while being taken to the station in a van and was rushed to the hospital.
Civilian video showed Gray being loaded into the van, but not the entire encounter. Police also released videos Monday showing Gray's arrest, but not what happened in the van.
Deputy Commissioner Jerry Rodriguez said the officers have been suspended. He added the autopsy shows that Gray suffered "a significant spinal injury that led to his death," but investigators don't know the cause.
"When Mr. Gray was put in that van, he could talk, he was upset, and when he was taken out of that van, he could not talk and he could not breathe," he said.
TULSA, Oklahoma, SHERIFF: VOLUNTEER DEPUTY'S TRAINING RECORD NOT FALSIFIED
Tulsa County Sheriff Stanley Glanz said Monday he doesn't believe training records for a volunteer deputy were falsified.
Insurance executive Robert Bates, 73, is charged with second-degree manslaughter in the death of Eric Harris, who was shot April 2 after running from officers during a sting investigation. Bates mistook his handgun for a stun gun.
Glanz said Bates, his longtime insurance agent, was properly trained and passed annual state-mandated firearms certifications. Glanz also said action will be taken against two deputies at the scene, including one caught on video cursing at Harris as he lay dying.
Glanz said the FBI had determined Bates didn't violate Harris' civil rights.
Dan Smolen, a lawyer for Harris' family, said Monday that the Sheriff's Office violated a number of its internal policies by letting Bates carry his personal handgun after training at the range on another weapon.
The Tulsa World newspaper, citing unidentified sources, has reported some of Bates' supervisors were told to certify him after he failed to meet some qualifications. Bates has disputed that.
Local journalism is essential.
Give directly to The Spokesman-Review's Northwest Passages community forums series -- which helps to offset the costs of several reporter and editor positions at the newspaper -- by using the easy options below. Gifts processed in this system are not tax deductible, but are predominately used to help meet the local financial requirements needed to receive national matching-grant funds.
Subscribe now to get breaking news alerts in your email inbox
Get breaking news delivered to your inbox as it happens.
---