News > Pacific NW
Woman rescued from burning church's roof in Olympia
Tue., April 21, 2015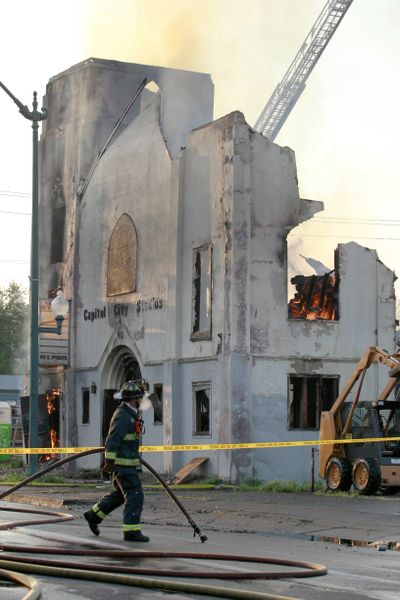 A woman was rescued from a burning building early Monday morning in downtown Olympia after flames drove her up to the roof.
At 2:25 a.m., firefighters responded to the scene, an empty building that had most recently been Capitol City Studios but had been built as a church.
A ladder truck rescued a woman from the roof about an hour before the roof collapsed. She had cuts and scrapes but refused aid and left the scene, Olympia Deputy Fire Chief Greg Wright said.
A man who also had been on the roof had jumped off the building and hurt his ankle, then ran away.
Both the woman and man later sought medical aid at Providence St. Peter Hospital, but the extent of their injuries was unknown, Wright said.
Officials escalated the response to two alarms, with about 40 firefighters battling the flames at one point.
The woman who had been rescued from the roof told fire officials she didn't believe anyone was inside the building, including its basement.
As of Monday morning, all that remained of the original Foursquare Gospel Church, built in 1939, was a pile of smoldering rubble.
Side walls from the building fell against both adjacent businesses, but they suffered no fire damage, Wright said.
The basement of an office behind the building was damaged by water running off from the fire scene, according to the fire department.
The stretch of Fourth Avenue in front of the building was closed to traffic most of the day, causing bottlenecks in the area.
Once firefighters finish fencing the area, the city will be responsible for working with the building's owner on cleanup.
Because the building collapsed and was pushed into a pile, "we're not going to be able to determine a cause and origin," Wright said.
He added the department has responded to other small fires at the abandoned building, which was well known as an informal refuge for the homeless.
The building has been owned by Steven Mullen since 2006, and county property records show the owner owes about $8,815 in delinquent taxes. The building had an assessed value of $123,200.
Local journalism is essential.
Give directly to The Spokesman-Review's Northwest Passages community forums series -- which helps to offset the costs of several reporter and editor positions at the newspaper -- by using the easy options below. Gifts processed in this system are not tax deductible, but are predominately used to help meet the local financial requirements needed to receive national matching-grant funds.
Subscribe now to get breaking news alerts in your email inbox
Get breaking news delivered to your inbox as it happens.
---