News > Idaho
Idaho nurse-family partnership program to be expanded
Thu., April 23, 2015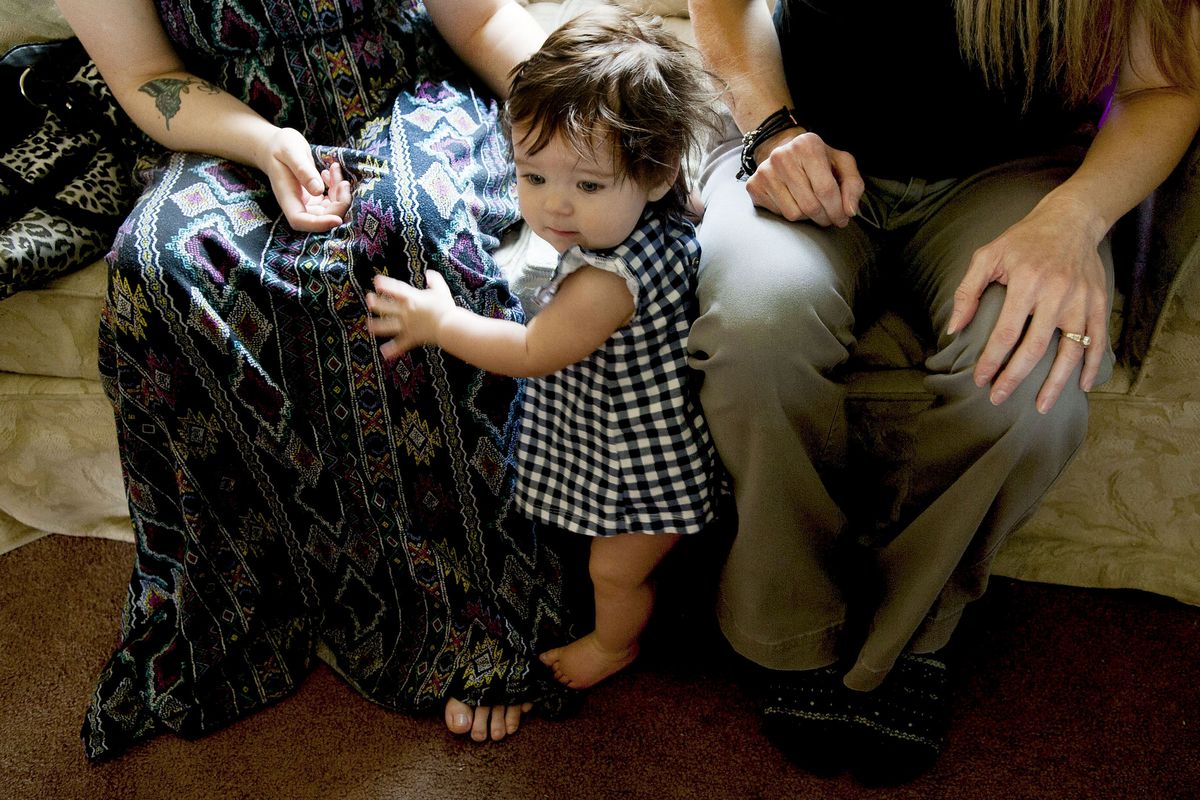 Arya Lewis, 8 months, and her mother Cory Campbell, left, are visited by nurse Jenni Hughes, right, at their home Monday in Rathdrum. Panhandle Health District offers a program that teams nurses with low-income moms for the first two years of the baby's life. (Kathy Plonka)
RATHDRUM – After her daughter was born, Cory Campbell had lots of questions.
Baby Arya was crying. Was she hungry or just fussy?
She was running a fever. Should Campbell take her to the doctor?
Was she eating enough? Gaining the right amount of weight?
Through the Panhandle Health District's Nurse-Family Partnership program, Campbell has a confidante and mentor to help guide her.
Campbell, 21, of Rathdrum, started meeting with Jenni Hughes, a health district nurse, when she was about three months pregnant. She finds Hughes, who visits every other week and is also available by phone, easy to talk to.
"I ask all the basic questions," Campbell said. "Being a first-time mom, it helps me a lot."
The program pairs low-income, first-time mothers with public health nurses during their pregnancies. The nurses meet regularly with the moms in their homes until the child's second birthday. National studies link the program to healthier babies and fewer subsequent pregnancies.
The Panhandle Health District is in the middle of expanding the Nurse-Family Partnership, which will be able to serve 100 families in Kootenai and Shoshone counties, about twice its current capacity. About two dozen women are on a waiting list.
On a recent morning, Hughes sat on the floor in Campbell's living room. Arya, an active 8-month-old with spiky brown hair, was the center of attention. She played with blocks and grabbed the remote while Campbell described her daughter's recent developmental milestones.
Arya can pull herself up and balance on her feet. She's starting to wave goodbye. She grabs the spoon and tries to feed herself.
"Even the doctor is impressed by how alert and how smart she is," Campbell said proudly.
Hughes weighed Arya, who had gained 7 ounces since her last visit. She complimented Campbell on the toys she had set out for Arya, and asked about their playtime. Was Campbell starting to play patty-cake with Arya, which would help her daughter develop language and motor skills? Had she tried introducing Arya to any finger foods, such as Cheerios?
She also praised Campbell's devotion to her daughter.
"When I see how much she enjoys being a mom, that makes me feel wonderful," Hughes said. "And, that makes all the difference for Arya."
The conversation also drifted to Campbell's future. She and her boyfriend, Devin Lewis, both work full-time. Campbell is currently a health aide in a nursing home, but she'd like to someday work with disabled children. Returning to school is one of her goals.
The Panhandle Health District started the Nurse-Family Partnership in July 2012, after conducting a needs assessment that looked at factors such as rates of child abuse, juvenile crime arrests and domestic violence. The program initially was run through a contract with the Spokane Regional Health District, but now is administered locally.
The state of Idaho funds the Nurse-Family Partnership out of a two-year, $3.2 million federal grant that also pays for other home-visiting programs throughout the state.
A recent increase in grant funds will allow the Panhandle Health District to hire two more nurses for the Nurse-Family Partnership, bringing the total to five, said Melanie Collett, a health district spokeswoman. Eventually, the health district would like to offer the program in all five North Idaho counties, she said.
Several decades of national research indicate that for every $1 spent on families through the Nurse-Family Partnership, more than $5 is saved through reduced spending on health care, child protection, criminal justice, mental health and public assistance.
At the Spokane Regional Health District, more than 700 families have participated in the Nurse-Family Partnership since 2008, said Susan Schultz, program manager. The district's tracking reveals positive outcomes.
Mothers in the program had high rates of breastfeeding. The women reported less violence in their homes and waited longer to get pregnant again. Ninety percent of the children in the program had received all their immunizations by age 2.
Hughes worked as a birthing and lactation coach before she joined the Panhandle Health District's program. She enjoys helping first-time mothers mature in their parenting skills.
"This is my dream job," she said. "Just getting to have that relationship with these women and their families is very rewarding."
Local journalism is essential.
Give directly to The Spokesman-Review's Northwest Passages community forums series -- which helps to offset the costs of several reporter and editor positions at the newspaper -- by using the easy options below. Gifts processed in this system are not tax deductible, but are predominately used to help meet the local financial requirements needed to receive national matching-grant funds.
Subscribe now to get breaking news alerts in your email inbox
Get breaking news delivered to your inbox as it happens.
---