News > Spokane
Shooting suspect held on $1 million bond
Thu., April 23, 2015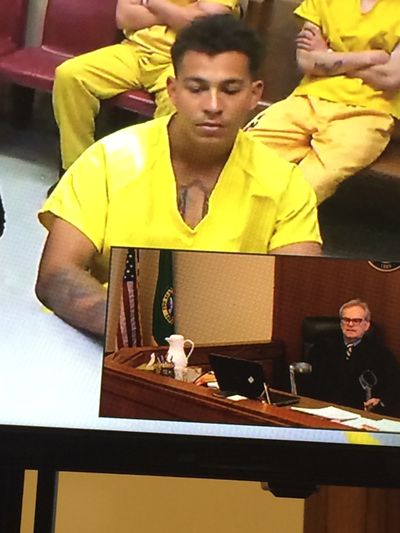 Multiple witnesses saw Diandre R. Johnson immediately before and after a shooting on the South Hill Tuesday night and several told police that Johnson was angry and threatening to kill someone. Johnson, 18, appeared in court Thursday and was ordered held in the Spokane County Jail on $1 million bond on a charge of attempted first-degree murder (with robbery). A group of teens were walking in Manito Park around 8 p.m. when they encountered Johnson and his suspected accomplice, whom they knew from school. Both were wearing hoodies with the hoods up and Johnson appeared agitated, according to court documents. One witness told police that Johnson told her "I'm about to kill somebody." Several of the teens were so concerned that they called 911 to report the encounter. The victim of the shooting, identified as Julien Sather, told police that he had pulled his truck into a parking lot at 13th Avenue and Cowley to smoke a cigarette. He said two people he didn't know approached him and demanded his money. He told police he was shot through the open driver's side window as he attempted to drive away, according to court documents. Sather went into the nearby 7-Eleven for help and later identified Johnson from a photograph. Another witness told police that he heard a gunshot and then saw Johnson, whom he knows, run past the 7-Eleven with his accomplice. Police found a "large" bag of marijuana in Sather's truck, according to court documents. The suspected accomplice has been identified but not located. The grandfather of the second suspect said his grandson called him and said that he and Johnson had planned to meet the victim to buy marijuana but Johnson pulled a gun and demanded the marijuana instead, according to court documents. He told his grandfather that he didn't know Johnson intended to rob or shoot Sather. Johnson turned himself in to police on Wednesday but has refused to give a statement about the shooting, according to court documents.
Local journalism is essential.
Give directly to The Spokesman-Review's Northwest Passages community forums series -- which helps to offset the costs of several reporter and editor positions at the newspaper -- by using the easy options below. Gifts processed in this system are not tax deductible, but are predominately used to help meet the local financial requirements needed to receive national matching-grant funds.
Subscribe now to get breaking news alerts in your email inbox
Get breaking news delivered to your inbox as it happens.
---