A&E > Entertainment
Cirque du Soleil show 'Varekai' blends dance, aerial performance and a myth reimagined
Fri., April 24, 2015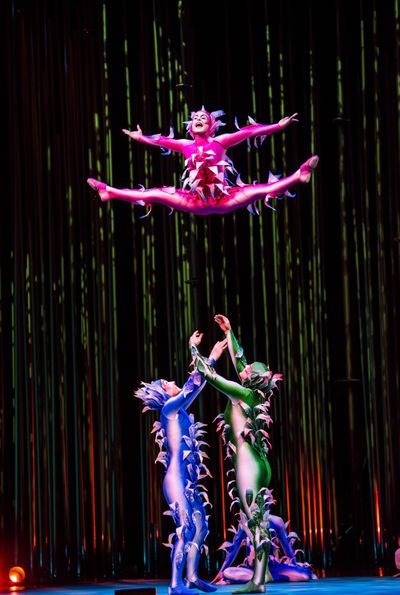 Fabrice Lemire lives "Varekai."
As the show's artistic director, he travels with the troupe and is "with them 24/7."
He jokes that he's the show's babysitter.
Really, he's a facilitator: the guy who makes sure things run as smoothly as possible and who ensures the health and well-being of the cast and crew.
"As much as I'm here to supervise the content, I'm mostly here to facilitate the performance of the artists," Lemire said in a recent telephone interview.
The show he's facilitating is one of Cirque du Soleil's traveling spectacles. The Montreal-based European-style circus company has for years specialized in bringing amazing high-wire acts and impressive tumbling routines to towns around the world. "Varekai" takes its inspiration from the legend of Icarus, who in Greek mythology created wings of wax, then died when he flew too close to the sun. "Varekai" imagines that Icarus, rather than plunging into the sea, landed in a forest atop a volcano and set off on an adventure among the fantastical creatures who live there.
"Varekai," Lemire said, is in many ways a metaphor: "How, after you fall from whatever drama you've had, how do you get up and walk again? How do you transition in life and continue to move forward? It's very much letting go of your past and what's comfortable to you and embracing the end. That is the message."
It's set to a score described on the " Varekai" website as "down-tempo chill-out house music with a Latin flavour."
The show features 50 artists of 18 nationalities. They're clowns and aerialists, tumblers and dancers, acrobats and musicians. The equipment travels from city to city in 16 semitrucks.
Lemire has been with "Varekai" since November 2012. He joined the show in Chile, when it was still being performed as one of Cirque's traveling big top shows. Lemire helped transition "Varekai" from the tent to the arena.
"It was a lot of adjustments," Lemire said. The work involved trimming 30 minutes from the show, scaling down some of the aerial acts and reorganizing some of the routines. They created two versions of the show to fit into a variety of arenas. And because "Varekai" was originally created in 2002, it made sense to re-evaluate the technology the show employs, such as the sound system, and automate the aerial cues.
"It used to be in the big top, you had a technician with what we called a joystick who would lift the performer," he said. "What we did in the arena is we put everything into an automation programmer. This is of course led by a technician, but it makes the transitions smoother."
Lemire, who was born in France and trained as a ballet dancer, is a former dancer with the Portland-based Oregon Ballet Theater. He is making a return trip to Spokane – he danced here in a production of "Cahiers d'Enfance" with the Theatre Ballet of Spokane in 1998.
"After Spokane we ('Varekai') go to Portland. It's going to be a reunion for me because I'll be catching up with old friends I haven't seen since '96," he said. "It's been what, 20 years?"
Local journalism is essential.
Give directly to The Spokesman-Review's Northwest Passages community forums series -- which helps to offset the costs of several reporter and editor positions at the newspaper -- by using the easy options below. Gifts processed in this system are not tax deductible, but are predominately used to help meet the local financial requirements needed to receive national matching-grant funds.
Subscribe to the Spokane7 email newsletter
Get the day's top entertainment headlines delivered to your inbox every morning.
---