Sports
GSL track and field: Unbeaten Central Valley boys ease past Ferris
Fri., April 24, 2015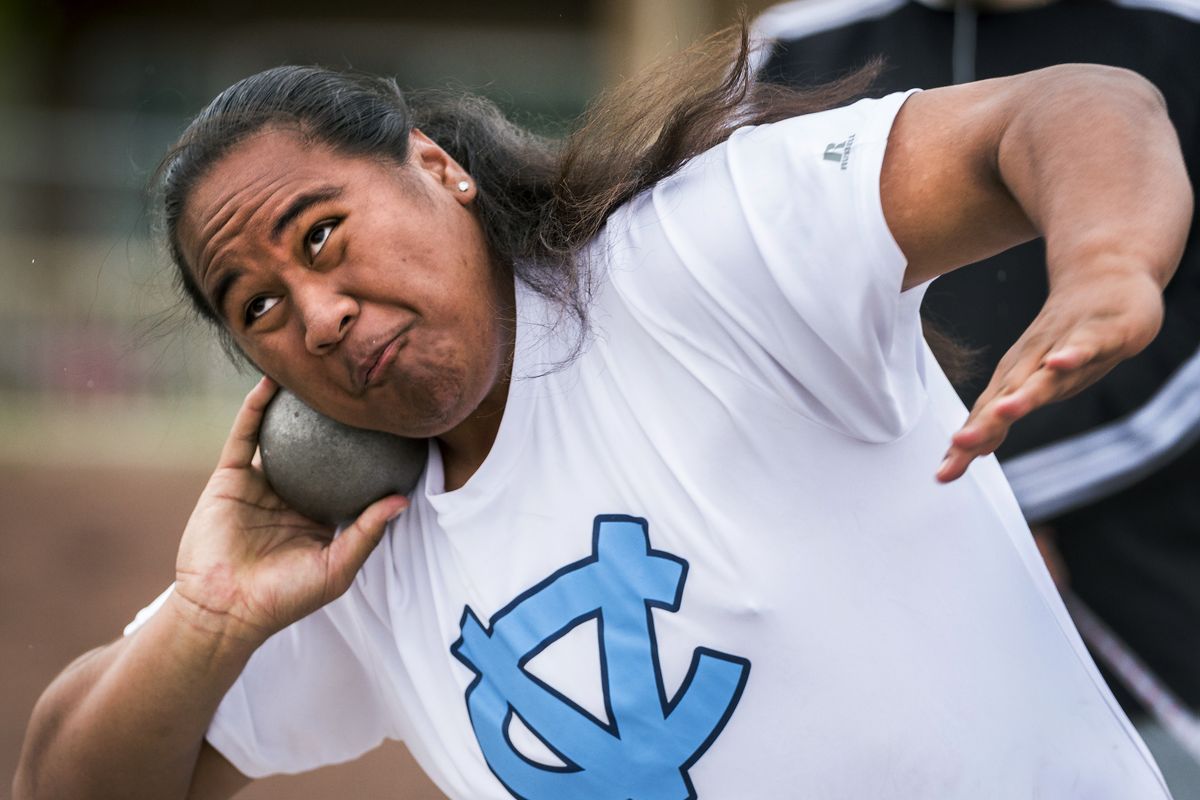 Central Valley's Jordan Talafili won the shot put in Thursday's GSL meet with a toss of 52 feet, 6 inches. (Colin Mulvany photos)
It was supposed to be a showdown between the two unbeaten Greater Spokane League boys track teams.
Central Valley turned it into a convincing win. The Bears topped visiting Ferris 82-63 on a chilly Thursday afternoon.
Junior Ben Craig led CV (6-0), winning both the 110- (14.69 seconds) and 300-meter hurdles (41.60) and taking second behind teammate Max Sykes in the high jump. Craig's hurdle times were career bests.
"My best events are the 110 hurdles and high jump, but I think I have more potential in the 110s," Craig said. "This league is so competitive in the 110s."
The same can be said of the high jump. Sykes jumped a career-best 6 feet, 6 inches.
"I've been feeling healthier than last year," Sykes said. "I think I can get to 6-8 or 6-10. I've just got to keep those hips up. The high jump is real competitive in 4A this year."
Sykes didn't push himself in practice on Wednesday – and he thought that would provide an opportunity to do well Thursday.
"I took it easier so I'd be fresher and could push myself," Sykes said.
CV coach Chuck Bowden provided a catalyst for his team when he posted a note in the locker room predicting a Ferris win by three points.
"It motivated them," Bowden said. "We talked about how we can't control everything, but we can control how we react to everything. I was pleased overall. Maybe it's coach talk, but what I liked was our togetherness. We've worked a lot this year – all training aside – on building the team bond. This is a great group that's embraced it."
Bowden recalled when the seniors were freshmen and something he said at the year-ending banquet.
"The senior group gets overlooked," said Bowden, in his 25th year as head coach. "But I told them when they were freshmen that they were the best freshmen class I've ever seen and they'll be GSL champions by the time they're seniors. They've appropriately chased that dream, that title."
The Bears can all but lock up the title on Thursday when they challenge Mt. Spokane at Shadle Park.
"It's fun to have a job where they breathe life into you," Bowden said.
Other CV winners were Briton Demars in the 1,600 (4:22.68), Trevor Brown in the pole vault (14-0), Parker Bowden in the long jump (20-4¼) and Jordan Talafili in the shot put (52-6).
Ferris (4-1) was led by three-event winner Jalen Hicks, who captured the 100 (10.92), 200 (22.77) and triple jump (44-4).
• In a GSL girls meet, league lone unbeaten CV (6-0) handled visiting Ferris 112-38 and the North Central Indians 137-13.
Local journalism is essential.
Give directly to The Spokesman-Review's Northwest Passages community forums series -- which helps to offset the costs of several reporter and editor positions at the newspaper -- by using the easy options below. Gifts processed in this system are not tax deductible, but are predominately used to help meet the local financial requirements needed to receive national matching-grant funds.
Subscribe to the sports newsletter
Get the day's top sports headlines and breaking news delivered to your inbox by subscribing here.
---