A&E > Entertainment
Quirky world of 'Night Vale' podcast comes to Bing Theater stage
Fri., April 24, 2015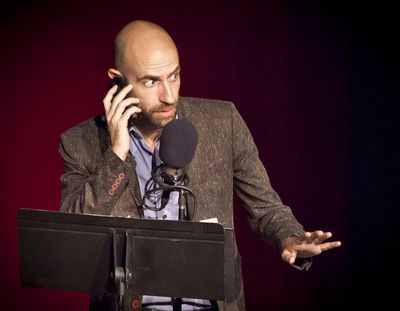 Don't fear the Glow Cloud that may or may not be hovering above the Bing Crosby Theater on Monday night.
You may, however, see fans of the wildly popular bimonthly podcast "Welcome to Night Vale" running toward the theater, shrieking and waving their arms.
The 30-minute show, described as "weird NPR" by performer Meg Bashwiner, has earned a devoted fan base in a little less than three years. The fictional show has occasionally reached more ears than podcast titans such as "This American Life," "Freakonomics Radio" and "TEDTalks," according to download charts.
"We really love getting out to cities to meet fans," said Bashwiner, known to fans of the podcast as the proverb reader, who closes each show with a quirky saying often recycled from the show's Twitter feed. "It's something that's really unique and special to our show."
The podcast is presented as a half-hour fictional community news program "where angels and aliens and things like that exist, and they're commonplace," Bashwiner said.
"I think it takes the things that are commonplace in our world and fantasizes them – tweaks them to make them interesting or subversive," she said.
The Glow Cloud, a humming phosphorescent mass that drops barnyard animals on the fictional desert town in the American Southwest, is just one of the many bizarre recurring characters invented by podcast creators Joseph Fink and Jeffrey Cranor. Another is narrator Cecil, played by Cecil Baldwin, who will deliver one of the show's signature eccentric scripts written for a live audience at the Monday show.
It is the first time the creators and performers of the podcast, most of them members of New York theater troupe The Neo-Futurists, will visit Spokane. The podcast has toured with several live show scripts since it debuted in June 2012, including "The Librarians," released on iTunes last month.
"It won't be an episode that's already been done before," Bashwiner said. "It's written for a live audience."
That show will include performances from Disparition, the Brooklyn-based composer who performs the show's ambient theme, and Mary Epworth, a British singer who fans of the podcast will remember as the artist performing during the episode "The Faceless Old Woman." A five- or six-song set will open the show, Bashwiner said, then she'll serve as master of ceremonies as Baldwin and other guest stars perform familiar and new roles in the written-for-the-tour script.
"Sometimes there's audience interaction," Bashwiner said. "There's acknowledgment of the present day, and things like that."
The treat of seeing the show live is watching Baldwin, who's a classically trained actor, Bashwiner said. Parts of his performance are lost in an audio podcast.
"I would watch him read the phone book," Bashwiner said, laughing.
Past guest stars on live shows have included Dylan Marron, who plays Cecil's love interest, scientist Carlos, on the podcast. Rocker Andrew W.K. appeared at a New York live show in January as one of the expendable interns on the show, who have been compared to the ill-fated redshirts on the classic "Star Trek" TV series.
With a bevy of memorable bit characters to choose from, Bashwiner said it's difficult to pick a favorite. But the aforementioned "Faceless Old Woman Who Secretly Lives in Your Home," played by Mara Wilson, is among her most memorable.
"She does such an amazing job with it," Bashwiner said of Wilson, who as a child star appeared in "Mrs. Doubtfire" and "Matilda." "She has excellent comedic timing."
Bashwiner said in February that Fink and Cranor were still working on the tour's script. But Monday's show will mark the halfway point on a 46-show tour to cities such as New York, Boston, St. Louis and Seattle, many of which have sold out. While the experience will be special for those who have listened to all of the podcast's roughly 70 episodes, it's designed to also appeal to the novice, she said.
"I think you can come to the show off the street, not know what you're getting into, and still have an amazing night of theater," she said.
Take an umbrella that can handle falling animals up to, say, 10 pounds, though. Just in case.
Local journalism is essential.
Give directly to The Spokesman-Review's Northwest Passages community forums series -- which helps to offset the costs of several reporter and editor positions at the newspaper -- by using the easy options below. Gifts processed in this system are not tax deductible, but are predominately used to help meet the local financial requirements needed to receive national matching-grant funds.
Subscribe to the Spokane7 email newsletter
Get the day's top entertainment headlines delivered to your inbox every morning.
---