This column reflects the opinion of the writer. To learn about the differences between a news story and an opinion column, click here.
Opinion > Column
Shawn Vestal: Spreading a little free literature in honor of Get Lit!
Fri., April 24, 2015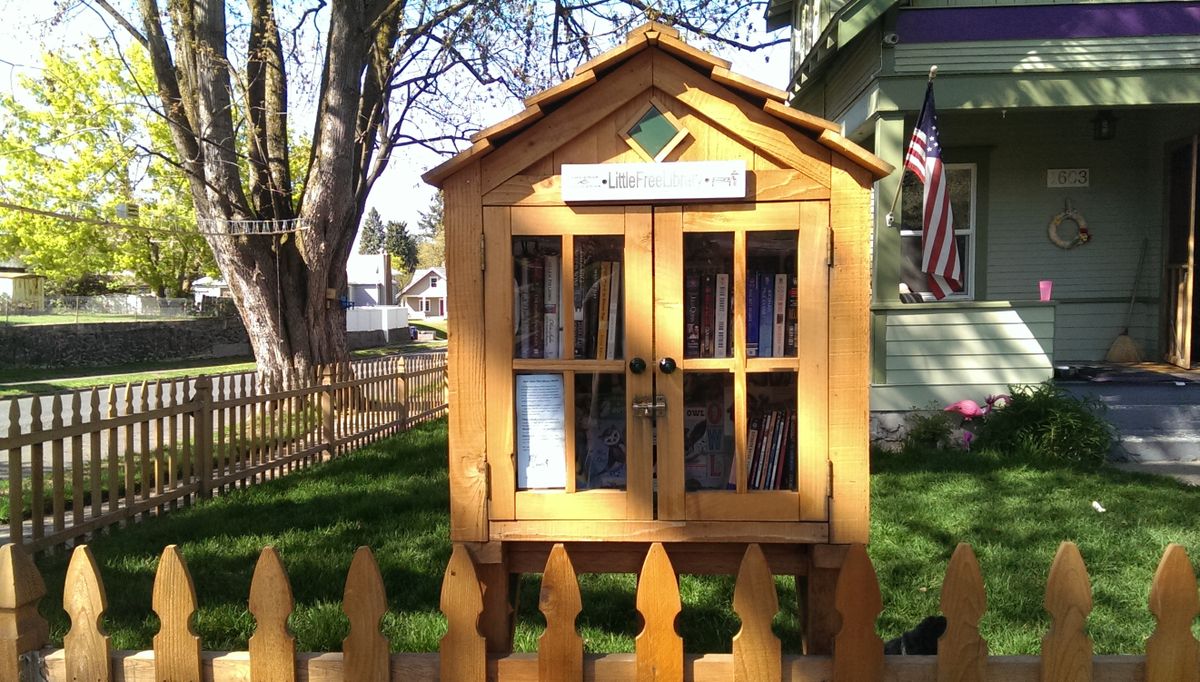 13th and Helena
The dispersion followed no logic: Dickens and Whitman in Browne's Addition. Sherman Alexie and Jonathan Lethem on the North Side. Marilynn Robinson and Joyce Carol Oates in the Perry District. Henry James and Saul Bellow on the South Hill.
In no particular order, and for no reason other than this week is Get Lit! – which fills me with good cheer over books and the people who make and read them – I spread a bunch of books around Spokane this week. Cleared them off my shelves and left them in "little free libraries" all over town.
One might fairly accuse me of trying to thin the crushing piles of books around my house. But, while I did not give up many of my most treasured books, neither did I spread around junk. Because I set out to write about this, I probably let go of better books than I otherwise would have – my book vanity is strong.
You're probably familiar with these little bookhouses: take a book, leave a book. The idea started in Madison, Wisconsin, in 2009, and has grown like mad. There are now more than 40 of them in Spokane listed on littlefreelibrary.org, and there are certainly others beyond that. When I put out a call on social media for some suggestions, I got many, many more than I could use. One of my friends – who lives, as I do, on the lower South Hill – said, "Our area is kind of rotten with them."
The little libraries come in a wide and interesting variety. Some are the simplest little wooden shelves imaginable, little larger than a mailbox. Others have several levels and marked sections, design features and bright colors. All have a few standard features, like glass doors and pitched roofs, covered in everything from asphalt shingles to license plates.
I set out to visit 20 of them this week, broken into two sunny afternoons of delivery, and left 60 books. I was very tempted several times, but did not take any home.
As I combed my stacks, I was surprised to find I had two copies of several great books: James' "The Ambassadors," and my friend Sam Ligon's short-story collection "Drift and Swerve"; Walt Whitman's "Leaves of Grass" and Robinson's "Housekeeping"; Alexander Solzhenitsyn's "One Day in the Life of Ivan Denisovich" and Cormac McCarthy's "All the Pretty Horses."
Out they went to the four corners of Spokane. Not all the books were English-class stuff, though my taste goes that way. Volumes of Elmore Leonard, James Ellroy and Dashiell Hammett also were planted in Spokane's little bookhouses.
I left several titles by authors who have been to Spokane in recent years, for Get Lit! and other events: Joyce Carol Oates' "We Were The Mulvaneys"; Jane Smiley's "A Thousand Acres"; Ben Percy's "Refresh, Refresh"; Ben Fountain's "Billy Lynn's Long Halftime Walk"; Anthony Doerr's "The Shell Collector"; Colson Whitehead's "The Intuitionist"; and Jaimy Gordon's "Lord of Misrule."
None of the little free librarians that I visited is a person I know, with one exception: City Council President Ben Stuckart. At Ben's Little Free Library, I left Robert Penn Warren's "All the King's Men" – a book about the corrupting power of politics! – along with "The Yiddish Policeman's Union," by Michael Chabon and "Let the Great World Spin," by Colum McCann.
It was, all in all, a pleasant way to spend a chunk of the week – going through my books (petting them and cooing at them a bit, like a strung-out book junkie), fighting my desire to keep them, and driving neighborhood-to- neighborhood through Spokane, planting little seeds on a sunny day.
Shawn Vestal can be reached at (509) 459-5431 or
shawnv@spokesman.com
. Follow him on Twitter at @vestal13.
---
---