A&E > Entertainment
Wayne Hancock brings old-school country to the Bartlett
Fri., April 24, 2015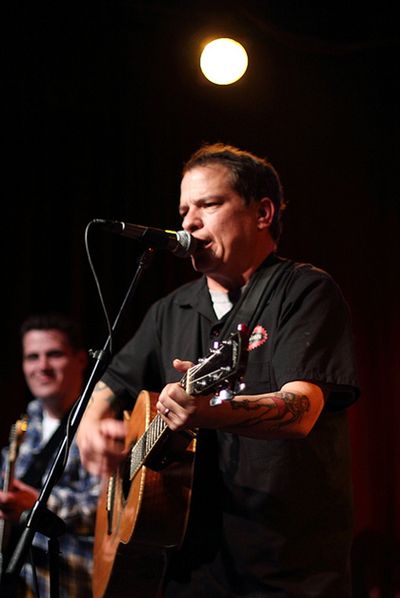 There's no pop veneer to Wayne "The Train" Hancock. His is gritty, rusty, dirt-under-your-fingernails country, the kind of music you'd expect to hear at a dirt road juke joint after everyone's had one too many beers.
Hancock, who performs at the Bartlett on Tuesday, grew up at a time when most country stations were dominated by the likes of Glen Campbell, Dolly Parton and Ronnie Milsap. But the music he preferred when his engineer father started teaching him chords on the guitar wasn't exactly en vogue.
"Back then, I hated country music," Hancock said. "I really like the older style, the late '40s and '50s style. Coming up in the '70s, when you'd ask to hear Hank Williams, you'd get Hank Jr."
Hancock didn't fall into a professional music career until he was in his 30s, releasing his first album, "Thunderstorms and Neon Signs," in 1995. He's been touring regularly since.
"It's not Top 40, and you've got to keep drilling it into peoples' heads," he said of his work. "Up until satellite radio came out, we didn't get airplay at all. The only way to get your records out there was to tour full-time."
Hancock's songs typically possess a bitter, cynical edge, and most of them wrestle with themes of violence, jealousy, infidelity and the cruel hand of fate. "Highway 54" is about a man who discovers his wife is cheating with his best friend after they die together in a car wreck. "Deal Gone Down" is about a jilted lover who goes on a killing spree and then turns the gun on himself. And "Drinkin' Blues"…well, that one's self-explanatory.
But Hancock claims most of his songs are supposed to be read as twisted comedy: He's pushing the storytelling tropes of your typical C&W song to dramatic extremes, and his most upbeat songs often have the bleakest lyrical content (he points to the country standard "Cocaine Blues" as a stylistic influence).
"I'm taking the average country song from the '70s and '80s, and I'm turning it around," Hancock said. "If I'm singing a sad song about losing my woman on Highway 54, and when I talk about her getting killed when a freight train runs 'em down, I sort of grin at the audience. They don't know what the hell I'm thinking then, do they?"
There's a dark, almost sinister quality to a lot of Hancock's music, which is what elevates it above typical genre pastiche: While so many modern country artists are yee-hawing about red Solo cups and how sexy their tractors are, Hancock is gruffly relating Southern gothics about outlaws, gunrunners and spurned lovers.
That he's working outside the mainstream system is obvious, but Hancock says he's learned to embrace his retro sensibilities.
"The problem with me is that I have nothing in common with the music that's on the radio – I can't feel it, you know?" he said. "I know it sounds strange, but most of the stuff you hear on the radio that's produced by the labels, it feels like it's sucking the life right out of me. I have to live. … I sometimes wish I could turn on the radio and enjoy what's on there like everybody else, but I can't. I guess if I can't enjoy what's on the radio, by God, I'll just play my music."
Local journalism is essential.
Give directly to The Spokesman-Review's Northwest Passages community forums series -- which helps to offset the costs of several reporter and editor positions at the newspaper -- by using the easy options below. Gifts processed in this system are not tax deductible, but are predominately used to help meet the local financial requirements needed to receive national matching-grant funds.
Subscribe to the Spokane7 email newsletter
Get the day's top entertainment headlines delivered to your inbox every morning.
---