Idaho earthquake cluster 'a real mystery'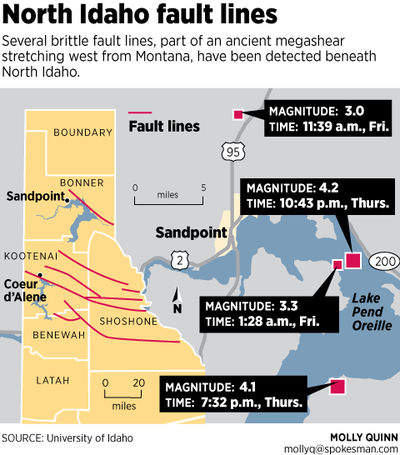 Inland Northwest earthquakes tend to be more mysterious than others.
"We're a long way from the nearest plate boundary," said Ken Sprenke, a professor of geophysics at the University of Idaho, explaining the Yellowstone hot spot is too far away to have caused the four earthquakes that shook North Idaho late Thursday and again Friday. "These are a real mystery."
The Sandpoint-area earthquakes occurred along what's known as the Hope Fault, which is at the northern edge of a large seismic zone stretching from Helena to Coeur d'Alene, with possible extensions into Spokane. But pinpointing the specific cause is difficult, Sprenke said: "It's harder to say with these earthquakes."
The temblors came during an unusually active seismic period across the Pacific Northwest.
Smaller earthquakes were reported Thursday night in California, eastern Oregon and southern Idaho. On Friday morning, a magnitude 6.1 quake was reported off the coast of British Columbia.
"We have had a very active day," said Doug Gibbons, an assistant researcher with the Pacific Northwest Seismic Network at the University of Washington. "We've hit all four corners of our area, which is certainly unique, but I wouldn't say any of those related to each other."
Over the years, numerous earthquakes have occurred along the Montana and Idaho seismic zone, including three in October 1935 that toppled buildings and devastated much of Helena, according to the University of Idaho. It's part of an ancient megashear in the Earth's crust known among research scientists as the Lewis and Clark Zone.
A swarm of smaller earthquakes that hit the Spokane area in 2001 is what led researchers to conclude the ancient fault lines could extend into parts of Eastern Washington as well.
Strenke said interest in Spokane's nearly yearlong experience with repeated, mostly smaller earthquakes is growing. The University of Washington, for example, installed additional seismic monitoring equipement.
"They sort of died right off," Gibbons said of the quakes.
But researchers see similarities between the Spokane swarm and the latest North Idaho earthquakes.
"They are shallow events," Gibbons explained. "It's similar to the trend we saw in Spokane, where they're occurring on an ancient fault."
The Sandpoint-area quakes began at 7:32 p.m. Thursday, when a magnitude 4.1 earthquake hit 14 miles southeast of the city and about 3.1 miles below the surface, according to the University of Washington.
About three hours later, a magnitude 4.2 hit east of Sandpoint near Hope, also about 3.1 miles below the surface. Shortly before 1:30 a.m. Friday, a magnitude 3.3 hit near Hope, about 12.7 miles below the surface, and a 3.0 quake hit about 11:30 a.m. 9 miles north of Sandpoint, about 1.5 miles below the surface.
Meanwhile, a magnitude 6.1 earthquake hit about 7 a.m. Friday about 130 miles southeast of Queen Charlotte off the northern British Columbia coast, the Associated Press reported.
---