Sports > Outdoors
Yakima fly fishing peaks with dry run
Sun., April 26, 2015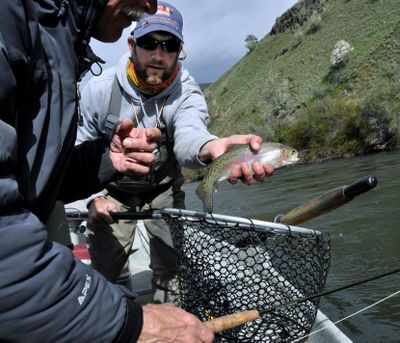 Fly fishing can sometimes be just like any other method for hooking a trout.
Sometimes fly fishers get their jollies casting a weighted Woolly Bugger and stripping it back as fast as possible to trigger strikes – much like casting a Rooster Tail spinner.
Drifting a nymph under a "strike indicator," is the fly fisher's equivalent of soaking a baited jig under a bobber. Either way, when the floating device goes down, you set the hook and reel in the fish.
Of course, fly fishing has a more noble approach than these other methods. The idea is to "match the hatch" with lifelike patterns that replicate natural aquatic foods.
Bait drowners might scoff and point out that a nightcrawler is more natural than a Bionic Worm.
But let them eat their words. When was the last time you saw a nightcrawler drifting down the current of a river? Never, unless a little boy was upstream satisfying his curiosity.
I get it about fly fishing, but I'm honest.
Catching a discriminating trout on a chironomid pupae pattern is a more spiritual experience than hooking a knuckle-dragging fish that would lower itself to inhaling a worm and marshmallow.
Yet fly fishing is not synonymous with purity.
Adding Angel Hair to "superflash" a Pheasant Tail Nymph is the moral equivalent of advocating boob jobs for otherwise hard-working, productive front-counter employees.
Fly fishers are not morally above prostituting themselves for bragging rights.
Trust me, though. The sport has its Zen moments.
All of this was running through my mind two weeks ago as I was drifting down the Yakima River in my once- or twice-a-year splurge with a fly fishing guide.
Most of the good Yakima Canyon fishing stretches are along cliffs or brushy slopes that are out of reach to shore angling. Floating my own pontoon offers access to more water. But having a guide at the oars of a drift boat is worth the investment on this river.
Stefan Woodruff, 24, of Ellensburg Angler is a good catch among the river's guides. He's been fishing since age 6. He started exploring the Yakima from his West Side home as a kid with his fly-fishing die-hard father. He's the real deal – and on the river almost every day this time of year.
"March Browns have been hatching about 1 o'clock," he said as we launched that morning, raising my hopes as we drifted along the Sahara Desert of surface insect activity.
Swallows were napping.
My buddy, David Moershel, and I tolerated nymph fishing under an indicator through the morning. We caught fish, too, including rainbows and several whitefish, which Woodruff released as though they were ticking bombs.
"I can't be snobby about catching whitefish when I'm bobber fishing," I told him.
"Nice fish, for a whitefish," he said after I'd actually showed delight in the fight of one big, muscular whitie.
We pulled off to the side for an early lunch across from an eddy and a brushy shoreline below a steep rocky wall.
"We want to be here if the hatch comes off," he said.
The average chef takes more time making a peanut-butter and jelly sandwich than it took Woodruff to have salads on our plates and two marinated steaks smoking on his propane grill. We waded in from making a few casts and started to eat as he kept watching the river.
Minutes later, when the fish started to rise in the eddy, we downed the last of our steaks with the grace of Labrador retrievers, climbed into the boat and rowed to the Promised Land.
Nothing separates fly fishing from other methods of hooking a trout like casting a dry fly to rising trout.
"I'll have you take turns," Woodruff said as he gently worked the boat to the top of the eddy. "Two people casting are more likely to put them down. Five casts and then we alternate."
A bomb could have detonated; the Rapture could have arrived; Hillary could have been elected – nothing could have distracted me as I watched my Comparadun float along a seam among the naturals.
Nothing rivets a fly fisher's attention like a series of trout rising inches from his pattern to take flies off the river's surface.
"Nice fish," Woodruff said several times as Moershel and I caught feisty rainbows in the 11- to 14-inch range. "But I saw a really big cutthroat in here yesterday."
"That's a bigger fish," I said, pointing to the more subtle rise on a difficult-to-drift inside current.
The trout we'd been catching were hitting fast, requiring the hook-setting reaction time of a 20-year-old.
We were late on a few.
"There he is again," I said.
It was my turn and Woodruff put me in position. I was short with the first cast, on the money with the second and in the big-fish's neighborhood on the third. No interest.
On the fourth cast my pattern was drifting perfectly among a half dozen real, live, fluttering March Browns when a chrome hub cap seemed to break loose from the depths of the river.
Up it came in slow-motion, looking more like a big trout with every inch it gained toward my fly. My beard grew several inches longer, and it was finally at the surface, mouth open.
I lifted my rod – but too soon. My hook just barely ticked the monster's lip. The fly came back at me, along with groans and heckling from the crowd in the boat.
I make no excuses. The trout were popping the surface around that drift like 93 mph fastballs. Then Felix Hernandez unleashed the perfect change up.
I struck out to a master.
We caught a few more fish on dries before the hatch disappeared as unremarkably as the fans after a game.
"Just getting to see that fish made my day," Woodruff said.
Mine, too.
I couldn't go back to nymphing after that.
Local journalism is essential.
Give directly to The Spokesman-Review's Northwest Passages community forums series -- which helps to offset the costs of several reporter and editor positions at the newspaper -- by using the easy options below. Gifts processed in this system are not tax deductible, but are predominately used to help meet the local financial requirements needed to receive national matching-grant funds.
Subscribe to the sports newsletter
Get the day's top sports headlines and breaking news delivered to your inbox by subscribing here.
---