News > Idaho
Lost dachshund found 6 days later by son of ATV accident victim
Daisy was in small hole 800 feet below overlook
Mon., April 27, 2015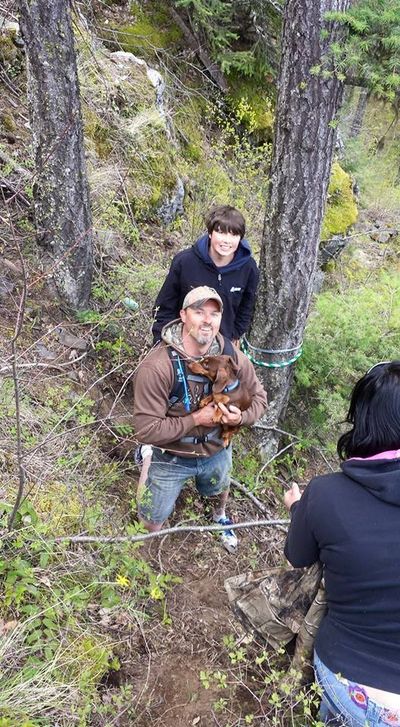 COEUR d'ALENE — The lone survivor of an all-terrain vehicle crash that
killed two people last week
didn't sustain any injuries as a result of the 500-foot fall or her six days in the wilderness, according to her veterinarian. Rescuers found Daisy the dachshund Saturday in a small hole about 800 feet from the top of the Bernard Overlook at the southern end of Lake Pend Oreille east of Athol. The driver, Thomas McTevia, 42, of Coeur d'Alene and his friend Tina Hoisington, 45, of Lewiston had the dog with them when their ATV went over the cliff on April 19. Both died in the crash, and the dog couldn't be found in the days after. "We knew she was out there," McTevia's sister, Laura Bess, told the Coeur d'Alene Press. "We just didn't know if she was dead or alive." A five-man team organized Saturday to scour the forest floor with ropes while family and friends waited for news at the top of the cliff. Bess said her brother's 18-year-old son Ryan spotted the animal. "All of a sudden, from the radio we heard, 'We found the dog,"' said Tonya Reed of Spirit Lake, whose husband took part in the search. "It gave me chills." Daisy was wrapped in a blanket and taken to a veterinarian who determined she hadn't suffered any injuries or health problems in the crash or six days outside. "To have this little bit of hope, and something to hang on to, to cheer for and love the way that he would have, that is just golden," said Dena Hankins, one of McTevia's friends. McTevia, a Navy veteran and former police officer, became an advocate for those with physical challenges after a severe spinal cord injury paralyzed him in 2004. He pushed for the city to make a portion of Tubbs Hill trail near lake Coeur d'Alene accessible to wheelchair users. He continued to lead an active life after the injury. He kayaked, photographed, hunted, skydived and "hand-cycled," or operated a bike with his hands.
Local journalism is essential.
Give directly to The Spokesman-Review's Northwest Passages community forums series -- which helps to offset the costs of several reporter and editor positions at the newspaper -- by using the easy options below. Gifts processed in this system are not tax deductible, but are predominately used to help meet the local financial requirements needed to receive national matching-grant funds.
Subscribe now to get breaking news alerts in your email inbox
Get breaking news delivered to your inbox as it happens.
---