News > Spokane
Spokane City Council approves buying land for bridge
Tue., April 28, 2015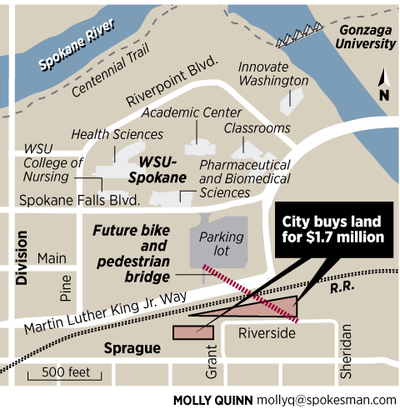 Supporters call it iconic and necessary, detractors use terms unfit for print, but the University District bicycle and pedestrian bridge inched closer to construction Monday as the Spokane City Council approved spending nearly $1.7 million to purchase 20 parcels of land.
With the land acquisition, city and university district officials now wait for the state Legislature to make a decision on the final $8.8 million needed to build a 120-foot-tall cable-stayed arch bridge.
"The design's done. The engineering's paid for," City Council President Ben Stuckart said. "It's really just a matter of building it."
When complete, the bridge will span the railway and Martin Luther King Jr. Way at Sherman Street, connecting East Sprague Avenue to the higher education district.
The properties to be acquired by the city are owned by Donald Oliveri, Judd Family Trucking and the Taylor Family Trust. The land is primarily used for storage and parking, and the owners will be eligible for relocation funds.
According to Stuckart, who sits on the University District Development Association, the district has already devoted more than $3 million in current and future spending to the bridge. In all, the cost of the bridge could run to nearly $15 million, including design, property acquisition and construction.
This week the Washington Legislature is debating dueling transportation packages, one from the House and another from the Senate. The House plan has the full $8.8 million funding for the bridge, and the Senate's plan contributes nothing. Stuckart said he was meeting with state Sen. Andy Billig this week to push for funding for the bridge.
Critics have questioned the cost, including Councilman Mike Fagan, the only council member to vote against the property acquisition.
"From day one, I haven't been supportive of the bridge due to the cost," Fagan said. "No bridge is needed."
Supporters of the bridge say it's an integral link between East Sprague – another part of town receiving revitalization funding and efforts from the city – and the University District. They say safe passage over the BNSF Railway tracks will make land south of the tracks an attractive investment for residential developers.
Local journalism is essential.
Give directly to The Spokesman-Review's Northwest Passages community forums series -- which helps to offset the costs of several reporter and editor positions at the newspaper -- by using the easy options below. Gifts processed in this system are not tax deductible, but are predominately used to help meet the local financial requirements needed to receive national matching-grant funds.
Subscribe to the Coronavirus newsletter
Get the day's latest Coronavirus news delivered to your inbox by subscribing to our newsletter.
---