Sports
After decades, NFL decides to give up tax-exempt status
Wed., April 29, 2015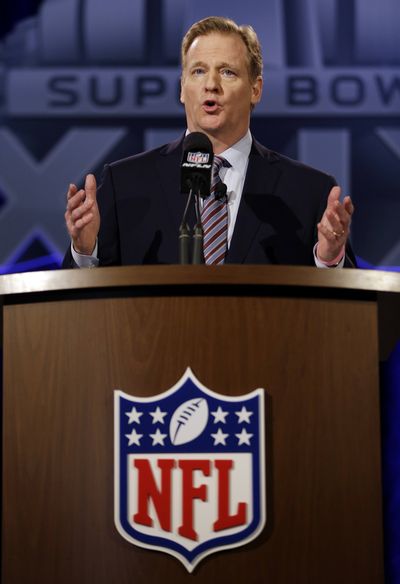 WASHINGTON – Every so often, in a bid to sound threatening, a member of Congress has vowed to revoke the NFL's tax-exempt status. Now commissioner Roger Goodell says the league will give it up voluntarily to "eliminate this distraction."
One result is that Goodell's compensation – about $35 million in 2013, and approximately $44 million in 2012 – will no longer need to be made public.
In a memo to all 32 teams Tuesday, he wrote that "a change in the tax status will not alter the function or operation of the league office or Management Council in any way."
A business of about $10 billion in annual revenues, the NFL has held tax-exempt status since the 1940s, and so was required to file a publicly available IRS form listing compensation for the highest-paid employees. Individual NFL teams do not have tax-exempt status.
It's not known exactly how, if at all, the league's switch from tax-exempt to taxable would affect the total amount paid in taxes by the NFL, its teams and all their affiliated entities. What is clear is that Tuesday's change does not affect the NFL's antitrust exemption, created in the Sports Broadcasting Act of 1961. That allows clubs to negotiate radio and TV broadcast rights together.
Sen. Richard Blumenthal, a Connecticut Democrat, said the NFL's move "seems more like a PR stunt than a real gain. The tax-exempt status produces a pittance compared to its congressionally granted antitrust exemption – enabling billions in broadcast revenue."
Blumenthal said he would reintroduce legislation calling for a review of antitrust exemptions for the NFL, Major League Baseball, NBA and NHL.
NFL owners gave the league's finance committee and management council the authority to change the tax status at league meetings in March, Goodell said.
The NBA does not have tax-exempt status, and Major League Baseball gave its up in 2007. The NHL still is tax-exempt.
"The effects of the tax-exempt status of the league office have been mischaracterized repeatedly in recent years," Goodell wrote to club owners. "The fact is that the business of the NFL has never been tax exempt. Every dollar of income generated through television rights fees, licensing agreements, sponsorships, ticket sales, and other means is earned by the 32 clubs and is taxable there. This will remain the case."
Goodell forwarded his memo to Reps. Paul Ryan and Sander Levin. Ryan, a Wisconsin Republican, chairs the tax-writing House Ways and Means Committee; Levin, of Michigan, is that panel's ranking Democrat.
Members of Congress have criticized the NFL and other pro sports leagues for withholding money from the government via the tax-exempt status.
Rep. Jason Chaffetz, a Utah Republican who chairs the House Oversight and Government Reform Committee, has introduced legislation to eliminate the section of the IRS code that allows leagues tax-exempt status.
Chaffetz and Rep. Elijah Cummings of Maryland, the committee's ranking Democrat, called the NFL's decision "an important and positive step toward restoring basic fairness … and we look forward to rightfully returning millions of dollars to the federal treasury."
AP writer Stephen Ohlemacher in Washington and AP sports writer Ronald Blum in New York contributed to this report.
Local journalism is essential.
Give directly to The Spokesman-Review's Northwest Passages community forums series -- which helps to offset the costs of several reporter and editor positions at the newspaper -- by using the easy options below. Gifts processed in this system are not tax deductible, but are predominately used to help meet the local financial requirements needed to receive national matching-grant funds.
Subscribe to the sports newsletter
Get the day's top sports headlines and breaking news delivered to your inbox by subscribing here.
---