News > Spokane
Longtime Idaho public servant Frank Henderson dies
Wed., April 29, 2015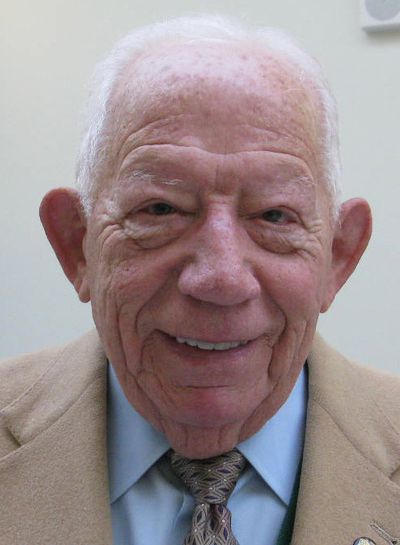 Former Idaho state Rep. Frank Henderson has died after a long life of public service that included Kootenai County commissioner, mayor of Post Falls and 10 years in the Idaho Legislature.
Henderson, who was 92, also was a World War II Army veteran, an international consultant on public administration and economic development in Eastern Europe, and a retired marketing executive and newspaper publisher. His wife, Betty Ann, serves on the Post Falls City Council.
In 2012, Henderson was named chairman of the House Business Committee a day after he celebrated in his 90th birthday. A year earlier, he'd given up his coveted seat on the joint budget committee after five years to focus his legislative work more on economic development. He sponsored key legislation that year to help Idaho aircraft parts businesses, leading to major expansions in employment by some of those firms.
Henderson said in 2012, "My parents said they gave me some durable genes, and that's what it takes."
At the time, people who didn't know him guessed he was in his 60s, and not the oldest member of the Legislature. He picked up the nickname "Energizer Bunny" from fellow lawmakers impressed with his prodigious work ethic and stamina.
Henderson died late Monday night at Hospice of North Idaho's Hospice House in Coeur d'Alene with family and close friends at his side. His son, Tom Henderson of Liberty Lake, said his father's final comments were about his gratitude for having been able to meet and work with so many great people in Idaho.
"He was overwhelmed to the point of almost not understanding why there was always such a nice outpouring of support for him," Tom Henderson said. "A very humble man, right to the end, but very grateful for his opportunities to serve."
Former Idaho Sen. Jim Hammond, R-Post Falls, considered Henderson his mentor. He first met him when Hammond was a school principal at Seltice Elementary School in Post Falls, and Henderson was the publisher of the Post Falls Tribune. Henderson encouraged Hammond to get involved in public life, starting with a run for the Post Falls City Council.
"He saw more in me than I saw in myself," Hammond said. "I dearly loved that man. Of course that's why I consented to run for the City Council; he kept asking me to run and I kept saying no. And then when I finally said yes, it was only because I didn't think I'd get elected. … He just thought I had something to contribute to the community."
Hammond went on to be mayor of Post Falls and a state senator who chaired the Senate Transportation Committee. He's now the Coeur d'Alene city administrator.
Hammond said Henderson was "into all kinds of gadgets, he loved gadgets," from ham radios to remote-controlled airplanes he built himself to state-of-the-art GPS. "He was never without something to do," he said.
He recalled having lunch with Henderson, who had cancer, a month ago. Henderson talked about an effort he was working on with longtime North Idaho economic development advocate Bob Potter, who also has cancer, on new strategies to entice businesses to the region. "They were both working on strategies to improve North Idaho," Hammond said.
Henderson is survived by his wife, four of his five children and six grandchildren. Funeral arrangements are pending.
Local journalism is essential.
Give directly to The Spokesman-Review's Northwest Passages community forums series -- which helps to offset the costs of several reporter and editor positions at the newspaper -- by using the easy options below. Gifts processed in this system are not tax deductible, but are predominately used to help meet the local financial requirements needed to receive national matching-grant funds.
Subscribe now to get breaking news alerts in your email inbox
Get breaking news delivered to your inbox as it happens.
---