News > Spokane
Man lauded as African-American councilman was white, family says
Wed., April 29, 2015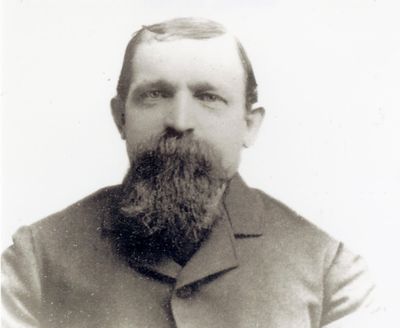 When the Spokane Public Library Foundation inducted Daniel K. Oliver into the first class of the Spokane Citizen Hall of Fame last month, some local residents might've said "Daniel who?"
He may have been the least-known among luminaries of a class that included Tom Foley, Don Kardong and May Arkwright Hutton.
Among the credentials the foundation originally listed for Oliver were that he was the first African-American city councilman in Spokane, elected in 1895. Some histories even list him as the first African-American elected official in Washington state.
Except he wasn't, say his descendants.
He was a city councilman for two years. He was also a Union cavalryman in the Civil War, a pioneer who came to the Spokane area in 1878, the co-founder of the city's first planing mill and an entrepreneur who built a popular meeting hall on the 300 block of West Riverside Avenue.
But he wasn't African-American, says Bonnie Oliver, his great-granddaughter and the Oliver family genealogist who lives in the San Francisco Bay Area. "We want the record to be straight," she said.
That description seems to be based on a single document – the 1880 Spokane census in which a census taker marked Oliver's race as "m," which in those days meant mulatto for mixture of Caucasian and African-American race – and a history of the black community in Spokane written for Washington's 1989 centennial.
Other census documents listed Oliver as white and listed his parents as white when he was born in Chambersburg, Pennsylvania. His 1864 enlistment papers in the 21st Pennsylvania Cavalry, Company E, list his complexion as ruddy. His death certificate from 1906 listed him as white.
The library foundation recently removed mention of his race from its Hall of Fame website. Oliver wasn't selected solely for his race and council service, but also as a pioneer and entrepreneur who was influential in the early days of the city, said Sarah Bain, development director for the foundation.
Selecting that first group of Hall of Famers presented some hard choices from scores of nominees, she said.
But the research for Oliver may have been rushed in the library's tight timeline for that first group of inductees, Bain acknowledged. Next year, the library hopes to have more time and a revised process for accepting and researching nominations.
Bonnie Oliver has had her DNA tested as part of her ongoing genealogy research and the results came back as Irish, Scandanavian, Western European, English and a smattering of southern European and Finnish or Russian.
"I have great sympathy for the aspirational efforts to find minorities in the pioneer era," said Steve Oliver, a Spokane resident who is Daniel's great-grandnephew. "It's just, he isn't one."
For the past 15 or so years, they've been trying to correct references to Oliver that seem to stem from "All Through the Night, The History of Black Americans in Spokane, 1860-1940." Oliver is listed as a pioneer, entrepreneur and city councilman in that book written around the time of the state's centennial by Joseph Franklin, then an Eastern Washington University professor.
Franklin's references to Oliver are well foot-noted as to the time and dates of his birth, military service, marriage, arrival in Spokane and council term from earlier works' histories. But those earlier books don't mention race.
There's some "family lore" about Daniel, about his journey west after the Civil War, work as a miner and settling in Spokane, Steve Oliver said. But nothing in that lore or in any of the documents they've discovered connect him with the African-American community, other than that 1880 census. In that era, race was determined by the census taker, not reported by the resident. The family didn't know about Daniel Oliver's nomination to the Hall of Fame until after he was inducted, and the ceremonial key to the city was awarded to all the first inductees, or their descendents, at a ceremony.
"I think you might say I was astonished," Bonnie Oliver said. "He was a fine and honorable man. But there were a lot of other men who were more accomplished."
Oliver was nominated by Blaine Stum, an aide to City Councilman Jon Snyder and a self-described "history nerd" who had read about him in some histories of Spokane and thought he deserved consideration. Stum said he didn't nominate some better-known figures, such as city father James Glover, hotelier Louis Davenport or Jim Chase, the city's first African-American mayor, because he assumed other people would, and was surprised when they weren't finalists.
Oliver's "key" went to the NAACP for safekeeping. The library had contacted the organization for help in locating Oliver descendents in the area, but President Rachel Dolezal said when it reached out in its network of contacts, no one came up with any leads.
Dolezal said she was familiar with Oliver's name from references in books that researched the African-American community's roots in Spokane. She's seen a picture of bearded Oliver, who admittedly doesn't look African-American, but that doesn't really prove anything, she added.
"Visible identity is just one factor," Dolezal said. Homer Plessy, the plaintiff in the landmark Plessy v. Ferguson case decided by the U.S. Supreme Court in 1896, the year Oliver took his council seat, was similarly light-skinned, she noted. Plessy was considered "colored" even though seven of his eight great-grandparents were white.
People of mixed race in that era often tried to pass as white "for purposes of survival," Dolezal said. "Now, that might be seen as a little bit of a traitorous act. Given the time, it's forgivable, looking back in hindsight."
If he was trying to "pass," Oliver might not have been a visible leader of the African-American community. But he wasn't trying to pass, his family counters. He simply wasn't African-American and "some researchers won't listen," Steve Oliver said.
Daniel Oliver's descendents have lived in or around Spokane for most of the past century. His wife, Amanda, lived in the house he built until 1941. A grandson, Bill Oliver, worked to restore the Looff Carrousel. Bonnie's brother Richard, a great-grandson, was born in California but settled in Spokane after being stationed at nearby Fairchild Air Force Base. Descendents of Daniel's brother George, who is Steve Oliver's great-grandfather, also live in Spokane and Sandpoint. It would have been fun for the great-great-grandchildren and nieces and nephews to attend the ceremony, Steve Oliver said, had they known about it.
The NAACP has returned the key to the library, Dolezal said. "We were happy to keep it and we're happy to pass it on to the family."
Bain has apologized to the family for failing to locate its members for the ceremony and removed the racial references in Oliver's entry. The Citizen Hall of Fame nominations and ceremony were designed as "feel-good event" but the library foundation didn't have many existing examples to copy, she said.
"The conversations were not simply around the fact he was African-American," Bain said of his selection. "I don't think it has any bearing on his contributions to Spokane."
Local journalism is essential.
Give directly to The Spokesman-Review's Northwest Passages community forums series -- which helps to offset the costs of several reporter and editor positions at the newspaper -- by using the easy options below. Gifts processed in this system are not tax deductible, but are predominately used to help meet the local financial requirements needed to receive national matching-grant funds.
Subscribe now to get breaking news alerts in your email inbox
Get breaking news delivered to your inbox as it happens.
---