News > Obituaries
Obituary: Eller, Helen Marie
Age 85
Wed., April 29, 2015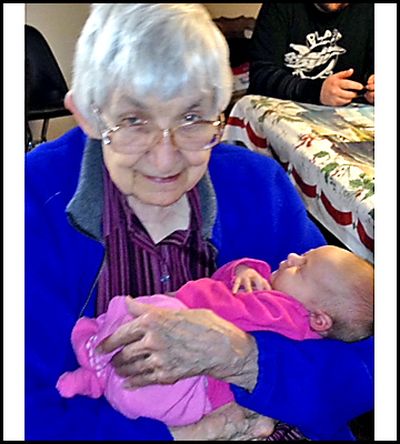 ELLER, Helen Marie Friday night, April 24, the heart of a wonderful and loving person faded and we lost our most precious mother, grand- mother, great-grandmother, sister, aunt, friend, teacher and well loved member of our community.
Helen Marie Eller was born in Butte, Montana on May 16, 1929 to Charles and Mary Kriskovich.
At a very young age, Dante Rosa became her beloved stepfather.
She graduated from Charlo High as valedictorian at age 16 and attended the University of Montana.
At the death of her mother, the family moved to Spokane where Helen attended Gonzaga College as a math major.
There she met and later married Charles (Tom) Eller in September of 1950.
Shortly after their marriage they moved to Newman Lake and began their family of seven children.
In 1963, she and Tom joined with Jim Lloyd of Otis Orchards to found Eller-Lloyd, an excavation company.
In 1965, Tom and Helen with her brothers Dan and Jim Rosa formed Eller-Rosa, Inc, where she served as secretary.
In 1976, Tom and Helen and their sons, Chuck and Mike Eller established Eller Corporation which other family members subsequently joined.
She served as vice-president of the corporation until Tom's death and assumed the role of president for the next 25 years.
Helen was an active parishioner and benefactor of St Joseph's Catholic Church for 65 years.
She served on the building and finance committees and was a dedicated member of the choir.
She instilled the love of music in her children.
She was an avid shopper for her numerous grand and great grandchildren.
In later years, she and Tom travelled extensively in their Cessna 210.
After Tom's death, she continued his dream of establishing "Eller Air Park."
Also in these years, she located her birth father and was welcomed by her previously unknown family who brought her great joy.
Closest to her heart was always the welfare of her family.
She was preceded in death by her parents, her husband, Tom; her sister, Betty Rosa; her brother, Dan Rosa; her son, Chuck Eller; and her grandson David Jernigan.
She is survived by her brother, James Rosa and half brother, Jerry Kriskovich; her half sisters, Jean Kindred and Debra (Owen) Gorman; her step brother, Joe Cozzetto and step sister, Donna Berg; her children, Mary (Jim) Simpson, (Linda Eller, wife of Charles), Kathryn (Michael) Wilson, Michael (Margaret) Eller, Susan (Dr. Carl) Lindemann, Julia (Scott) Jernigan and Daniel (Kathy) Eller; and 30 grandchildren, 27 great grandchildren and many nieces and nephews.
Vigil will be at 7:00 p.m., Friday, May 1, at St. Joseph's Catholic Church.
Funeral Mass will be celebrated at 10 a.m., Saturday, May 2, at St. Joseph's Catholic Church, 4521 North Arden Road, Otis Orchards, WA with interment to follow at St. Joseph Catholic Cemetery.
There will be a reception at the parish hall following the interment service.
Memorial contributions may be made to Second Harvest Inland Northwest.
Arrangements have been entrusted to:
Local journalism is essential.
Give directly to The Spokesman-Review's Northwest Passages community forums series -- which helps to offset the costs of several reporter and editor positions at the newspaper -- by using the easy options below. Gifts processed in this system are not tax deductible, but are predominately used to help meet the local financial requirements needed to receive national matching-grant funds.
Subscribe now to get breaking news alerts in your email inbox
Get breaking news delivered to your inbox as it happens.
---