News > Obituaries
Obituary: Ogden, Margot Ellen Martin
Age 89
Wed., April 29, 2015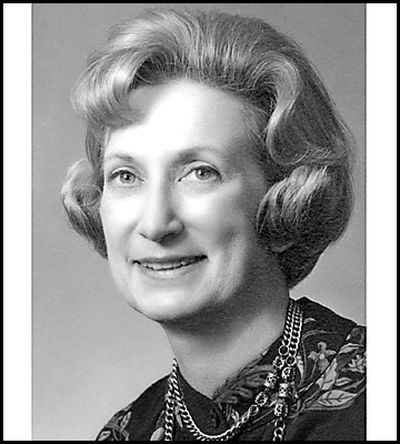 OGDEN, Margot Ellen Martin Margot Martin Ogden passed away early Monday, April 20, 2015.
She would have turned 90 on June 22nd.
Margot was born in Spokane in 1925, the second child of Margaret and R.J. "Maj" Martin.
She grew up in Spokane, attended Roosevelt Elementary School, then Lewis and Clark High School and Annie Wright Seminary in Tacoma.
She studied ballet and dance in younger years, but felt the greatest pull toward the theater, where she focused her attention for most of her professional life.
She graduated with a theater major from Smith College in 1947.
She taught Speech and Dramatics at the Punahou School in Honolulu, Hawaii for a year after college, then moved back to Spokane where she began acting at the Spokane Civic Theatre at its old address on Post Street.
She appeared in several productions there in 1948 - 1950, then attended the University of Washington where she pursued graduate studies in Drama and Acting.
Margot moved to San Francisco in 1951 where she worked in television production, then moved to New York City in 1953 and worked in radio production while auditioning on Broadway.
There she met the love of her life, C. Robert "Bob" Ogden in 1954, who was also from Spokane and had grown up only a few blocks away.
They shared an interest in theater; on their first date he invited her to a performance of "Outward Bound" that he was featured in.
They married in Spokane in 1954 and proceeded to raise three sons, David Martin born on their first anniversary, December 30, 1955, then Robert James on May 26, 1957 and Douglas Hunter on December 18, 1958.
Margot's career at Spokane's Civic Theatre spanned 60 years, having directed or acted in over 50 productions there.
Some of her favorites were "The Pursuit of Happiness," "Tartuffe," "Harvey," "The Little Foxes," "Dracula" and "The Dining Room."
She served as a Trustee of Spokane Civic Theatre for over 20 years, and as President of the Spokane Junior League during the early 1960s.
Margot and Bob were also avid supporters of the Spokane Symphony and the Junior Symphony.
They were joint recipients of the 2002 Spokane Arts Commission Award.
Margot was also active in a variety of guilds at The Cathedral of St. John the Evangelist, and she was a member of the Cathedral's Bell Choir.
Margot brought a deep well of joy to life.
She was devoted to her children and grandchildren, encouraging them to achieve their dreams.
She was a selfless and giving person, beloved by her community of friends.
She is survived by her husband of 60 years, Bob; her 97 year old sister Janet Allan of Vancouver, BC; her three sons and their spouses Brenda, Olga and Emilie; and by seven grandchildren, Tammany, Thomas, Alec, Nicholas, Peter, William and Natalie.
Her memorial service will be held at St. John's Cathedral, 127 E. 12th Avenue, at 2pm on Saturday, May 9th.
Memorial contributions may be made to St. John's Cathedral, Spokane Symphony, or Spokane Civic Theatre.
Local journalism is essential.
Give directly to The Spokesman-Review's Northwest Passages community forums series -- which helps to offset the costs of several reporter and editor positions at the newspaper -- by using the easy options below. Gifts processed in this system are not tax deductible, but are predominately used to help meet the local financial requirements needed to receive national matching-grant funds.
Subscribe now to get breaking news alerts in your email inbox
Get breaking news delivered to your inbox as it happens.
---