News > Obituaries
Obituary: Pierson, Elton Joseph "Jim"
Age 82
Wed., April 29, 2015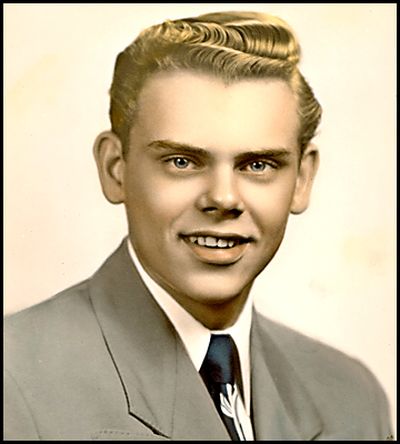 PIERSON, Elton Joseph "Jim" (Age 82) Of Dalton Gardens passed away Saturday, April 25, 2015 at his home.
Jim was born September 9, 1932 in Spokane to Elton Ross and Emma Evelyn (Kinsel) Pierson.
While in grade school, Jimmy and his mother moved to Detroit, Michigan while continuing his youthful summers in Spokane, Diamond Lake, and Newport, WA.
Jim graduated from Berkley High School in January 1951.
Upon receiving a work permit at age 16, Jim worked as a pin setter at a Detroit bowling alley, earning tips thrown down the gutter.
During his senior year of high school, Jim worked many positions on the Chrysler-Dodge Motor assembly line as well as inspector for parts sent overseas.
While living in Spokane, Jim received his draft notice for the Korean War.
Jim served active duty for the Army during the Korean War, Heavy Mortar Company 224 Infantry Regiment, earning Bronze Service Star along with citations and medals.
Earning the rank of Sergeant, Jim was honorably discharged in 1952.
Jim moved to Coeur d'Alene and worked for Kaiser Aluminum in Spokane.
During his lay off from Kaiser, Jim worked at Valley Fuel and Ice until his hire at Kootenai Electric Cooperative.
Jim was very proud of his career starting as a grounds man, earning his way to Journeyman, Lineman, and Crew Foreman, retiring after 32 years.
Jim worked numerous nights and weekends, which included the winter storm of 1969, to make sure KEC families had electricity and heat whenever power lines went down.
He bowled for many years with his coworkers and friends which included his father-in-law, Tom Anthony, on the KEC Bowling team.
He was also a lifetime member of the Elks Brotherhood.
After retirement he produced a terrific vegetable garden sending home his ripe craft with family and friends.
Jim enjoyed classic cars, restoring the family car, a 1967 Pontiac Bonneville and his 1955 Chevy Apache.
Jim looked forward to his daily lunch visits over these past 23 years with his son Jimmy.
An avid sports fan later on in life, Jim could be found in his recliner watching events along with his trusted dog and companion Mikey by his side.
Whenever family or friends came for a visit, he can be remembered saying "There's a cold one in the fridge."
Coeur d'Alene is where Jim met the love of his life Sally Anthony, marrying on September 1, 1957.
Jim and Sally were the "Epitome of Cool" in their '55 Chevy Bel Air.
They lived in town, moving to Dalton Gardens in 1964 and together raising their three children.
Jim was quite supportive and proud of his children and grandchildren's activities and accomplishments.
Jim was a giving person always willing to help any way he could.
He deeply missed Sally, his wife of 46 years, and now they are together again.
Jim is survived and loved by sister Shannon Hill of Spokane; son and daughter-in-law, James and Gigi Pierson of Hayden Lake; daughters and sons-in-law, Tammi and Dan Randles of Clarkston, WA and Cheri and Andy Embry of Athol; brother and sisters-in-law Tom and Gayle Anthony and Steve and Robin Anthony of Coeur d'Alene; five grandchildren, Matt, Nick, Kelsey, Danny and Courtenay; plus several nieces and nephews; and best friend Ron Weaver, of Ada, Michigan.
Jim was preceded in death by his wife Sally, parents Herb and Emma Jackson; Elton and Belva Pierson, in-laws Tom and Fern Anthony, and brother, Artie Pierson.
"Jim was a prince and a fighter and we know his songs of pain and beauty in the world will fill many people with the incredible joy he felt for life.
Long live the beauty that comes down and through onto all of us."
In lieu of flowers, suggested donations to Kootenai Humane Society or Elks Benevolent Order 1254.
The Visitation will be on Thursday, April 30 from 5:00pm to 7:00pm and Services on Friday, May 1st at 2:00pm both at Yates Funeral Home 744 N. 4th Street, Coeur d' Alene.
YATES FUNERAL HOME has been entrusted with the care of final arrangements.
Please visit Elton's online memorial and sign his guestbook at www.yatesfuneralhomes.com.
Local journalism is essential.
Give directly to The Spokesman-Review's Northwest Passages community forums series -- which helps to offset the costs of several reporter and editor positions at the newspaper -- by using the easy options below. Gifts processed in this system are not tax deductible, but are predominately used to help meet the local financial requirements needed to receive national matching-grant funds.
Subscribe now to get breaking news alerts in your email inbox
Get breaking news delivered to your inbox as it happens.
---