News > Obituaries
Obituary: Tilton, Richard Oliver
Age 90
Wed., April 29, 2015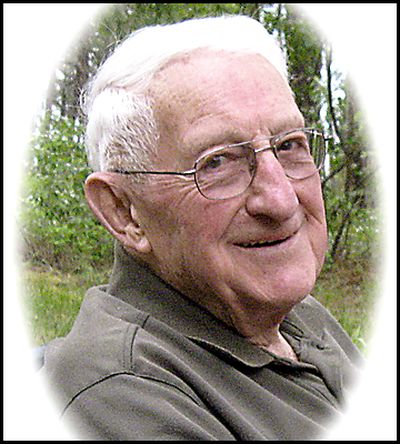 TILTON, Richard Oliver A longtime resident of Stevens, Spokane, and Ferry Counties passed away on April 20, 2015 in Spokane, WA, at the age of 90.
He was born on November 6, 1924 in Chewelah, WA to Levi and Verda (Millay) Tilton.
Richard enjoyed playing on the basketball and football teams while in junior high and high school.
After he graduated from Jenkins High School in 1942, Richard enlisted in the United States Army.
He served in the Infantry, and was sent to Europe during World War II.
His unit marched from Africa, through Italy to Switzerland, then back down to southern Italy where he was placed on a ship to return to the United States and received an honorable discharge.
Upon his return to the States, he finished his four years of service with the Military Police.
In the late 1940s, Richard enrolled in the Police Academy.
He became a Spokane City Police Officer on June 1st, 1948, and for the first several years walked the beat in Hillyard.
He worked his way up to Detective, then to License Inspector for the city and retired on June 2nd, 1973 after 25 years of service.
Richard also was President of the Police Guild, working to increase wages and benefits for officers.
He was the one of the original nine that established the Spokane Law Enforcement Credit Union.
Richard married Betty Borck in Chewelah, WA on November 17, 1946 and had three children: Joanne, Mark, and Mike.
Richard enjoyed volunteering with Boy Scouts, and coaching baseball teams with his sons.
He was a hard worker and held down a second job as an excellent carpenter to support his family.
In his spare time, Richard enjoyed carving incredible wood sculptures, playing golf, watching the Seattle Seahawks and Gonzaga Bulldog basketball team, along with going camping with friends, hunting and fishing.
He enjoyed building and remodeling homes.
Richard was an unselfish man with a love for his family.
Richard was preceded in death by his wife, parents and his brothers, Leroy and Jack.
He is survived by his three children, Joanne, Mark, and Mike, along with six grandchildren, 10 great-grandchildren, one great-great-grandchild, and numerous nieces and nephews.
A funeral service for Richard will be held on May 2, 2015 at 10:00 a.m. at the Danekas Funeral Chapel in Colville, WA with a graveside service to follow at the Meyers Falls Cemetery in Kettle Falls, WA.
Charity contributions in memory of Richard Tilton can be made to the Spokane Law Enforcement Museum, 924 W. Sinto, Spokane, WA 99201.
Please go online and sign the guestbook at www.danekasfuneralchapel.com.
DANEKAS FUNERAL CHAPEL AND CREMATORY are entrusted with the arrangements.
Local journalism is essential.
Give directly to The Spokesman-Review's Northwest Passages community forums series -- which helps to offset the costs of several reporter and editor positions at the newspaper -- by using the easy options below. Gifts processed in this system are not tax deductible, but are predominately used to help meet the local financial requirements needed to receive national matching-grant funds.
Subscribe now to get breaking news alerts in your email inbox
Get breaking news delivered to your inbox as it happens.
---