News > Spokane
'Apple detective' discovers long-lost fruit variety
Thu., April 30, 2015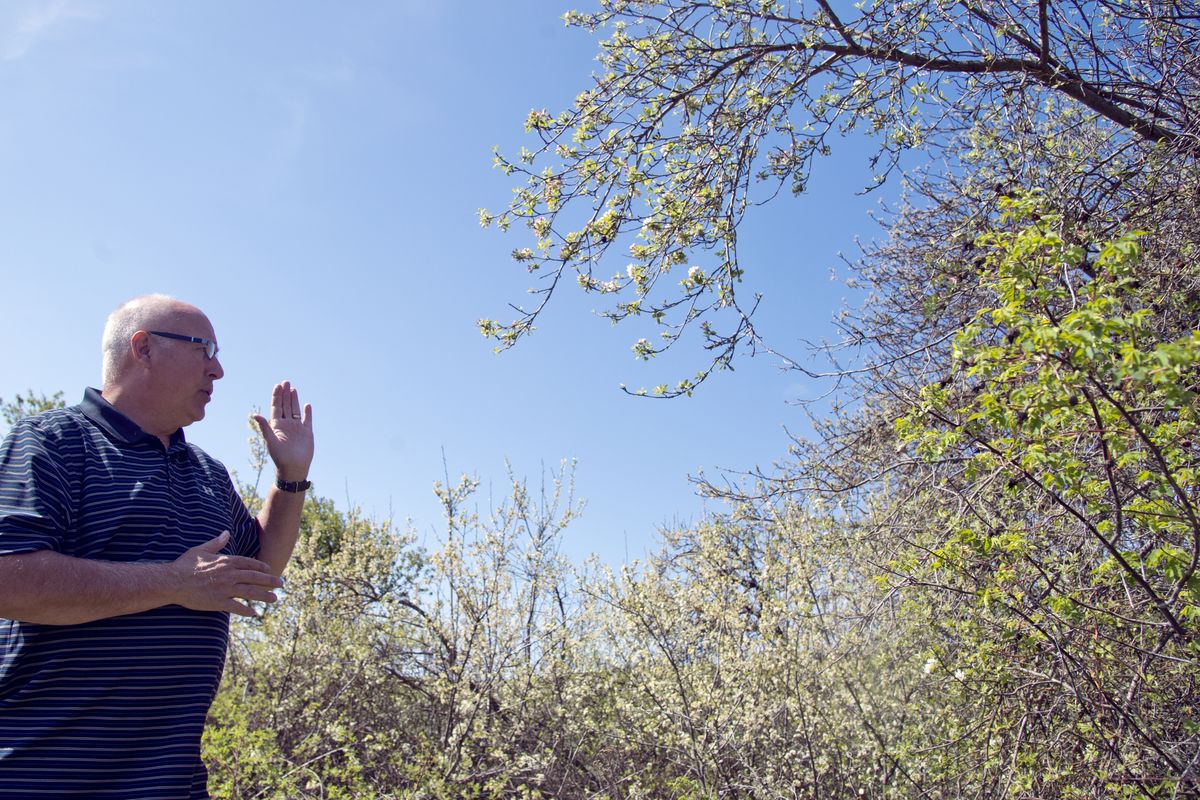 David Benscoter, who hunts for lost varieties of apples in old orchards and homesteads, shows the tree Wednesday where he found the Nero apple near Steptoe Butte. The Nero was a presumed lost varietal that was planted by homesteader Robert Burns more than century ago. (Jesse Tinsley)
David Benscoter, a retired federal investigator, is still using the core of his talent: He researches historic records and visits farm country to find long-lost strains of apples.
That's right. He's an apple detective.
Benscoter is credited with discovering a long-lost variety known as Nero in the remnants of a pioneer orchard at Steptoe Butte State Park in Whitman County.
Washington State University scientists are working with Benscoter to propagate cuttings from the tree so that it can be reintroduced to the public and to preserve its genetics for future generations.
"Investigating things gets my blood pumping," Benscoter said.
His passion for fruit started after a neighbor in Chattaroy introduced him to century-old apple trees still growing on a homestead in north Spokane County.
He began researching the former Arcadia orchards in Deer Park and the Meadow Lake orchards near Four Lakes, as well as the orchards of pioneer nurseryman George Ruedy, of Whitman County.
That led him south of Spokane, where he began searching for the so-called "lost varieties."
With the help of longtime county residents, Benscoter found his way to the 1888 homestead of Robert and Mecie Burns on the northeast flank of Steptoe Butte, now part of the state park there.
Last fall, he harvested bunches of apples from trees that are more than a century old. "I was like a kid going to a candy store," he said of the fall harvest.
He sent four boxes of apples off to the Home Orchard Society based in Oregon City, Oregon, for examination.
Society experts confirmed what Benscoter believed – that fruit from the old homestead was indeed a variety previously "lost" to modern horticulture.
Confirming the identification is where Benscoter shines.
The investigator assembled a mass of historic information including old county plat maps and nursery ads to prove that the Nero was available for sale in Whitman County and that Burns likely planted it in his orchard around 1894.
The Hanford Nursery, which was located nearby on a hill just outside of Oakesdale, Washington, was likely the source for the trees, including the Nero.
In addition to Nero, Benscoter has eight other apples from Steptoe Butte and other parts of Whitman County under investigation as possible lost varieties: Cornell, Fancy, Walbridge, Isham Sweet, Pyles Red Winter, Lankford, Arkansas Beauty and Scarlet Cranberry. Those will be harvested again this fall and sent to other experts for concurrence with the judgment of the orchard society in Oregon.
Research shows that 17,000 named varieties of apples have appeared on this continent since Europeans first arrived, Benscoter said. But the number has dwindled as larger farms concentrated on a few dozen of the most popular varieties. Historically, farmers, writers, nurseries, government agencies and county fairs kept detailed records of apple varieties, including drawings.
Last winter, Benscoter led scientists from WSU to the tree at Steptoe Butte. The scientists took five cuttings of new wood from the old tree, three of which took hold on a host stem.
They also plan to undertake tissue culture as another means of propagation.
Benscoter has grafted five shoots of Nero onto an apple tree at home.
Nathan Tarlyn, a research assistant working on the project, said consumer preference in apples is changing and that older varieties are gaining popularity for their flavors and unique characteristics. It's part of the movement toward heirloom cultivars and away from mass-produced fruit.
In addition, Tarlyn said, the trees that have survived for a century or more in Whitman County have long since proved their resilience against weather extremes, pests and disease. That means their genetic qualities may have long-term benefits for agriculture.
"We could not do this if it wasn't for David," he said.
In a news release, WSU reported that "success means WSU will have a source of germplasm, or genetic materials, for rare varieties. And in a few years, someone may bite into a new Nero."
Local journalism is essential.
Give directly to The Spokesman-Review's Northwest Passages community forums series -- which helps to offset the costs of several reporter and editor positions at the newspaper -- by using the easy options below. Gifts processed in this system are not tax deductible, but are predominately used to help meet the local financial requirements needed to receive national matching-grant funds.
Subscribe now to get breaking news alerts in your email inbox
Get breaking news delivered to your inbox as it happens.
---