A&E > Entertainment
Deal's side project is the real deal
Breeders guitarist hits Bartlett with duo R. Ring
Thu., April 30, 2015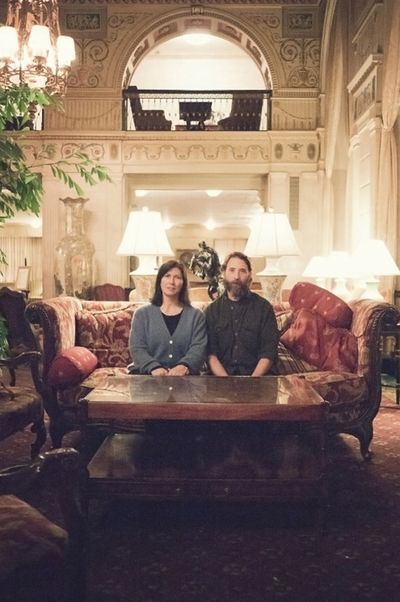 Kelley Deal is no stranger to side projects. She's best known as a member of the Breeders, which was founded as a side project by her twin sister, Kim, during down time as a member of the Pixies. And since joining the Breeders in 1992, Deal has started other bands, including the Kelley Deal 6000 and the heavy metal supergroup the Last Hard Men.
Deal's newest venture is R. Ring, a sparse, no-frills rock duo she started with fellow Ohio-based producer and musician Mike Montgomery (also of the band Ampline) a few years ago. The two met, Deal recalled, at Montgomery's Cincinnati recording studio, and she was immediately intrigued by his unusual production methods.
"I really liked the sounds that he got," Deal said during a recent phone interview. "I liked that he would suggest these things, stuff I wouldn't think of."
Deal said she and Montgomery will be playing with several different drummers on certain gigs during this tour, which lands them in Spokane on Wednesday (one of those gigs will be a Portland concert with Jose Medeles, a former member of the Breeders). But most R. Ring shows are just Deal and Montgomery and their guitars.
"When you get a full band up there, there are certain expectations of what the sound is like," she said. "When there's just two of you, you're responsible for all the music. … The challenges of taking a complete thought and a complete emotional narrative to a song with two voices and two instruments, I find that really interesting. … What each player is doing and singing becomes really important. It's like this cool jigsaw puzzle."
R. Ring's music sticks to the dreamy vocals and loud-quiet-loud dynamics typical of the Deals; the only difference here is that the louds aren't quite as loud as they usually are. In the last several years, the band has released a handful of singles and EPs, their most recent being an exclusive Record Store Day single called "Loud Underneath."
"We both like distorted guitars, and I like effects on both vocals and guitars," Deal said. "But it's still just two guitars. There are going to be quiet moments, and if people talk all the way through it, I can't do much about that. … I'm not surprised by that."
In terms of their writing process, Deal and Montgomery tend to write separately and then bring the fragments together to work on them.
"The seed kind of has to start with one person," Deal said. "I don't know that we've ever sat down and said, 'O.K., we're not leaving …' Although that would be a wonderful exercise, you know, saying, 'We're not leaving this chair until we have this new thing that began and ended right now with each other.' That'd be interesting, but I find that hard to do."
Deal said she tries to keep busy with other projects, some of which she labels "weird" – she recently made a viral video with Internet-famous cat Lil Bub, she sells knitted handbags, she and Montgomery are working on scoring an independent film.
"I feel like I'm doing a lot of things that I'm not qualified for," she said, "but I guess that's what everybody kind of feels like, maybe."
And as for the Breeders, Deal said they're currently in the middle of "lots of writing" ("Kim's lyrics are kind of the best I've ever heard, which is stunning," she said). The alt-rock icons recently toured to celebrate the 20th anniversary of their most successful album "Last Splash" (a tour on which Montgomery worked as a guitar tech), and two decades after their single "Cannonball" became a surprise hit, Deal said she's used to shifting gears in between projects.
"It is a gear shift, but it's not a hard one," she said. "It's so great when I meet with (the Breeders) and we're going through songs, and there's my guitar, and I'm gonna stand there and play guitar and shut up. But it's really fun to go out with Mike and start trouble, a 'What are we going to do now?' kind of thing."
Local journalism is essential.
Give directly to The Spokesman-Review's Northwest Passages community forums series -- which helps to offset the costs of several reporter and editor positions at the newspaper -- by using the easy options below. Gifts processed in this system are not tax deductible, but are predominately used to help meet the local financial requirements needed to receive national matching-grant funds.
Subscribe to the Spokane7 email newsletter
Get the day's top entertainment headlines delivered to your inbox every morning.
---