News > Washington Voices
East Valley High special education students sow seeds, sell plants for future
Thu., April 30, 2015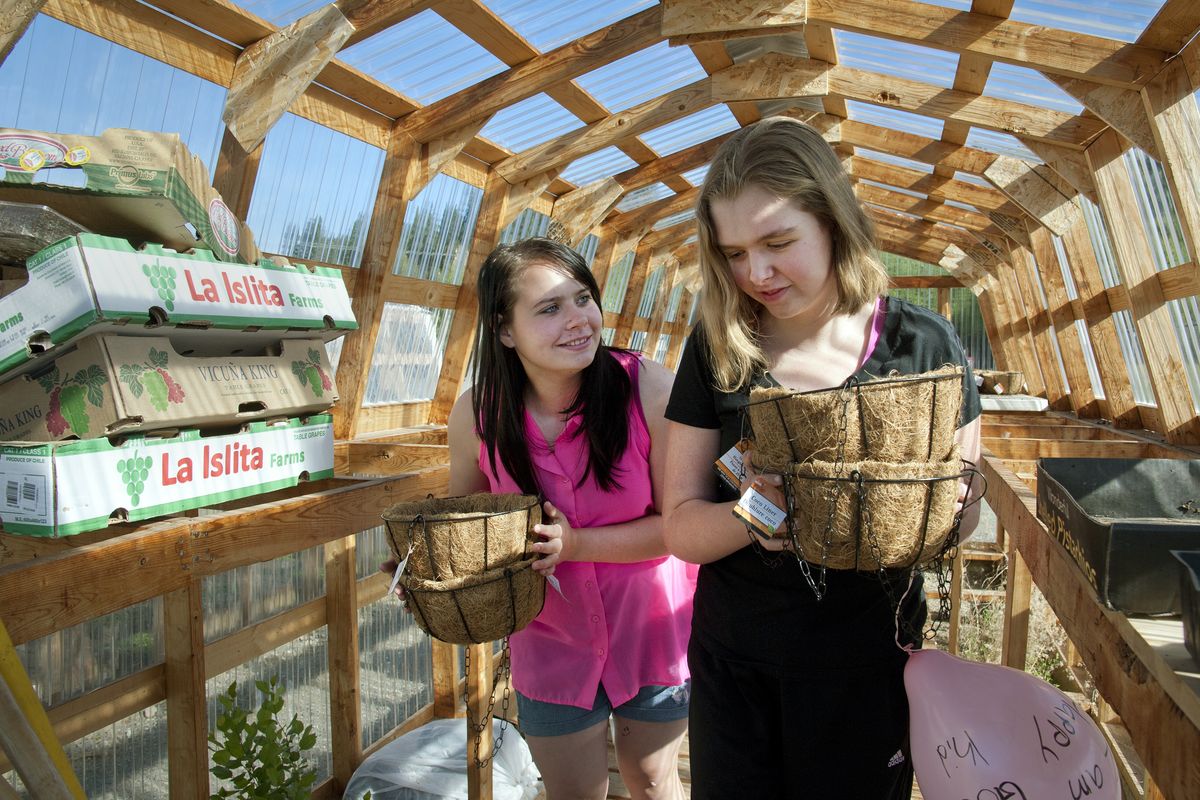 East Valley High School sophomore and teacher's assistant Mikhaela Sargent, left, helps special education student Jasmine Haroun gather hanging baskets from the school's greenhouse Tuesday in preparation for a plant sale on May 5-8. (Dan Pelle)
The sun was shining Tuesday morning while Jon Thomas was doing his best to direct the slightly chaotic enthusiasm of his East Valley High School special education students toward the task of the day: filling hanging flower baskets.
Thomas' students will be having their annual plant sale in the parking lot near the school's tennis courts Tuesday through May 8, from 9 a.m. to 1 p.m. each day.
"It's the fifth year we are doing it," Thomas said. "We hope to raise $1,000."
Students sowed seeds in late February and early March, tending to the sprouts in their warm classrooms.
As soon as weather allowed, and the plants were big enough, they were moved into greenhouses built by an East Valley construction class a couple of years ago.
"The greenhouses are already here. We may as well put them to use," Thomas said.
Students grew all the flowers for the hanging baskets that will be for sale next week, and they also grew a big assortment of herbs and vegetables.
Tiffany Allen, 18, said the broccoli plants are her favorite.
When asked if she liked the plant project she enthusiastically answered: "Yes, I love the plants."
Thomas said inclusion is very important for special education students, and the plant sale is one way in which they make friends among their general education peers.
"They get to know each other and they begin to hang out," Thomas said. "Before you know it they are doing things together after school."
Proceeds from the plant sale go to the special education program, and any vegetable plants that aren't sold will be planted in raised garden beds and used for school lunches.
Thomas said that the extra funding allows students to go on field trips, with Green Bluff being a popular destination even for students who use motorized wheelchairs.
"We pick them up and carry them over our shoulders so they can go on the hayrides," Thomas said. "We try to give everyone the same opportunity."
The plant sale also funds an end-of-the-year barbecue for students and their families, as well as a Thanksgiving meal the special education students prepare from scratch every year.
"We spend the whole day cooking," Thomas said.
At this year's plant sale, students will also sell snacks, water and soda.
Thomas said that was the students' idea, and proceeds from the snack sale will go toward anything the students can agree on.
"I think it will be spent on a pizza party," Thomas said. "Everyone seems to like that idea."
Local journalism is essential.
Give directly to The Spokesman-Review's Northwest Passages community forums series -- which helps to offset the costs of several reporter and editor positions at the newspaper -- by using the easy options below. Gifts processed in this system are not tax deductible, but are predominately used to help meet the local financial requirements needed to receive national matching-grant funds.
Subscribe now to get breaking news alerts in your email inbox
Get breaking news delivered to your inbox as it happens.
---