Sports > Outdoors
Hunters help Union Gospel Mission feed the hungry
Thu., April 30, 2015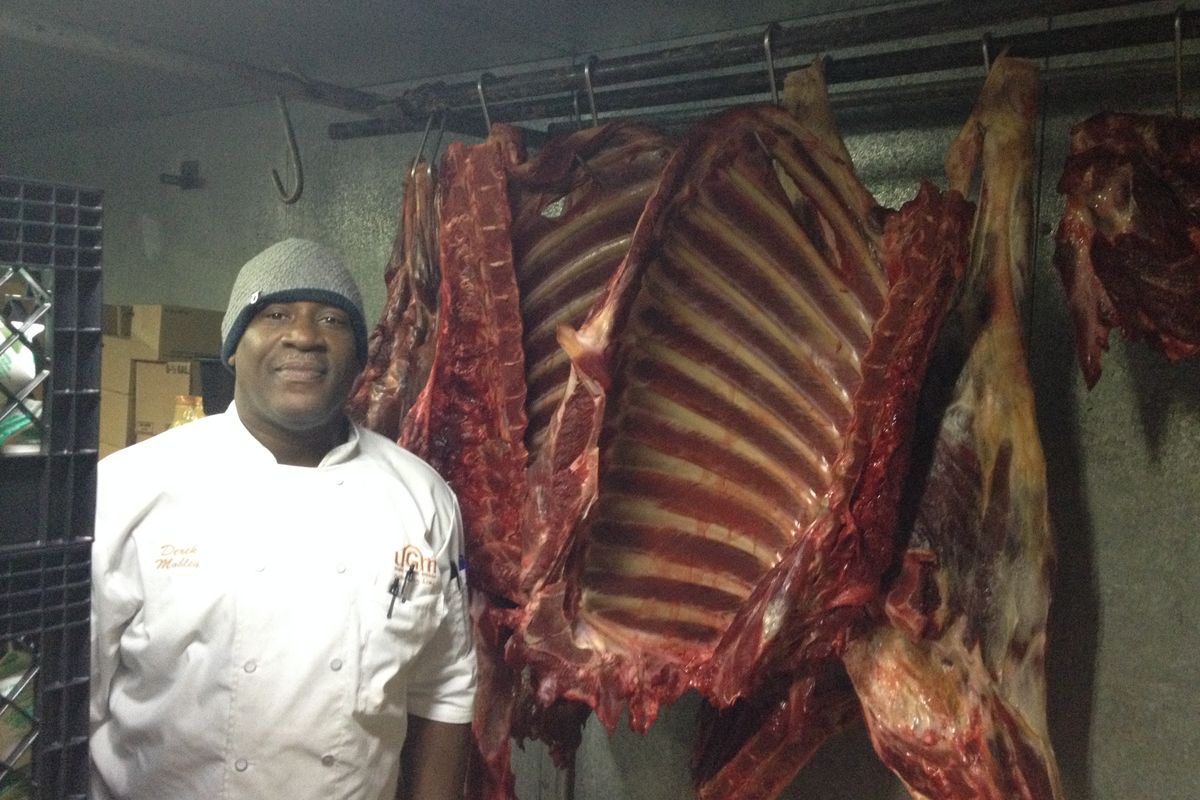 WDFW officers dropped off this poached moose to UGM chef Derek Mobley after they made the culprits field-dress it. (John Hennessy)
Union Gospel Mission chef Derek Mobley runs a mixing paddle through his Swedish meatball sauce.
He pauses, dips a spoon into the tilt skillet.
"I can blame it on the fat-free sour cream, right?" he asks the cooks standing nearby. "I was hoping for a little more tang, a bit more tart."
Mobley spent the entirety of the previous afternoon dicing bell peppers and onions, spicing and hand-forming hundreds of meatballs. He arrived at 7 a.m. to roast the meatballs and fill an entire speed rack with sheet pans.
The truth: The lunch is delicious – a savory, rotund fusion of meats, poignant spices and crisp vegetables roasted to perfection, soaking in a hearty cream sauce. But for Mobley, as is the case with every great chef – no dish is acceptable unless it's perfect.
It's 10 minutes until lunch. Approximately 80 residents and administration staff are waiting in line in the cafeteria, another 150 people outside the mission.
The chalkboard above the serving line reads "Swedish meatballs," but word leaked out from resident cooks once their shift finished.
The secret is spreading like wild fire: Lunch is actually moose.
The first few guys standing in line grill Mobley when he opens the windows to start serving.
"Tell us, look us in the eye," one says.
"Swedish meatballs. Moose," Mobley admits, "mixed with chicken, beef, elk."
Today's lunch attendance is nothing out of the ordinary for the UGM. It is expecting nearly 200 for lunch, more for dinner. Premium deserts and pastries, donated from Starbucks, are spread out on tables past the serving windows, along with Drumstick ice cream cones in a cooler at the end.
However, the meal is rather atypical – wild game disguised as a traditional dish.
At the beginning of every hunting season, the UGM receives several phone calls from hunters looking to clear out their freezers to make room for the forthcoming season.
"We get kind of a bonanza of meat at the beginning of hunting season every year," UGM food director Russell MacKenzie said.
In addition to the donations from hunters, through the selfless efforts of the Big Game Recovery Committee, the UGM receives the majority of any salvageable road kill or poached wild game in Eastern Washington.
"There are a lot of needy people in our community," committee chairperson Ken Hoff said. "This helps them to get nutritious meals. It's worthwhile because you have good meat. You hate to see it go to waste. … Things are getting taken care of, especially if the animal is suffering."
The committee, part of the Inland Northwest Wildlife Council, was formed in 1996 when several INWC members recognized that a lot of animals alongside the road were in decent shape.
"It seemed like a big waste when there are needy in our community that could use that," Hoff said.
They worked with the Washington Department of Fish and Wildlife Region I director. Every year now they are issued a special permit to continue their work.
Approximately 30 volunteers, working under the authority of WDFW, comprise the committee. At any time, one volunteer may receive a call from WDFW or the sheriff's department or Hoff, asking the recovery crew member to head to the scene of a poached or road kill big game animal.
The integrity of the meat is dependent on weather, Hoff said. In summer months, a trained volunteer, usually also a hunter, has less than an hour to arrive, field dress the animal and take it to the INWC headquarters on North Market to be bled and skinned.
"We want to make sure the animal is of good quality," Hoff said. "It depends on how badly the animal has been hit. We are reluctant to pick up deer on highways where 60 mph is the speed limit. Elk and moose – they are a case-by-case basis. We try to concentrate on roads 35 mph or less."
Once this process is complete, a volunteer or WDFW officer drops the animal off at the UGM.
For Mobley, that's when the creative work begins – making certain every person enjoys his meal, no matter their bias.
"There are people that get queasy about it because they never grew up eating game meat," MacKenzie said. "Obviously, in the history of the world, everybody grew up eating game meat. It's you and I who have the unusual system of having this perfect beef only out of a grocery store.
"We are super spoiled. We have what kings never had."
Mobley, a graduate of the UGM's recovery program, never had much experience with cooking wild game until arriving at the mission.
"I remember when I was in the program and I was staying here and they were cooking deer meat," he said. "The smell – I couldn't take it – it was making me nauseous. It was all through the mission. I said I will never eat deer. You just ruined it for me."
Mobley grew up learning to cook from his grandmother, who would test his sense of taste and spices. Mobley, a troubled youth in high school, joined the army after graduation, spent some time in Germany, cooking in the mess hall.
He experienced tumultuous times upon arriving back in the United States, doing a couple of bids in jail. Still, his passion for cooking permeated his lifestyle despite trouble. He met chef Tim Hammick, who would become, and remains, a mentor.
After graduating from the UGM's recovery program, Mobley cooked at the Davenport and the Spokane Country Club, where he met chef Frank Comito, who exposed Mobley to Italian and Japanese influences, then, eventually, his holy grail of 1,500 recipes.
"Make them your own," Comito told Mobley.
The UGM manages eight properties, including their men's shelter on Trent and their crisis shelter for women and children on Sprague.
The UGM's kitchens provide more than 700,000 meals throughout the Inland Northwest.
Their purpose statement is: "We partner with the Inland Northwest to help the poor with the love and power of the Gospel to become God-dependent contributing members of society."
At the UGM, faces appear then disappear within days. Unskilled and untrained labor fluctuates in the kitchen. The responsibility of collaborating with people, ensuring a quality product is served to the needy, falls upon production cooks such as Ernie Anderson and Chris Birr, as well as chef Mobley and director MacKenzie.
"It's a challenge to me to come here and try to make a meal and do it in the right way so it comes out nice," MacKenzie said. "I enjoy the success of using broken people to create amazing food."
Mobley serves as the main boots on the ground, quickly rotating from tasks in the kitchen. His boisterous, jovial voice travels throughout the kitchen, all the way to the main desk, as he encourages and lifts the spirits of his fellow cooks.
When a big-game animal arrives as a donation, Mobley asks how long ago it was killed to know how long to hang it, perhaps days, so the necessary breakdown of muscle fibers round the flavor.
He brines wild game such as deer and moose in milk and diced sour apples, a ratio of 3-to-1 sugar-salt. Based upon what the UGM has for supplements, he adapts his recipe accordingly.
Much of wild game is grinded after brining and used in meals that can extend its potential, such as spaghetti or stews.
Because of the donations of hunters and through the efforts of the committee, the UGM is often at a surplus in regard to food. They donate what they don't use to 36 food banks.
The UGM exercises what most consider an antiquated notion: Benevolence and a community's survival take precedence over personal gain.
Their mission could not be complete without an outdoors community concerned with its own.
In the end, for all of us, it is true: "All you can take with you is that which you've given away."
Local journalism is essential.
Give directly to The Spokesman-Review's Northwest Passages community forums series -- which helps to offset the costs of several reporter and editor positions at the newspaper -- by using the easy options below. Gifts processed in this system are not tax deductible, but are predominately used to help meet the local financial requirements needed to receive national matching-grant funds.
Subscribe to the sports newsletter
Get the day's top sports headlines and breaking news delivered to your inbox by subscribing here.
---