News > Washington Voices
Love Stories: Placing an ad for love
Thu., April 30, 2015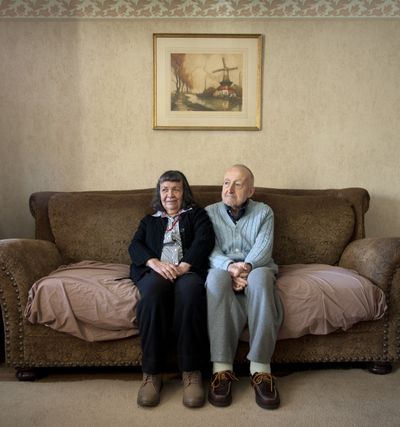 Long before Match.com, speed dating or Internet chat rooms, there were magazines – glossy publications that ran singles ads for lonely hearts looking for true love.
Fifty years ago, Donald Smith read an ad in a magazine called "Correspondencia Confidencial" (Correspondence Confidential) a popular weekly magazine that was printed in both Spanish and English.
The North Central graduate said, "I was always interested in marrying a gal from a foreign country – it just appealed to me."
The ad was placed by Delores Armada, 30. "Always I dreamed to come live here," she said. "Since I was a child."
She worked at the Johnson & Johnson factory in Mexico City and had no shortage of suitors who wanted to marry her, but none of them seemed right.
When Donald, 35, answered her ad, she was intrigued and they began corresponding. He had a good job working on the Burlington Northern Line for Western Food Co. "I repaired refrigerator cars," he said. "They called me a 'Car Man.' "
When he had time off, he enjoyed travel. He and his buddies had been to Mexico several times. "I spoke a little Spanish," he said.
The letters between Donald and Dolores flew across the border. "Everything I asked for, he said yes!" she recalled. But when the letters slowed to a crawl, she worried. "I wrote to him and said I'm moving on."
Soon she received his reply, "No, no, no! Consider us engaged!"
On Jan. 1, 1966, Donald arrived in Mexico City. Delores was there to meet his plane. She described her first sight of him like it was yesterday. "I thought, 'That's mine! He's mine!' " She smiled. "He was so handsome."
"I'm still handsome!" Donald said.
He, too, was pleased with the sight of his betrothed. "My first thought was, Oh, what a nice-looking lady!" he recalled "She was friendly and sociable."
And Donald was ready to marry. He said his mom had evicted him at 31.
"She wanted to get rid of him!" said Delores.
He was warmly embraced by Delores's family and wedding preparations proceeded.
"The ring he bought me cost $30," she said. "He took me to the jewelry store to buy it." She held out her hand. "Look! I still have it!"
On Jan. 16, 1966, the couple married.
They spent three weeks together before Donald had to return to the States, alone. Delores spent the next three months getting her immigration papers in order and saying goodbye to her family and friends.
Her sadness at leaving her family was diminished by the excitement of starting a new life in Spokane with her husband. "It was my dream," she said.
However, making a life in a new country with a man she'd only spent three weeks with proved more difficult than she imagined. Her first impression of the Lilac City?
"Oh my god! This is a dead city!" she said. Compared to the millions of people in Mexico City, Spokane seemed like the smallest town she could imagine.
And then there was the language barrier. Though she learned English as a little girl, she was by no means fluent.
When she got angry with him and English failed her she said, "I'd grab a dictionary and say you are this and that!"
Her fingers flew as she mimed pointing out words in a dictionary.
Donald, sitting next to her, just smiled. "I remained quiet," he said.
Which was another problem. "He is so quiet!" said Delores. "I did not know that."
In addition, Delores had much to learn about cooking.
"One day I cooked some rice and it was mushy. He said, 'You don't think I'm going to eat that?' " Delores laughed. "I said, 'No, and I'm not going to eat it either.' "
Thankfully, help was nearby. Donald's mother spent hours in the kitchen with her new daughter-in-law. "She was so good to me," Delores said. "She brought cookbooks to me."
In 1969, a daughter completed their little family. "I was so happy," Delores said.
And so was Donald, she said. "I've never seen a man as happy as he was when he saw her."
They've lived most of their married life in a small house in the Gonzaga University neighborhood, and while she's grown to appreciate her adopted city, some things still cause pain.
Delores said prejudice is alive and well in Spokane. At the Catholic school their daughter attended, she said the other parents shunned her. "They would look the other way or cross to the other side of the hall so they wouldn't have to speak to me," she said.
Recently, when she went to pick up some prescriptions at the neighborhood pharmacy, she said some of the women who work there mocked her accent.
Delores doesn't tolerate that kind of treatment. "I complained to the manager," she said. "I told him I've been coming here for many years. I don't deserve to be treated this way." She shrugged. "He apologized."
Regular visits to her family in Mexico kept her centered. "We used to go every two years," she said.
Donald enjoyed the visits as much as she did. "She's my translator," he said.
Sadly, his ill health has curtailed their trips. Donald suffers a host of medical issues including leukemia and macular degeneration. Delores is his advocate, making sure his concerns and questions are taken care of. "Now, I fight for both of us," she said.
Having celebrated their 49th anniversary in January, Delores is honest about their marriage. "If he asked me to marry him again, I'd say no," she said.
Personality conflicts more than cultural differences made life difficult at times. Even so, she was never tempted to leave him. "He's a good companion and he's always there when I need him," she said.
When asked what it takes to have an enduring marriage, Donald smiled. "A lot of patience."
Delores nudged his shoulder and laughed. "It takes a wife like his."
Local journalism is essential.
Give directly to The Spokesman-Review's Northwest Passages community forums series -- which helps to offset the costs of several reporter and editor positions at the newspaper -- by using the easy options below. Gifts processed in this system are not tax deductible, but are predominately used to help meet the local financial requirements needed to receive national matching-grant funds.
Subscribe now to get breaking news alerts in your email inbox
Get breaking news delivered to your inbox as it happens.
---