News > Obituaries
Obituary: Schneidmiller, Gladys V.
Thu., April 30, 2015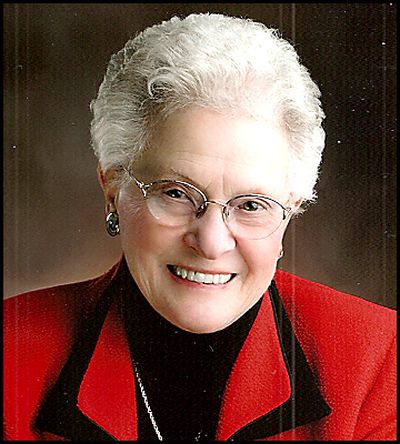 SCHNEIDMILLER, Gladys V. Gladys Schneidmiller, 97, Post Falls Idaho, passed away peacefully at her home Sunday night April 26th.
She was born March 6th, 1918, in Valier, Montana to Walter and Lillian Todd Vest.
Her family lived for several years in Valier, then moved to Eureka, Montana and finally to the East Farms area of the Spokane Valley.
She attended Newman Lake and East Farms area schools, graduating from Otis High School.
After High School she attended Northwestern Business College.
Her first job after completion of her studies was with the Farm Security Administration on the office side of agricultural lending.
She met the love of her life Manuel (Mannie) Schneidmiller at her first job.
They were married on January 19th, 1944 in Spokane and in 1949 moved to Post Falls.
Mannie and Gladys were together for 51 wonderful years.
Gladys was a bookkeeper and managed the accounting side of the family business interests.
Those included Schneidmiller Partners, Schneidmiller Brothers and, Schneidmiller Land Company.
She actually continued as the company bookkeeper until her 96th birthday at which time she retired hoping the family didn't consider her to be a "quitter."
She loved her vocation and was always happy when she had bookwork to do.
She also assisted husband Mannie with the books for several boards of which he had volunteered or with which she was involved.
For a time she kept the books for the Post Falls Irrigation District, the Post Falls Highway District, the Post Falls School District and a few service organizations.
Gladys enjoyed an incredible Montana work ethic and she was very proud of her heritage.
Gladys served on numerous boards and commissions including 18 years as a board member and chair of the Post Falls Schools District as well as the state school board association.
She was one of the five initial founders of the Kootenai Health Foundation and served on that board for a number of years.
Gladys and Mannie together with Schneidmiller Brothers gifted the site where the Kootenai Health and Post Falls Cancer center were ultimately built.
She has been very active in the Post Falls community in general and was known for her famous German chocolate cakes that raised thousands of dollars for the Post Falls Historical Society.
In 2013 she received the Post Falls Chamber Heritage Hall of Fame award for her lifetime of community service.
She liked to say that she had been there to watch Post Falls grow up and she was certainly a part of that remarkable transformation.
Gladys was an avid WSU Cougar fan and rarely missed a home football game.
She attended many Apple Cups in Seattle and was honored with Mannie by son Gary through dedication of the bronze Cougar Pride statue situated right outside of Martin Stadium.
In 1998 Mannie and Gladys were recognized as Benefactors of the WSU for their generosity.
Gladys was also responsible for development of a substantial fund through the Idaho Community Foundation that annually supports the educational endeavors of four Post Falls students attending area colleges.
She was always pleased to receive a note or call from the students describing their progress.
For her contributions she was honored by the IFC as a Friend of the Foundation.
Gladys and her Family were just recently recognized for philanthropy by the State of Idaho through induction in to the Idaho Hall of Fame for 2016.
She and husband Mannie were the recipients of numerous other honors.
They represented Kootenai County at the Centennial Celebration in Boise and were awarded the Post Falls Chamber Presidential Award in 1997.
They have been hosts the Festival of Trees.
Gladys was very active as a 4-H leader for 12 years and was a member of Royal Neighbors and Rebeccas.
Survivors include her son Gary Schneidmiller, Post Falls, brother-in- law Harvey Schneidmiller and wife Donna, sister-in-law Virginia Schneidmiller all of St. John, Washington and sister-in-law Sally Vest, Pennsylvania as well as numerous nieces and nephews.
She was preceded in death by her parents and brothers Stan, Frank and Lloyd Vest as well as her sister Ruth Vest Bragg.
Her husband Mannie passed away in 1997.
Memorial services will be 2pm Sunday, May 3rd at the Community Presbyterian Church, 417 N. Williams in Post Falls, Idaho.
In lieu of flowers, donations may be sent to the Idaho Community Foundation Manuel and Gladys Schneidmiller Scholarship Fund or a charity of choice.
ENGLISH FUNERAL CHAPEL, POST FALLS is in charge of the service.
Visit Gladys' memorial and sign her online guestbook at www.englishfuneralchapel.com
Local journalism is essential.
Give directly to The Spokesman-Review's Northwest Passages community forums series -- which helps to offset the costs of several reporter and editor positions at the newspaper -- by using the easy options below. Gifts processed in this system are not tax deductible, but are predominately used to help meet the local financial requirements needed to receive national matching-grant funds.
Subscribe now to get breaking news alerts in your email inbox
Get breaking news delivered to your inbox as it happens.
---