News > Nation/World
People: Health status of singer Joni Mitchell disputed
Thu., April 30, 2015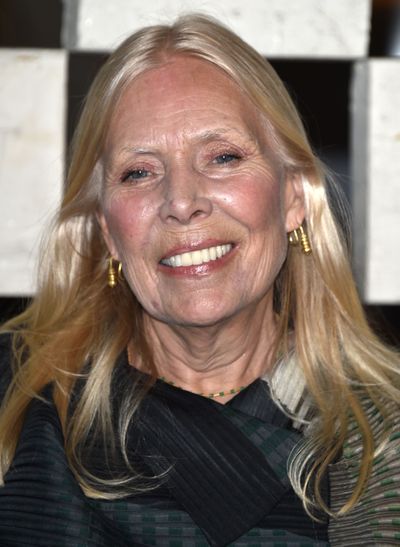 The health of singer-songwriter Joni Mitchell has been the subject of conflicting information, with her website stating she is alert and expected to make a full recovery but a longtime friend saying in a court filing that she was unconscious and unable to care for herself.
The Grammy winner, 71, has been hospitalized since March 31 for undisclosed reasons. Her friend Leslie Morris filed a petition to become Mitchell's guardian on Tuesday, saying the singer-songwriter was unable to care for herself.
Within hours, Mitchell's official website said, "She comprehends, she's alert and she has her full senses. A full recovery is expected."
Morris' filing was accompanied by a doctor's declaration that Mitchell would be unable to attend a court hearing for four to six months, but it included no additional details on her condition or prognosis. Dr. Paul Vespa checked a box signed Saturday indicating that Mitchell was unable to participate in her medical care.
Morris sought a court order because Mitchell does not have any family who can serve as her conservator and assist with her care and medical decisions. The filing does not seek control over Mitchell's finances.
Mitchell's website says Morris' filing seeks authority to make decisions for the singer once she leaves the hospital and isn't under the 24-hour care of a doctor. A court hearing is scheduled for July 8.
Mitchell has received eight Grammy Awards, including a lifetime achievement award in 2002. She was inducted into the Rock and Roll Hall of Fame in 1997.
She started her career as a street musician in her native Canada before moving to Southern California, where she became part of the flourishing folk scene in the late 1960s. Her second album, "Clouds," was a breakthrough with such songs as "Both Sides Now" and "Chelsea Morning." In 1971, she released "Blue," which ranks 30th on Rolling Stone magazine's list of the "500 Greatest Albums of All Time."
Her musical style integrates folk and jazz elements, and she counts jazz giants Charles Mingus and Pat Metheny among her past collaborators.
Chenoweth on vocal rest before Tonys
Kristin Chenoweth is being very tightlipped about her upcoming assignment to co-host the Tony Awards. Literally.
The Tony-winning star of "On the Twentieth Century" was on vocal rest Wednesday and was only able to communicate by writing on a white board. But, as indefatigable as ever, she attended a meet-and-greet with fellow nominees, laughing despite her frustration.
"This is my own version of hell," the Emmy- and Tony-winning star of "Wicked" wrote. "I can't believe I'm sick."
Chenoweth will co-host the annual award ceremony with "The Good Wife" star Alan Cumming June 7 in New York City.
The birthday bunch
Actress Cloris Leachman is 89. Singer Willie Nelson is 82. Actor Burt Young is 75. Singer Bobby Vee is 72. Movie director Allan Arkush is 67. Actor Perry King is 67. Rhythm-and-blues singer Akon is 42. Actress Kirsten Dunst is 33.
Local journalism is essential.
Give directly to The Spokesman-Review's Northwest Passages community forums series -- which helps to offset the costs of several reporter and editor positions at the newspaper -- by using the easy options below. Gifts processed in this system are not tax deductible, but are predominately used to help meet the local financial requirements needed to receive national matching-grant funds.
Subscribe now to get breaking news alerts in your email inbox
Get breaking news delivered to your inbox as it happens.
---