News > Spokane
Todd Mielke is panel's top choice for Spokane County CEO
Thu., April 30, 2015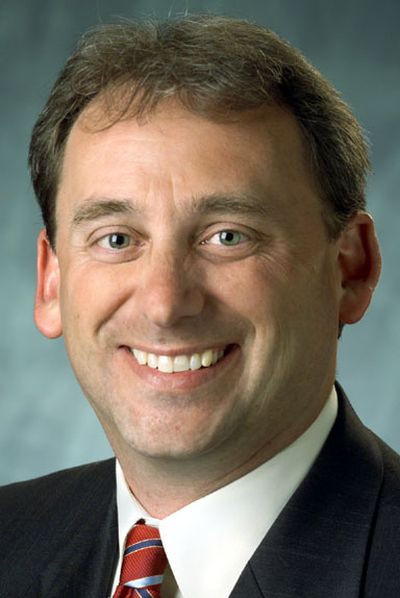 The two finalists for Spokane County's top administrative job are a sitting county commissioner and a former Utah municipal executive who resigned his last post amid controversy.
County Commissioner Todd Mielke is the front-runner – the top choice of a selection committee made up of local business executives and government officials, who met Friday. They also selected Richard L. Davis, a former city manager in West Jordan, Utah, as their second pick to replace retiring Marshall Farnell as chief executive officer.
Mielke has served on the County Commission since 2004. Davis left his previous job in August after allegations that he was moonlighting for an Arizona-based municipal government consulting firm.
The selection committee was picked by Mielke's Republican colleagues, Commissioners Al French and Shelly O'Quinn. It includes the leaders of Rosauers grocery stores, Providence Health Care and a representative from the Washington State Auditor's Office.
Christine Johnson, chancellor of the Community Colleges of Spokane, said the group met for several hours Friday and interviewed three candidates before recommending Mielke and Davis.
The county received 84 applications for the position, which pays about $160,000 a year, said Cathy Malzahn, the county's human resources director. County officials declined a request to release the names of the applicants, citing exemptions in public records law.
Johnson said selection committee members were provided materials for more than just the three candidates who were interviewed Friday.
Job advertisements were published in The Spokesman-Review, the Seattle Times, the Oregonian and the Salt Lake Tribune. Job listings also were posted on the National Association of Counties website, as well as with WorkSource Spokane, the Washington State Association of Counties, and Greater Spokane Incorporated.
The county did not hire an outside executive recruitment agency to attract job candidates, a practice that was employed by the Spokane Regional Health District to replace its main health officer in 2008 and by Spokane Public Schools when the district was looking for a new superintendent in 2012.
The county spent $2,520 on advertising for the CEO job. The Health District paid $32,000 for job search services in 2008, and the school district paid $25,000.
Steve Humphrey, lead recruiter for the Spokane superintendent job as a member of the Illinois-based firm Hazard, Young, Attea & Associates, said hiring a national recruitment firm is not always necessary. But such a firm can increase the diversity of candidates and help an organization more objectively evaluate an internal candidate for a position, such as Mielke, he said.
"I think some organizations struggle with that, because the internal people have done some of the work that has been most difficult," he said.
Johnson said the selection committee did not deliberate following interviews Friday. Instead they independently scored the three candidates.
A letter signed by all committee members was sent to French and O'Quinn on Friday with Mielke as the top choice and Davis as second.
Davis, who is no longer listed as an employee with the company Municipal Solutions, is also a finalist for the city manager job in Laredo, Texas, according to the Laredo Morning Times. West Jordan is a suburb of Salt Lake City with a population of about 110,000 and an annual budget of about $53 million. Spokane County has a population of roughly 480,000 and an annual budget of about $170 million.
Mielke and Davis are scheduled to be interviewed by French and O'Quinn within the next couple of weeks. If Mielke is hired, French and O'Quinn would name his replacement. If they can't agree on a candidate, state law authorizes Gov. Jay Inslee, a Democrat, to name Mielke's successor.
Farnell, who has worked in county administration since the early 1970s, has announced he'll stay on during a transition period. The first day of work for the new CEO is tentatively scheduled for June 15.
Local journalism is essential.
Give directly to The Spokesman-Review's Northwest Passages community forums series -- which helps to offset the costs of several reporter and editor positions at the newspaper -- by using the easy options below. Gifts processed in this system are not tax deductible, but are predominately used to help meet the local financial requirements needed to receive national matching-grant funds.
Subscribe now to get breaking news alerts in your email inbox
Get breaking news delivered to your inbox as it happens.
---