News > Idaho
Inventor, aviator, mentor Forrest Bird dies at 94
Tue., Aug. 4, 2015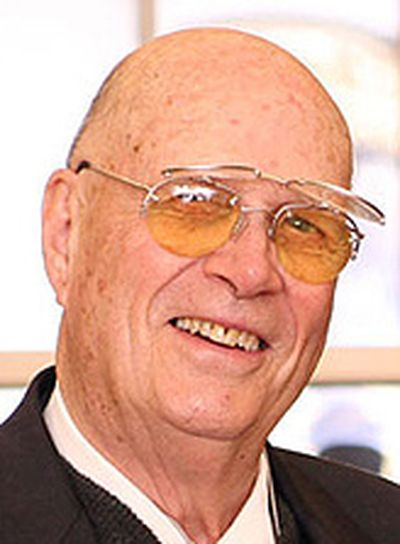 Dr. Forrest Morton Bird's research in breathing apparatuses for World War II pilots led to the development of the modern respirator, saving countless lives.
The 94-year-old inventor and lifelong aviator died Sunday of natural causes at his home in Sagle, Idaho.
Bird created the first low-cost, mass-produced medical respirators, including the "Babybird" in 1970 that replaced the iron lung and dramatically reduced infant mortality. Bird's respirators and anesthesia ventilators were used during the first open-heart surgery and the first liver transplant.
"He was a great man and humanitarian," his wife, Pamela Riddle Bird, said Monday. "He saved millions of lives, one at a time."
Bird had a brilliant mind, stacking up degrees in medicine, aviation, physics and biotechnology. "He was like living with the Internet," his wife said.
He also was an unpretentious man who wore New Balance running shoes with a tux at black-tie events. He even wore the comfortable shoes to the White House, where his work was honored by two presidents.
In his later years, Bird devoted thousands of hours to guest appearances in schools. From first-graders to graduate students, he encouraged young people to develop their sense of innovation.
"That was a priority for him," Pamela Bird said. "He told them that inventors change the world – and that it could be them. They had the power, the creativity, the ingenuity and talent to make a difference in the world."
His passion for aviation and innovation allowed Bird to meet such 20th-century luminaries as Orville Wright, the pioneer of flight, and industrialist and family friend Henry Ford, who was said to have been impressed with the 12-year-old Bird's construction of homemade tractors from Model T Ford parts. And he once flew with Howard Hughes, recalling the reclusive tycoon and aerospace engineer as "a magnificent pilot."
Bird was born June 9, 1921, to Morton and Jane Bird in Stoughton, Massachusetts. He graduated from high school at age 14 and soon became a pilot at the encouragement of his father, a World War I pilot. He flew helicopters for 64 years and was a helicopter instructor pilot for much of that time.
Bird served with the U.S. Army Air Corps in World War II and assisted in the Korean and Vietnam wars, retiring as a colonel. He was Gen. George S. Patton's pilot for a while but wanted a change to continue with his own missions.
With the new jet turbine allowing for flight at higher altitudes, Bird realized pilots would need new breathing gear. He delved into research into respirators and anti-gravity devices and invented the anti-g pressure suit regulator, which helped pilots fly to 40,000 feet. The invention gave the U.S. and its allies an advantage in dogfights during World War II.
In 1946, Bird invented the first Positive Pressure Inhalation Device, followed by the 1950 first prototype of the Bird Respirator with advanced positive pressure. The newest models of aircraft were able to ascend to new altitudes, reducing the risk of altitude sickness in pilots.
In 1955 he released the Bird Mark 7 Respirator, a small green box that became familiar to hospital patients. He traveled the globe to teach young doctors how to use the device. Further innovations resulted in the medical respirator/ventilator, developed at his company, Bird Oxygen Breathing Equipment Inc., later renamed Bird Corp., in Palm Springs, California.
The Babybird respirator, introduced in 1970, reduced infant mortality due to respiratory problems from 70 percent to less than 10 percent.
In 1995, Bird was inducted into the National Inventors Hall of Fame for his medical respirator.
After selling Bird Corp. to 3M, Bird moved to a ranch with a private airstrip and hangars next to Lake Pend Oreille. He started a manufacturing company, Percussionaire Corp., which continues to operate in Sagle, producing medical pulmonary devices. Bird also collected and restored old planes, cars and motorcycles.
In July 2007, he and his wife opened the Bird Aviation Museum and Invention Center, showcasing the work of inventors and displaying aircraft, including his father's 1938 Piper Cub. In typical, understated fashion, visitors have to get to the second floor to see Bird's own inventions. That same year, the CBS news magazine "60 Minutes" profiled Bird's life and legacy.
Through the museum, Bird met and mentored North Idaho students. Blake Alfson met Bird when he started volunteering at the museum as a teenager. Bird influenced his career path, said Alfson, 22, who recently graduated from Rice University with a mechanical engineering degree, with a focus on aeronautics.
"He would go into the inner workings of how he developed his respirator, and the mechanics of how planes fly," Alfson said. "Seeing him work was an inspiration. He was in his 80s and 90s, still putting in 11-hour days in his workshop or his hangar."
Lynn Lawrence, of Sandpoint, credits Bird for helping her son, Connor, make the connection between school and workforce. Connor Lawrence, 21, a computer science major at Montana Tech, also started volunteering at the museum as a teen.
Both Bird and his wife were so "accessible and authentic," Lynn Lawrence said. "Connor was able to spend time with Forrest … just hours and hours and hours of talking with that brain."
In Sandpoint, the Forrest M. Bird Charter School is named after him.
Bird was awarded the Presidential Citizens Medal by President George W. Bush in December 2008. President Barack Obama awarded him the National Medal of Technology and Innovation in October 2009.
Last week, Pamela Bird let her husband's friends know he was close to death. People called from all over the world to say goodbye. Friends who were pilots buzzed the house and airstrip.
"He was right here at the ranch. He could see the lake and the trees. When he heard the thrust of an engine, he would sit up and open his eyes. He got the best air show," she said.
He died peacefully, with his wife holding his hand. "He was ready for his final flight," she said.
A service is planned for 11 a.m. Saturday at the Sagle museum.
Forrest M. Bird's degree in biotechnology was an honorary degree, according to his wife, Pamela Riddle Bird. That was not clear in Bird's obituary story in Tuesday's paper.
Local journalism is essential.
Give directly to The Spokesman-Review's Northwest Passages community forums series -- which helps to offset the costs of several reporter and editor positions at the newspaper -- by using the easy options below. Gifts processed in this system are not tax deductible, but are predominately used to help meet the local financial requirements needed to receive national matching-grant funds.
Subscribe to the Coronavirus newsletter
Get the day's latest Coronavirus news delivered to your inbox by subscribing to our newsletter.
---