New Mead football coach Benji Sonnichsen finds right balance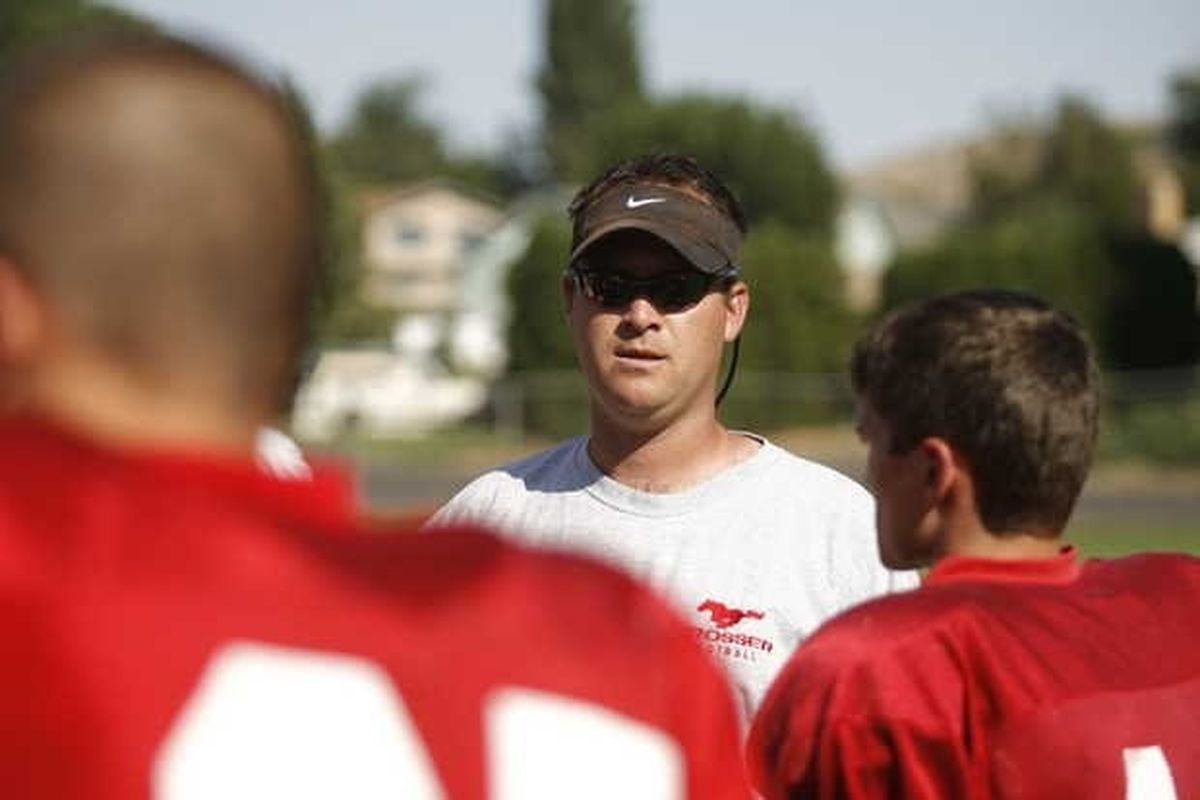 Benji Sonnichsen wasn't tired of coaching football at Prosser High.
After all, he's left behind a team that should challenge for a State 2A championship as early as this fall and no later than 2016.
So if winning was everything, Sonnichsen would still be the Mustangs' head coach.
What Sonnichsen needed was balance in his life. He was carrying a heavy load in the classroom as a special education math teacher.
"I had a caseload of 48 (students)," said Sonnichsen, 36, a father of six young children. "When I first started at Prosser, it was 17. I wasn't burned out on coaching. I had been going through this process for a couple of years. I needed to get a better fit that would give me more balance in my life. That's what spurred it."
The opening at Mead in late May became the fit Sonnichsen desired. And he won't be a special education teacher at Mead. He will teach study skills and physical education classes.
"I looked around the whole country for the right teaching/coaching job," he said. "If I was just a special ed teacher without football it would have felt OK. But when you put football on top of that, it made it difficult."
Sonnichsen had a highly successful run at Prosser, his alma mater. In six years, his teams were a combined 58-16 with three state semifinal and quarterfinal berths.
He expects success at Mead.
Sonnichsen spent much of July in Spokane, hiring assistants and getting to know his players. Mead had its team camp the last two weeks, and Sonnichsen said he passed out 116 helmets.
"We were able to get our offense and defensive systems installed," Sonnichsen said. "I was able to identify some athletes. I'll take speed over size any day. We have some really athletic kids. They definitely know how to get the ball and go."
Although Sonnichsen hasn't met former head coach Sean Carty, he complimented him for the structure he built.
"I'm impressed with the foundation I've walked into," Sonnichsen said. "The former coaches invested time and did a solid job."
Mead will go from the fly offense to one that's similar to what the University of Oregon employs.
Last year at Prosser, Sonnichsen used three quarterbacks every game.
"We had a senior that we tailored a Wildcat package for," he said. "And the junior and sophomore were so close that we had to play them both. We finished with more than 5,000 yards total offense. It was one of the best offensive seasons we've had at Prosser."
Upcoming junior Thomas Dammarell, who started most of Mead's games at QB last year, and Eastmont transfer Peyton Loucks are battling for the starting job, Sonnichsen said. It's likely both will play.
"We'll play as many guys as we need to," Sonnichsen said. "My message to them is: 'You have to prepare to win.' If they're prepared to win and put in the time, they'll play. If they haven't they won't be on the field."
Mead will use multiple sets and pressure on defense.
"It's so important in high school that you get lined up right on defense," Sonnichsen said. "As an offensive guy, if I see the defense lined up wrong we'll check and attack the defense."
Sonnichsen won't waste a breath talking about the turmoil that led to Carty resigning.
"My response is going to be short," he said. "I change the conversation with people. Sometimes not knowing things is better. I want to meet people for face value, shake their hands and make judgments based on that."
---