News > Spokane
Spokane Valley library backers take stock after bond defeat
UPDATED: Thu., Aug. 6, 2015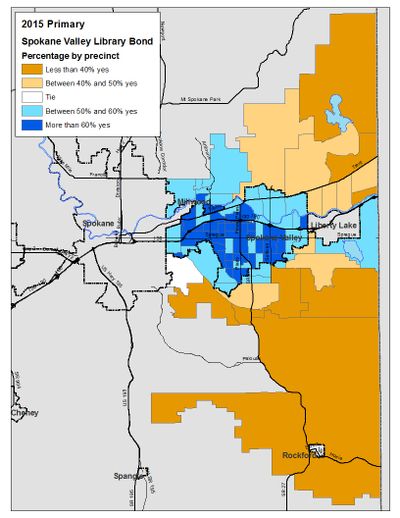 Supporters of a new Spokane Valley library are weighing their options after failing again to capture the needed supermajority for a $22 million bond issue.
Among the possibilities, library officials say, is tightening the boundaries of the areas that would vote on and pay for the tax increase needed for a new Spokane Valley library branch on Sprague Avenue across from the old U-City Mall and updating other existing library facilities.
A majority of Valley voters in Tuesday's primary favored the bond measure, but it failed to reach the 60 percent supermajority needed for passage.
Spokane County Library District Director Nancy Ledeboer said the district will spend time analyzing the numbers in an effort to determine if passing a bond in a smaller geographic area is possible.
"If you draw a tighter boundary, you have a lower assessed property value and you get a higher cost for the property owners," Ledeboer said.
That may turn voters away because they find the project too expensive.
"There is this balance we are trying to strike," Ledeboer said, "while keeping it affordable for everyone."
The bond would have cost property owners 11 cents per $1,000 of assessed property value – about $22 for a $200,000 home – every year for 20 years.
Last year, county voters approved the creation of a capital facilities district in Spokane Valley in which a property tax could be collected to pay for the library. The bond itself failed with 54.9 percent support.
It did better in Tuesday's election. Support reached 57.5 percent after ballot counting on Wednesday.
With the second failure to pass a bond, that capital district will be dissolved now, so the library district would have to start from scratch if it decides to pursue another bond.
Library officials say abandoning the plan for a new library also is possible.
"If people don't want it, then maybe we have to focus on what we have and make do," Ledeboer said. "It's up to the board of trustees to decide if we should try again."
Spokane Valley City Councilman Chuck Hafner organized the support campaign for the bond.
"I'm disappointed that people aren't looking toward the future of our city," Hafner said.
Hafner did not want to speculate about whether the library district should try to pass the bond a third time.
He said it was encouraging that voters in most city of Spokane Valley precincts supported the bond by more than the required 60 percent.
In the rural areas of the county, the bond had less than 45 percent support.
Spokane Valley City Councilman Ed Pace opposed the bond.
He said bond supporters never gave him a good enough reason to vote for it.
"They need to come up with better arguments than 'Libraries change lives' and 'We need more space,' " Pace said.
As for trying again, Pace said it would probably be best to give it some time.
"This is a loud enough 'no' that they should hold off for a couple of years," Pace said. "The library needs to do some serious thinking about its mission."
Local journalism is essential.
Give directly to The Spokesman-Review's Northwest Passages community forums series -- which helps to offset the costs of several reporter and editor positions at the newspaper -- by using the easy options below. Gifts processed in this system are not tax deductible, but are predominately used to help meet the local financial requirements needed to receive national matching-grant funds.
Subscribe to the Coronavirus newsletter
Get the day's latest Coronavirus news delivered to your inbox by subscribing to our newsletter.
---