News > Spokane
Spokane police lay down law on 'false alarms'
Wed., Aug. 12, 2015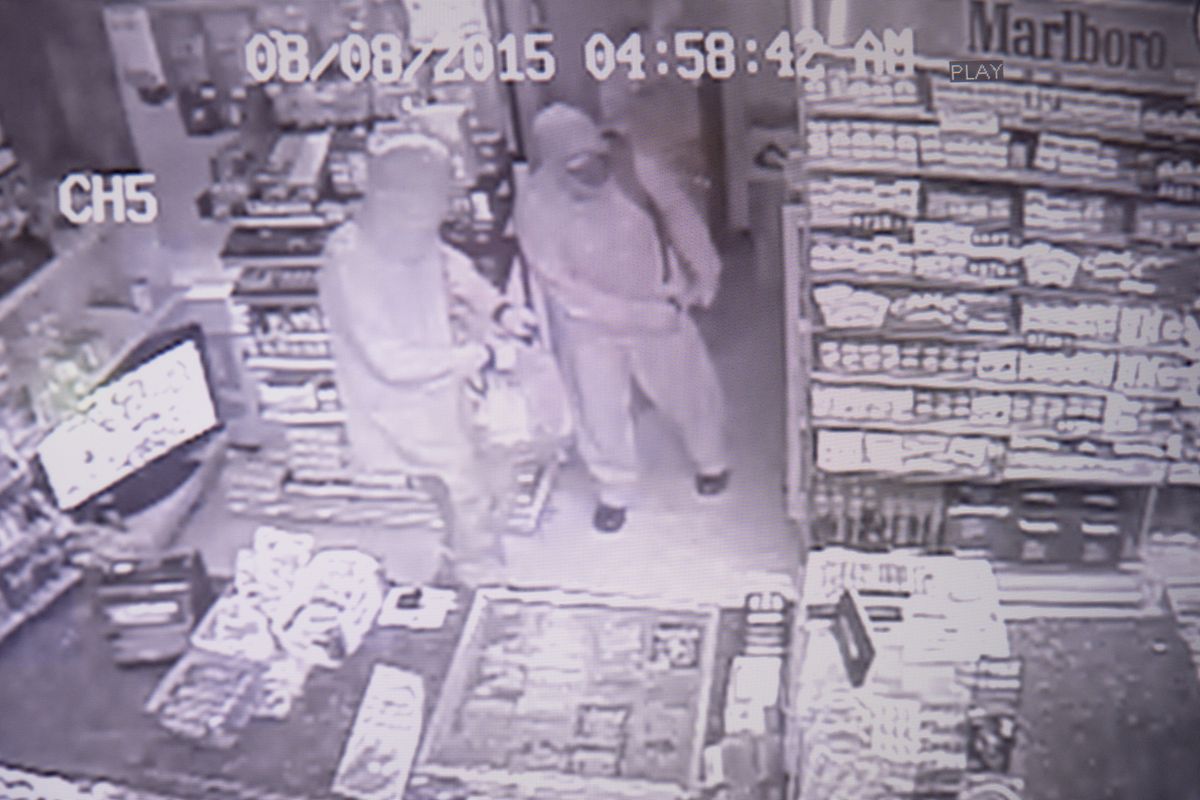 In a photo from surveillance video, two individuals walk around behind the counter at the M&K convenience store about 5 a.m. last Saturday.
Four ceiling tiles crashed to the ground, and a black-clad figure slithered down a stretch of electrical wire in a north Spokane convenience store.
Within half an hour, two burglars stole about $7,000 worth of cash, lottery tickets, cigarettes and glass pipes from the Hillyard neighborhood's M&K Grocery. An alarm sounded, and a security company alerted police at 5:33 a.m. Saturday.
Officers didn't show up until 2:14 p.m., however, because the owner of the store hadn't paid some "false alarm" fees to the city.
Under a city ordinance called the False Alarm Reduction Program, businesses and residences that use burglar alarm systems must pay annual fees of $25 or $35. Otherwise, Spokane police will not respond to some 911 calls from security companies like ADT, Frontpoint and Vivint.
Enacted in 2007, the ordinance is an effort to reduce an incredibly high rate of false alarms. Of the 4,100 burglar alarms sounded in 2014, only 127 – 3 percent – were considered valid, ongoing emergencies, according to Spokane Police Department data.
"Even with this program up and running, (the majority) of our alarms are false alarms," said Officer Teresa Fuller, police spokeswoman. "That costs a lot of man hours."
The data show similar trends year after year. Fuller said alarms often are triggered accidentally by residents and business owners themselves.
In some cases, it's a teenager who forgot to disable the alarm upon getting home from school. In others, it's a rambunctious pet or someone doing home improvement work. Security employees in faraway call centers don't know the difference, so they often report false alarms to law enforcement.
The fees that the city collects help offset the cost of sending vehicles and personnel to false alarms. The goal, the ordinance says, is "to assure that responses to false alarms do not diminish the availability of police services to the general public."
In addition to the annual fees, burglar alarm users pay fines for each false alarm that prompts a visit from police – $85 for residences and $165 for businesses. In 2014, the city collected $292,086 through this system.
"I want to make sure it's very clear that, should a crime occur … we will respond to the crime," Fuller said. If a resident or employee calls 911 during an emergency, police will respond as quickly as possible, she said. The ordinance does not apply to so-called panic alarms, which are activated manually at the site of an emergency.
Still, the owner of M&K Grocery, Shaheen Mutloob, said he's upset that police took so long to respond to Saturday's burglary. Mutloob was home at the time, and the store at 4619 N. Market St. was closed.
Police didn't respond to the initial call from ADT, the security company that Mutloob pays to monitor his business. He said he's frustrated the burglars were allowed to spend 30 minutes looting his business.
Fuller said police ignored ADT's call because Mutloob hasn't paid fines and late fees for a false alarm that occurred last March.
"If somebody calls 911, they have to check my status? It's ridiculous," Mutloob said. "Even if I don't have a license or whatever, they still have to show up."
Mutloob arrived at the store and watched the movie-style burglary unfold on grainy surveillance footage. He watched the first burglar pop out of the ceiling, jump over the counter and enter the back of the store to let in a second individual through an exterior door. The two, both wearing ski masks, proceeded to steal dozens of rolls of lottery tickets, a box of cash and a large tin of spare change, among other items.
Mutloob called police around 7:30 a.m. and again around noon. He wasn't satisfied with their response.
"They said, 'We are super busy. We have put in a request,' " he said.
That morning, police were preoccupied with an armed standoff at a north Spokane home, which ended when police fatally shot a man who opened fire on them, Fuller said.
"At the point (Mutloob) called us, the damage was done and the suspects were gone," Fuller said. "It wasn't an active scene, and we had active scenes elsewhere."
Shortly after filing a police report, Mutloob learned that some of the stolen lottery tickets were being redeemed at other Hillyard businesses. He said the tickets alone cost him as much as $4,000.
Mutloob, 40, started M&K Grocery 11 years ago, shortly after moving to the United States from Pakistan. He said he's dealt with many petty thefts and shoplifting incidents, but never a crime so elaborate as Saturday's burglary.
The burglars cut a hole in the roof, apparently using a power saw. They cut electrical wires for some, but not all, of the security cameras.
"I cannot handle all of this crap," he said. "I'm getting crazy now."
Editor's note: Due to a reporting and editing error, an earlier version of this story contained incorrect numbers regarding the percentages of burglar alarms that are valid.
Local journalism is essential.
Give directly to The Spokesman-Review's Northwest Passages community forums series -- which helps to offset the costs of several reporter and editor positions at the newspaper -- by using the easy options below. Gifts processed in this system are not tax deductible, but are predominately used to help meet the local financial requirements needed to receive national matching-grant funds.
Subscribe now to get breaking news alerts in your email inbox
Get breaking news delivered to your inbox as it happens.
---