Sports > Outdoors
From sibling rivalry to bestie: Surviving a big brother
Thu., Aug. 13, 2015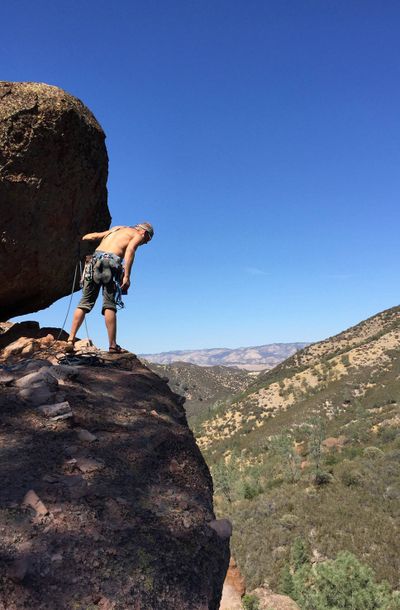 I have spent over 35 years trying to keep up with my big brother. From the time he spun me in the laundry basket until I hurled, to the first few flights over the handle bars of my mountain bike, I have been conditioned to ride harder, whine less, and share my food.
When I was four feet tall, I rebelled against the challenge by tattling on him for anything I could make up and telling people about the last time he cried. Now, I train my butt off so I can run him into the ground. It rarely works.
This results in us planning vacations together after which we need a week-long nap and possibly a brief stint in rehab. Because when you try to cram fourteen sports in a single day, the only thing that slows you down is a stiff cocktail at the end of it. Or several of them.
The intention of our shared holidays is usually casual fun. We talk about it like we'll catch up with some old friends, maybe play on the rocks a little, ride our bikes. The reality looks much different.
I travel with my climbing gear in my carry-on, just in case they lose my luggage (they did). Apparently I'd rather be wearing my brother's underwear all week than miss a day on the rocks.
My brother picks me up from the airport with coffee in hand and an itinerary that resembles a decathlon schedule.
"They lost my luggage," I say as I watch the panic in his eyes. He's calculating what sport we might undertake in my traveling attire.
"My climbing rack is with me though," I say, because I suspect he's seriously considering just leaving me at the airport. Even after all these years of sharing my wisdom and recipes, most of my sisterly value comes from being a good belay slave.
For a week, we do everything most people do in a month. Twice. We ride our mountain bikes hard and then aim for a quick eat-while-standing transition so we can get to the climbing gym before it fills up. We head out for a "mellow day on the rocks" and then climb route after route until dehydration and the sunset force us home. We trail run so far, the dog gives up. Then we barbecue for the neighborhood with dusty ankles, deep tans, and tall drinks.
We get more tired as the days go on but neither of us has the humility to admit the sexy allure of a rest day. Both of us would sooner die. Or possibly fake injury.
In the meantime, we make the memories that perpetuate family and friendship. We discover ourselves and each other. The similarities that we have from growing up in the same house (see: crazy determination to push way past our comfort zones) contribute to our ability to adventure together. The bonding substance of commiseration only seems to encourage us.
Although I would never admit this directly to him, I am eternally grateful to have a big brother. I am almost as grateful that he lives so far away because I can only climb/ride/run/cook so many days in a row.
Over the years, we've seen each other over mountain summits and through divorces. We have supported each other (whether by real belay or analogy) in successes and failures. We have been witness to the experiences that defined who we were as children and who we became as adults. And in all that we've managed to discover an incredible friendship.
It was found somewhere between unconditional love and a noogie.
Local journalism is essential.
Give directly to The Spokesman-Review's Northwest Passages community forums series -- which helps to offset the costs of several reporter and editor positions at the newspaper -- by using the easy options below. Gifts processed in this system are not tax deductible, but are predominately used to help meet the local financial requirements needed to receive national matching-grant funds.
Subscribe to the sports newsletter
Get the day's top sports headlines and breaking news delivered to your inbox by subscribing here.
---
Subscribe and log in to the Spokesman-Review to read and comment on this story