News > Spokane
Chelan wildfires surpass 100,000 acres
Tue., Aug. 18, 2015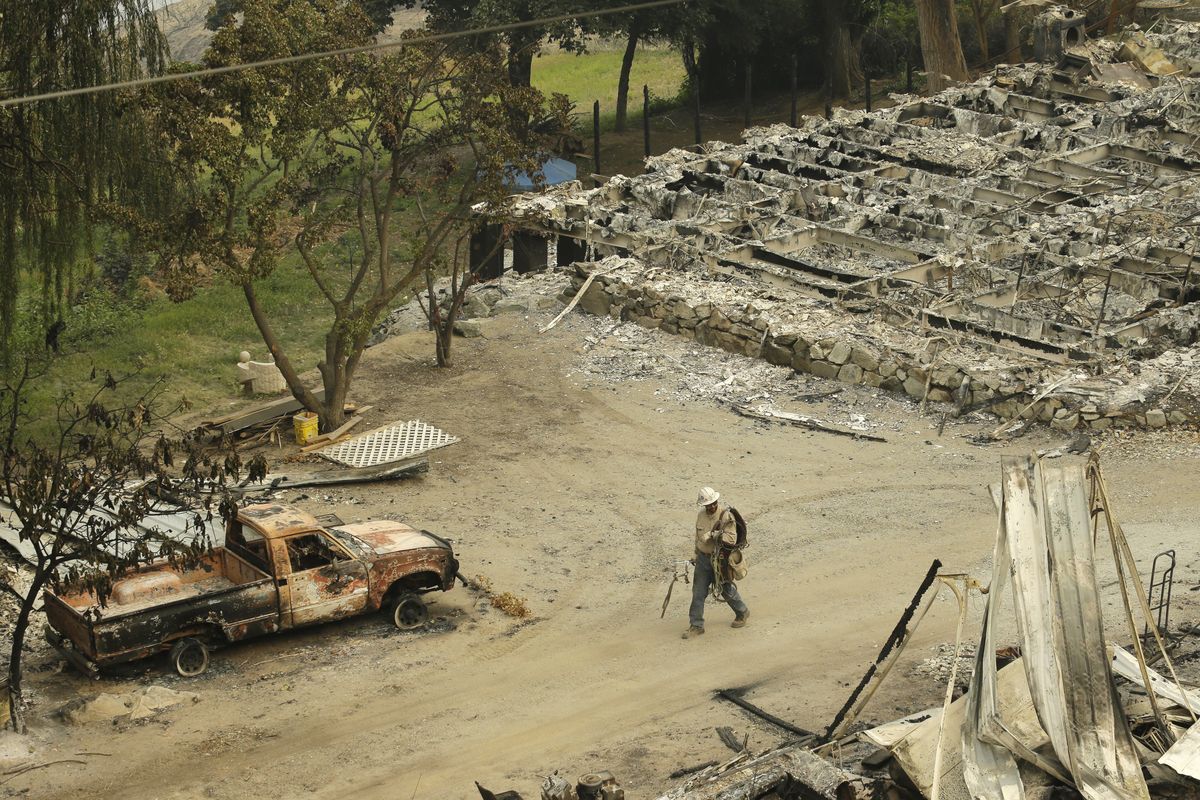 A Chelan County Public Utility District worker walks past a burned structure along state Route Alternate 97 highway Monday, outside of Chelan, Wash. (Associated Press)
Fires continued to rage across Washington and Idaho on Monday as thousands of firefighters were deployed from the parched rain forests of the Olympic Peninsula to the dun hills of Stevens County.
Hardest hit is Chelan, where a group of six fires spread in several directions to burn 102,000 acres, 32 homes, and Chelan Fruit Inc.'s processing plant – a major employer in the region.
News reports indicate that the fire, ignited by lightning strikes Friday, also burned a winery and a lumber yard.
Dozens more buildings and homes in the lake town are feared lost to the flames. There were 937 firefighters trying to keep the fire from razing neighborhoods. About 3,000 people have been evacuated.
Another 42 homes and 75 outbuildings were lost to a 32,000-acre fire burning in Kamiah, according to the Idaho Department of Lands. There are 741 firefighters trying to save other homes in the area around Highway 12 east of Lewiston before hot weather and low humidity arrive later this week. The fires are among those burning 1.1 million acres across seven Western states. About 200 soldiers from Joint Base Lewis-McChord will be pressed into light firefighting duty. It's the first time in nine years that active-duty soldiers have been summoned.
The military also is providing large C-130 planes specially equipped to drop fire retardant.
In Stevens County, more homes have been evacuated in the Fruitland area where the Carpenter Road fire has burned about 5,000 acres and consumed at least five houses. Fire officials said another 100 homes scattered in the timber- and brush-covered hills rising east from the Columbia River may need to be evacuated.
Meanwhile, the Colville Business Council approved the shutdown of the Colville tribal forests. All forest operations will be prohibited starting Wednesday, and a number of access roads on the reservation will be closed. The closure is in response to potential new fire starts, limited resources, drought conditions and extreme fire behavior.
North of Republic, Washington, the Stickpin fire, which is now part of the larger Kettle Complex, grew to 35,530 acres as it burned about 10 miles east of Curlew Lake. About 400 people are assigned to control the fire, according to a news release. No homes have been burned as the fires continue to grow.
Washington National Guard support teams arrived Monday as the weather is forecast to become warmer for the next several days, prompting warnings that fire risks could increase significantly on Wednesday and Thursday.
Josh Olsen, a resident of Curlew, said he saw four planes dump retardant in the Togo area.
Olsen said some residents are frustrated with the lack of information.
"Nobody really knows what's going on," Olsen said.
On the Colville Indian Reservation, a 25,000-acre fire is burning 12 miles north of Nespelem, Washington, and moved toward Dugout Mountain, off the reservation and into the Okanogan National Forest. Monday evening, the fire reached the west side of Moses Mountain.
The Associated Press contributed to this report.
Local journalism is essential.
Give directly to The Spokesman-Review's Northwest Passages community forums series -- which helps to offset the costs of several reporter and editor positions at the newspaper -- by using the easy options below. Gifts processed in this system are not tax deductible, but are predominately used to help meet the local financial requirements needed to receive national matching-grant funds.
Subscribe now to get breaking news alerts in your email inbox
Get breaking news delivered to your inbox as it happens.
---