Sports
Kyrin Priester wins appeal, can play for WSU this season
Tue., Aug. 18, 2015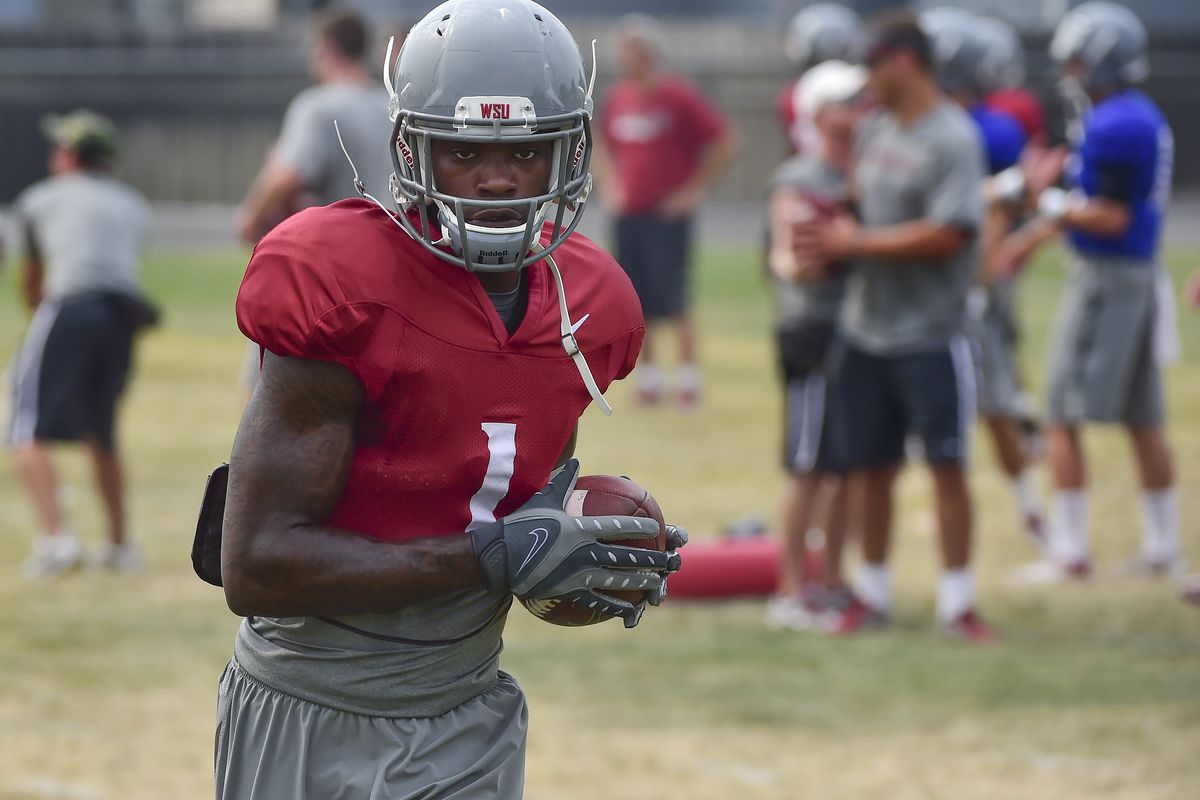 Washington State got a boost to its receiving corps with the immediate eligibilty of Clemson transfer Kyrin Priester. (Tyler Tjomsland)
PULLMAN – The athletic fields at Sacajawea Junior High in Lewiston lie withered after nine days of being trampled by 100-plus cleated college football players, the brown grass watered with their sweat.
The Washington State Cougars doubtlessly improved during their preseason camp, as much as one team can improve over slightly a week of practice. But nothing in camp improved the team more than the waiver granted by the NCAA on Monday to allow Clemson transfer Kyrin Priester to play this season.
While the nine-day slog in Lewiston was a necessary step to get the team ready for the 2015 season, it was also a necessary opportunity for players to outperform their coaches' preconceived notions and make their cases for bigger roles.
Here are five players that proved during camp they're ready to be major contributors this season:
Shalom Luani
The transfer from San Francisco City College was recruited to play immediately in the WSU secondary and the coaches wasted no time in throwing him in with the second unit. Luani flashed great hitting ability and solid coverage skills. After just nine practices at WSU, he's already a backup safety and expect to see him starting before too long.
Tavares Martin Jr.
The true freshman from Belle Glade, Florida, was the leading receiver during WSU's scrimmage on Sunday. While Martin Jr.'s hands and quickness jump out, the freshman has also drawn praise from the coaches for his blocking ability. Martin Jr. seems likely to play this season behind Gabe Marks at the Z receiver position, and is a candidate to return kicks, as well.
Erik Powell
Last year's starting kicker, Powell lost the job after a 2-of-5 start to the season and the Cougars have done what they could to find a suitable replacement, bringing in a few new kickers to camp and giving them plenty of reps. But Powell did enough in Lewiston to make him the frontrunner for the starting job, flashing a big leg and consistently connecting on field goals of 40-yards and longer.
Darrien Molten
Another freshman that figures to contribute immediately, Molten was starting at cornerback since Charles White was unavailable to practice. Molten is still learning what he can and can't get away with against Pac-12 receivers, but his athleticism and instincts will be valuable assets to WSU's secondary.
Dom Williams is one of WSU's best players and has proved his value over the years with a penchant for making big plays at critical junctures. Yet, Priester has been so impressive in his short time with the Cougars that Williams may have to settle for a role off the bench as a senior. Priester is very skilled at catching the ball, even in congested spaces, and he has a gift for using his impressive strength and size to turn routine passes into big plays.
Local journalism is essential.
Give directly to The Spokesman-Review's Northwest Passages community forums series -- which helps to offset the costs of several reporter and editor positions at the newspaper -- by using the easy options below. Gifts processed in this system are not tax deductible, but are predominately used to help meet the local financial requirements needed to receive national matching-grant funds.
Subscribe to the sports newsletter
Get the day's top sports headlines and breaking news delivered to your inbox by subscribing here.
---