News > Spokane
Early wheat harvest produces lower yield because of weather
Thu., Aug. 20, 2015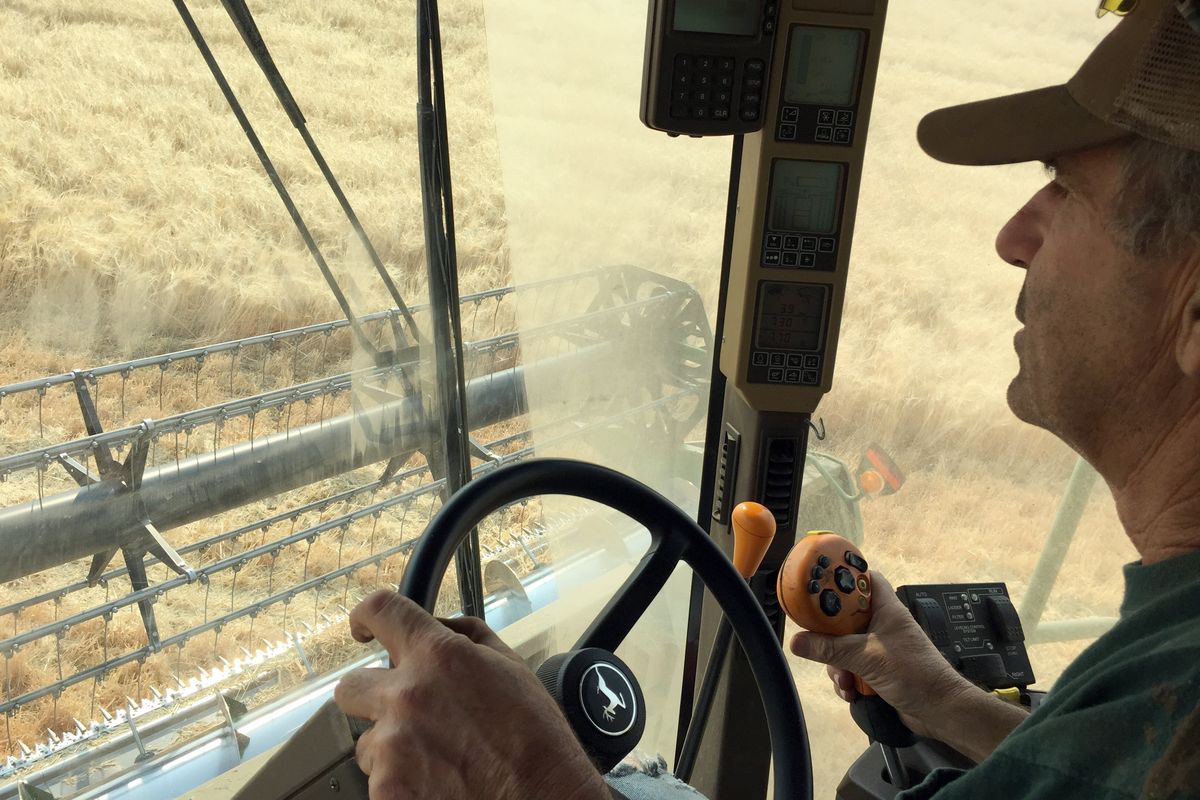 Farmer Mark Hall drives his combine through a field of malt barley Monday during a busy harvest season on the Palouse near the town of Steptoe, Wash. He described this year's wheat crop, which he has finished harvesting, as compromised by the early heat and lack of rain. (Jesse Tinsley)
STEPTOE, Wash. – Combines crawling across the hills of the Palouse, threshing the nation's largest wheat crop, signal an annual end to summer in southeastern Washington.
But if you plan to observe those hulking machines this year, your luck may already have run out.
"We're used to starting around this time," said Jon Hill, a warehouse worker at the Cooperative Agricultural Producers grain elevator in Oakesdale. "We're already finishing up."
Blistering temperatures and drought conditions combined to push the wheat harvest ahead by two weeks statewide. Farmers have seen low yields and a crop high in protein, a byproduct of the extreme weather that makes the wheat less desirable to foreign markets, experts say.
But Mark Hall, who's been growing wheat, barley and chickpeas on property just west of the town of Steptoe for nearly three decades, took a long-term perspective last week as he nodded to thin stalks of wheat churning beneath his feet.
"It survived, it's just not very good," Hall said in his combine, motioning to the patches of parched soil visible between stalks of golden, knee-high spring wheat.
It's the second straight year wheat farmers in Washington have had to deal with a severe lack of moisture. The harvest also was ahead of schedule in 2014 due to extreme heat and dry conditions, but not to the extent the industry is seeing this summer. The winter wheat harvest is 96 percent completed, according to the National Agricultural Statistics Service.
Spring wheat is nearly 90 percent done. It was 65 percent complete at this time last year and should be about one-third completed, according to historical averages. Heat dries the crop, and the warmer the summer, the earlier the harvest.
But Hall said it's the timing of the rain – not the amount – that often determines the quality of the wheat. A warm winter left much of his soil thawed and receptive to spring rains, which occurred at the right time to save his winter-planted wheat from the stress that afflicted spring wheat.
"It's a timing thing," he said. "Sometimes you can have no rain for a long period of time, and if you get a rain at the right time, it bails you out. A lot of time, in this country, it bails you out."
In Lincoln County, Tim Siler with Reardan Grain Growers said several farmers who have unloaded there believe the region was close to having a good year, but prolonged periods without moisture this spring hit the crop hard.
"They've said we were one or two rains away from a really good crop," Siler said.
The weather isn't the only thing that has industry watchers wringing their hands. Wheat prices have also tumbled in the past couple of years following healthy growing seasons in the Midwest and around the globe. Portland was buying soft white wheat at bids of about $5.60 per bushel last week, compared with bids of $6.85 per bushel last year and $8.40 per bushel during a historic high period in August 2012.
"The price is down, which is kind of a double whammy," Siler said.
Glen Squires, chief executive officer of the Washington Grain Commission, said farmers are referring to this summer as historically bad.
"People are making references to 1977, when there was a huge drought," Squires said.
That year, parts of Eastern Washington received less than half the normal rainfall, and 13,000 jobs were lost in the agricultural and aluminum industries, according to figures from the Washington Department of Ecology.
This summer hasn't been quite as dire in Whitman County. The National Weather Service in Pullman reported rainfall totals about 13 percent below normal there through the second week of August. Northeastern parts of the state, including Spokane, Colville, Deer Park and Kettle Falls, all have rainfall deficiencies much greater than in wheat country.
But the weather has produced a crop that is high in protein, putting pressure on elevator workers like Hill and Siler to segregate the crop so farmers receive the most bang for their buck, said Don Potts, regional grain inspection manager for the Washington Department of Agriculture.
"Anytime you get a low moisture year, that puts extra stress on the kernels," Potts said.
Light and puffy pastry bread and noodles – the products that most depend on Washington's soft white wheat – are made with grains that are low in protein. Potts has seen samples come into the Spokane office showing protein levels of between 13 percent and 15 percent, well above optimum levels around 10 percent, he said.
The state produced 80 million bushels of wheat during the drought of 1977. Last year, 108 million bushels were harvested, the lowest production year since 1991. Squires said the U.S. Department of Agriculture's prediction of about 123 million bushels this year likely will need to be revised downward due to low yields.
While the numbers are all concerns for Hall as he guides his combine along the contours of the hills west of Steptoe, he said he doesn't spend a lot of time worrying about things he can't change. He said harvest day is payday, and it's tough to complain from where he's sitting.
"I think farmers really have to be farmers. You are born a farmer," Hall said. "In order to do that, you have to be able to tolerate certain things – dirt, dust, the hot, miserable conditions."
"Farmers don't want to quit. Sitting out here, there's something appealing about it that not everybody gets."
Local journalism is essential.
Give directly to The Spokesman-Review's Northwest Passages community forums series -- which helps to offset the costs of several reporter and editor positions at the newspaper -- by using the easy options below. Gifts processed in this system are not tax deductible, but are predominately used to help meet the local financial requirements needed to receive national matching-grant funds.
Subscribe now to get breaking news alerts in your email inbox
Get breaking news delivered to your inbox as it happens.
---