Sports
WSU has put added emphasis on running back touches
Thu., Aug. 27, 2015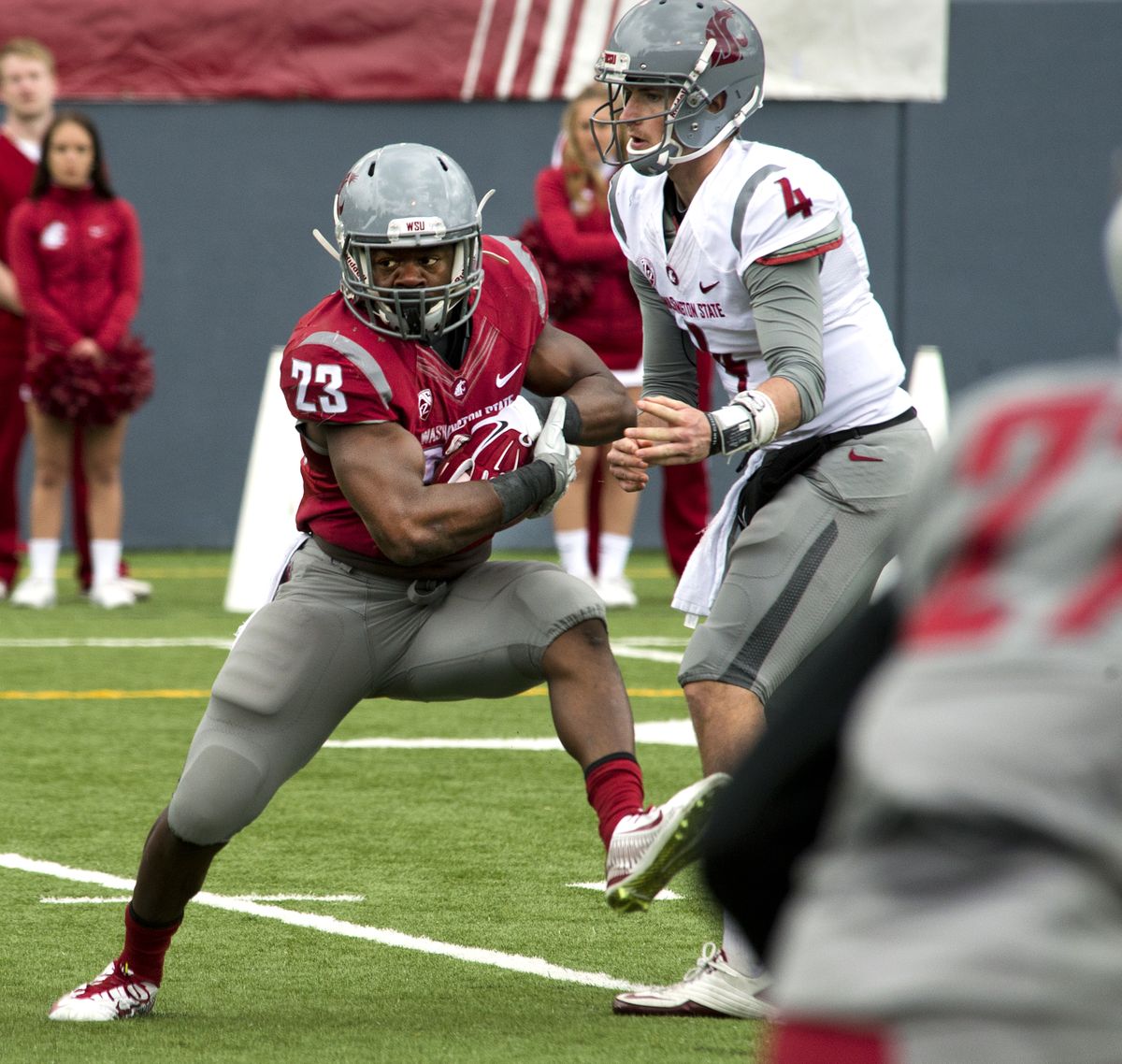 Running back Gerard Wicks will get plenty of hand-offs from quarterback Luke Falk this season. (Dan Pelle)
This is the fifth of eight previews looking at WSU's position-by-position prospects for the upcoming season. Today: Running backs. Friday: Wide receivers.
PULLMAN – Washington State's running backs would not do well to be greedy this season, although the prize they share is not as small as commonly thought.
Last season, the running backs touched the ball about 40 percent of WSU's offensive plays and that number is expected go grow significantly in 2015. The Cougars have been running the ball in practice more than at any other time during Mike Leach's tenure and offensive plays spent out of shotgun in a more traditional look seem to nod toward a renewed emphasis on the ground game.
Gerard Wicks, Jamal Morrow and Keith Harrington will each get their turn in WSU's offensive backfield, so none are likely to turn in a 1,000-yard rushing season. Any of the three was likely to turn in the best performance during a given day of preseason camp.
Such parity makes it tough for the coaches to know who will have the hot hand, but they'll gladly trade that for the aspects of the competition it brews.
"It's sort of like a chain reaction," Wicks said. "When Keith makes a long run, I make a long run. Kind of like an anything you can do, I can do better, kind of thing."
Wicks is the strongest of the three and has a physical running style that can bruise defenses that will frequently use smaller, quicker players to defend WSU's numerous receivers. Morrow was WSU's fourth-leading receiver last season and Harrington was originally recruited to catch passes.
Harrington redshirted last season, while Morrow and Wicks split the bulk of the carries despite being only redshirt freshmen themselves.
"People don't realize those two were freshmen last year," said running backs coach Jim Mastro. "In this conference that's tough cooking."
Rather than celebrate their unique talents, however, Mastro would rather the backs improve the weak parts of their particular games in order to become similar players. Much of the reason for that is WSU's offensive style, in which the quarterback declares a running play at the line of scrimmage, so it would be impossible (and a tip to the defense) to substitute based on an individual situation.
The Cougars frequently have two running backs on the field at the same time, and either one could be blocking for the other depending on what play the quarterback checks into.
Blocking, in particular, is an area in which the returning backs hope to show growth.
"We definitely improved in pass protection and run blocking," Morrow said. "We're trying to not be selfish but to help the other running backs out. If I'm blocking, I want Gerard to get a big run in."
Freshman James Williams provides a fourth option, although Mastro admits he would prefer to redshirt the newcomer, who sustained a season-ending leg injury his senior year of high school.
But if Williams is good enough to play, he will, and indications from the preseason scrimmages and practices are that he is at least good enough to force the established trio to keep improving or risk having the rushes and receptions divvied up even further.
"That's what you want to get your program to in recruiting is that level where it's competition every day in practice," Mastro said. "We have that now, we have three guys, James Williams is a fourth guy, that you have competition every day. And that's going to make them better and make our team better."
Camp notes
Washington State's practice on Wednesday was moved to 8:30 p.m. to accommodate a celebration of the life of recently-departed school president Elson Floyd in Martin Stadium. … Leach alluded to a likely starting quarterback during a radio broadcast with Jason Puckett and Ian Furness of KJR, telling the hosts, " Luke Falk for week one probably puts our best foot forward."
Local journalism is essential.
Give directly to The Spokesman-Review's Northwest Passages community forums series -- which helps to offset the costs of several reporter and editor positions at the newspaper -- by using the easy options below. Gifts processed in this system are not tax deductible, but are predominately used to help meet the local financial requirements needed to receive national matching-grant funds.
Subscribe to the sports newsletter
Get the day's top sports headlines and breaking news delivered to your inbox by subscribing here.
---