News > Spokane
Windstorm workers sport a symbol of their long days restoring power
Tue., Dec. 1, 2015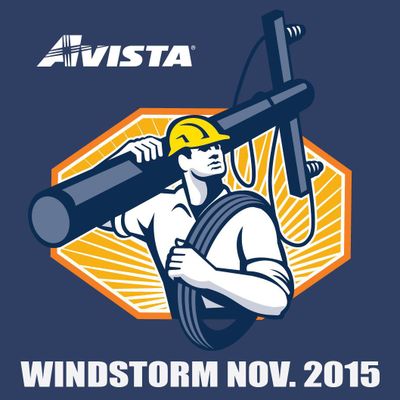 When an Avista old-timer retires and co-workers gather to say goodbye, the event that often highlights his or her career is the 1996 ice storm.
Utility workers now have an even more extraordinary event to remember – and a memento of their restoration efforts.
"I foresee in 20 years from now this wind event will be the chapter that they will reference back to," said Eric Rosentrater, Avista's electric operations manager.
Last week, as around 700 utility workers were restoring power from the Nov. 17 windstorm in the worst outage in Avista's history, the company distributed decals with an official windstorm logo to commemorate the workers' efforts.
Avista created and printed the decal in-house with stock art purchased online, said Avista spokeswoman Laurine Jue.
Rosentrater said many linemen already have stuck the stickers on their hardhats. Creating a decal for a special project or recovery effort is relatively common among bigger power companies, said Rosentrater, who has a decal on his hardhat that he earned while helping Puget Sound Energy restore power after a windstorm in 2006.
Linemen traveled from as far as San Francisco to work in the aftermath of last month's storm. In 10 days, many linemen worked as many hours as they normally would have in a month in a string of 16-hour shifts. The work is dangerous and relies on teamwork, Rosentrater said.
There were no injuries among all the crews who restored Avista's power.
"That group you're working with, you're going to have a bond that will last your career," Rosentrater said.
Local journalism is essential.
Give directly to The Spokesman-Review's Northwest Passages community forums series -- which helps to offset the costs of several reporter and editor positions at the newspaper -- by using the easy options below. Gifts processed in this system are not tax deductible, but are predominately used to help meet the local financial requirements needed to receive national matching-grant funds.
Subscribe now to get breaking news alerts in your email inbox
Get breaking news delivered to your inbox as it happens.
---