News > Voices
Donation puts lights on Spokane Valley Christmas tree
Wed., Dec. 2, 2015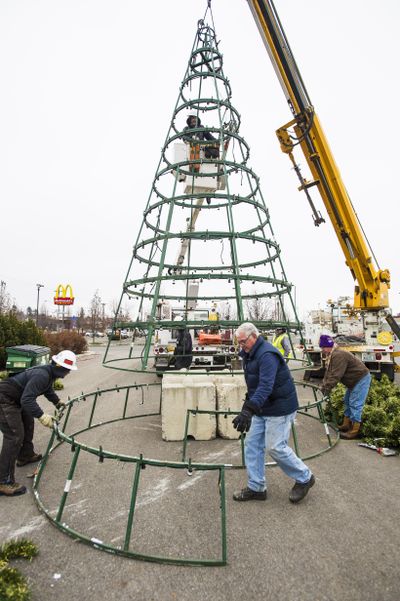 The artificial tree the Spokane Valley Rotary sets up for the Celebration of Lights will have new lights this year, thanks to a $1,200 donation from Modern Electric Water Co.
"We already store the tree for them and we heard they needed the money," said Mike Baker, general manager of Modern Electric. "We need to have this type of event to have more of an identity here in the Valley."
Baker said Rotary does so much good work for others it was easy to make the donation.
"We just felt that this would be a great thing to help out the community," Baker said, "and to thank Rotary for all the hard work they do."
Lighting the Christmas tree in the old U-City parking lot in Spokane Valley hasn't been easy the past couple of years.
In 2013, the tall artificial tree was hit by a car after it was set up in the parking lot and the event had to be called off.
Last year Rotarians put the tree back together, but found a lot of the built-in lights were no longer working. New strings of lights were purchased and hung with the help of an Avista crew and its cherry picker, and the celebration was saved.
Earlier this year, Spokane Valley Mayor Dean Grafos suggested Valley Rotary, which organizes the holiday event, retire the damaged artificial tree and instead decorate one of the live fir trees toward the west end of the parking lot near where the new city hall will be built.
That was a great plan, said Rotary's Mike Payson, until it was discovered there's no power at that end of the parking lot.
"So now we are back to using the old damaged tree another year," Payson said.
Payson said it's possible this year's tree will be a little shorter because they are trying to not use some damaged tiers that have electrical problems. He added that Modern's donation was a "total surprise."
Next year's Celebration of Lights may feature the artificial tree one more time. It would cost up $20,000 to buy a similar, new artificial tree.
Once the new city hall is done, the plan is to use a live fir tree.
"The city has promised to preserve a live fir for us," Payson said.
Local journalism is essential.
Give directly to The Spokesman-Review's Northwest Passages community forums series -- which helps to offset the costs of several reporter and editor positions at the newspaper -- by using the easy options below. Gifts processed in this system are not tax deductible, but are predominately used to help meet the local financial requirements needed to receive national matching-grant funds.
Subscribe to the Coronavirus newsletter
Get the day's latest Coronavirus news delivered to your inbox by subscribing to our newsletter.
---