Sports > Gonzaga basketball
Kyle Wiltjer starts hot, No. 13 Gonzaga holds off Washington State as regional series shutters for now
Wed., Dec. 2, 2015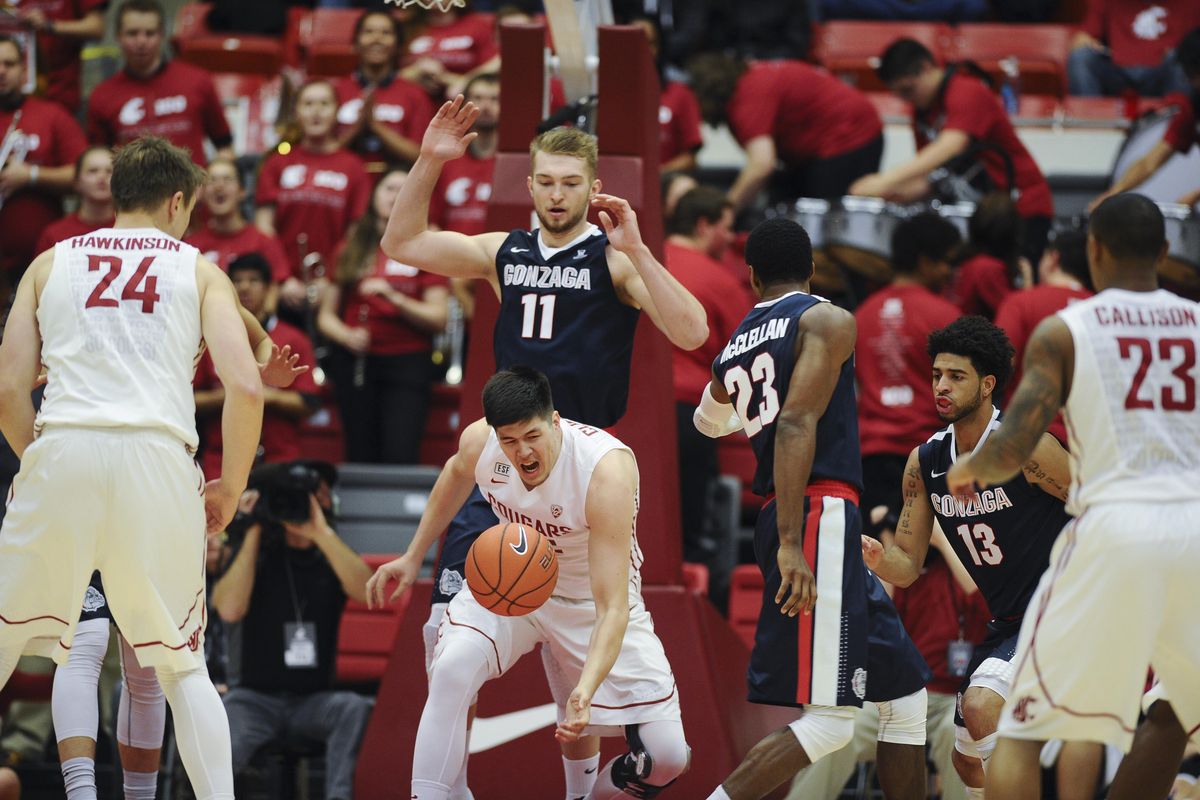 Washington State's Conor Clifford (42) fights for a rebound against Gonzaga during the first half of a college basketball game on Wednesday, Dec 2, 2015, at Beasley Coliseum in Pullman, Wash. Gonzaga led 38-30 at the half. (Tyler Tjomsland / The Spokesman-Review)
PULLMAN – Those expecting a classic shot-for-shot duel in the 150th matchup between No. 13 Gonzaga and Washington State, and likely the last contest between the two for a while, saw something else in the Bulldogs' sputtering 69-60 victory Wednesday night.
The disjointed and lethargic game finished at a sprint, as the Cougars survived a torrid first-half by the Bulldogs offense to only trail at the halftime break by eight points. But the Cougars could only make slight inroads on that deficit, and the Bulldogs always had an answer for their runs.
Whether or not the schools will continue to play appears to be in the hands of Gonzaga coach Mark Few. WSU coach Ernie Kent opened his postgame press conference with a statement lobbying for the continuation of the series that lasted nearly three minutes.
"I'm hoping they can circle back and look at their scheduling for down the road because I surely feel like our power ranking and those things are every bit as good as Nicholls State or those teams they're playing," Kent said. "And yet you do it in a sense that it's not just about us. I think it's about the two communities."
Kent did stress that he would like the series to continue as long as it is a typical home-and-home agreement. The last two years the game had been played in Spokane.
Few indicated that he would like to resume the series at some point, but that other agreements are in place that will preclude a resumption of the series next season.
"Who knows, I'm sure things will open up as we move along," Few said. "Right now we have some (other) opportunities that we've agreed upon and we're moving in that direction. I'm sure we'll be able to get back and hook up again and get back to having these great games again at some point."
A loud crowd of 8,209 showed up for the Eastern Washington rivalry, and the marquee player, Kyle Wiltjer, went on a scoring spree in the first 10 minutes that from a viewing experience surely matched the havoc continuously wrought upon NBA arenas by Stephen Curry.
Wiltjer entered the game with an earned reputation as a prolific shooter, but had not yet lived up to his standing, shooting just 30 percent on 3-point attempts prior to Wednesday's game.
"He rose the occasion with the way he started," Kent said. "We didn't have in our scouting report that he was going to shoot 40-foot 3s and hit the bottom of the net. So we had to make some adjustments."
And WSU's Que Johnson displayed the long-anticipated scoring prowess that made him such a highly recruited player out of high school, but was often absent in his freshman and sophomore seasons. Johnson led the Cougars with 18 points on 8-of-14 shooting, chipping in five rebounds.
But the teams combined for 29 turnovers, and far too many of WSU's 13 were unforced, with the Cougars collecting loose balls or rebounds, only to have the basketball carom out of bounds off a knee or shoe.
The Bulldogs fended off mild rallies by the Cougars for most of the second half. The most promising came when Johnson double-pumped his way to a three-point play with 5:55 left in the game, and Junior Longrus promptly stole the ball and fed Ike Iroegbu for a layup to cut the score to 59-53 with 5:14 remaining.
Josh Perkins responded with a 3-pointer, Johnson responded with a baseline jumper, and the game's final increment had considerably more excitement than the first 35 minutes managed to pack in.
GU (5-1) has been carefree with its leads late in games, seeing sizable margins dwindle away in each of its last three games, costing the Bulldogs a win against Texas A&M.
"We've got to rest," Few said. "I've got a tired team right now, mentally and physically gave everything they had coming back from Bahamas."
Imposing center Przemek Karnowski missed Wednesday's game with a back injury, and Domantas Sabonis started in his place.
"He came to shoot around this morning and his back was hurting him, got progressively worse," Few said. "Pretty bad back spasms."
Sabonis filled in capably, scoring nine points and adding 14 rebounds.
Wiltjer was shooting on a different basket than everyone else in the first half, making his first four 3-pointers and only finally breaking his scorching rhythm when he tested himself from near halfcourt, and couldn't quite get the ball to fall through his engorged cylinder.
The 6-foot-10 shooter was double-teamed throughout the game, yet finished the first half with 20 points. Despite his point-a-minute pace in the first half, the Bulldogs saw their 15-point lead dwindle to 38-30 at the break, thanks in part to four turnovers by seniors Kyle Dranginis, Eric McClellan and Wiltjer.
But the sharpshooter's highly concentrated contributions were largely limited to that initial binge – he finished the first 10 minutes with 20 points, and finished the game with 22, going scoreless until he hit a pair of free throws with nine seconds remaining.
Local journalism is essential.
Give directly to The Spokesman-Review's Northwest Passages community forums series -- which helps to offset the costs of several reporter and editor positions at the newspaper -- by using the easy options below. Gifts processed in this system are not tax deductible, but are predominately used to help meet the local financial requirements needed to receive national matching-grant funds.
Follow along with the Zags
Subscribe to our Gonzaga Basketball newsletter to stay up with the latest news.
---