Gonzaga Prep completes perfect season by flattening Skyline for State 4A title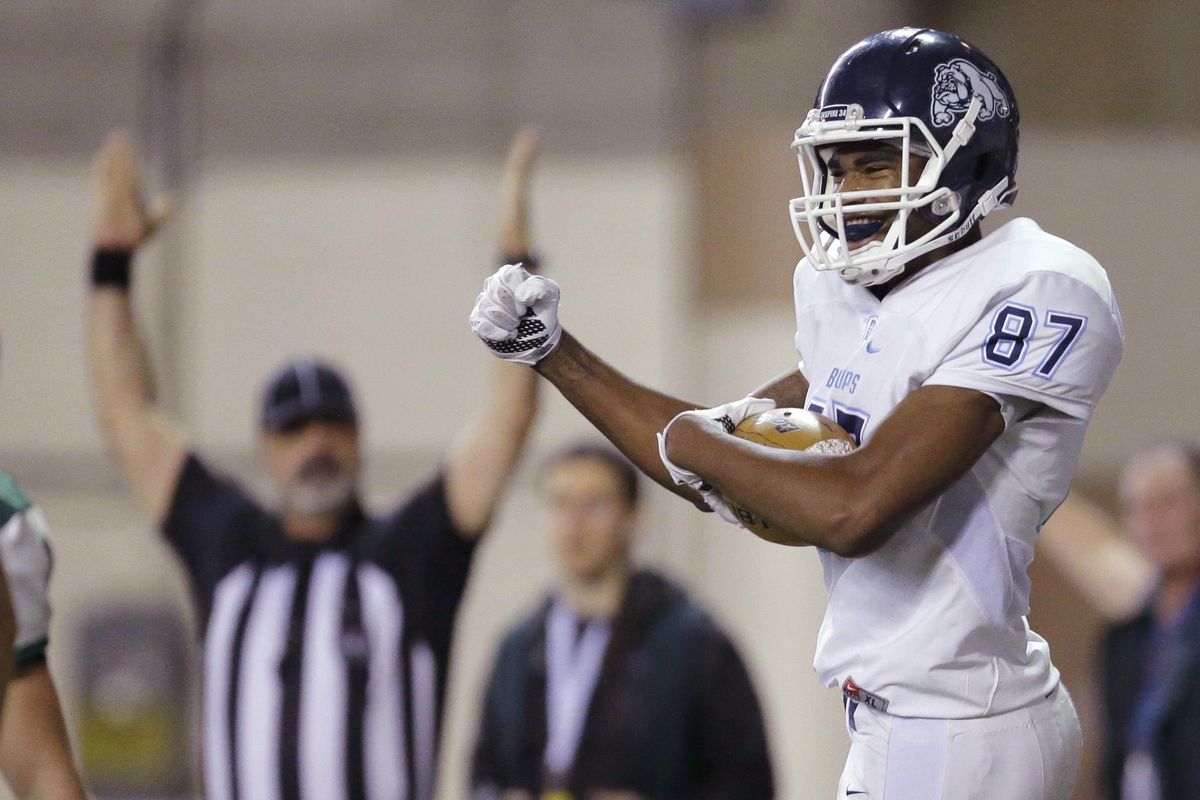 TACOMA – A rally wasn't needed and they didn't get in their own way.
It all added up to the dominating season that a 14-0 record represents for the Gonzaga Prep football team.
G-Prep rode a hot start by its offense and the defense did the rest, as the Bullpups handled the Skyline Spartans 34-16 in the State 4A championship game Saturday at the Tacoma Dome.
It was the offensive start G-Prep wanted.
Slow starting in three previous playoff games, the Bullpups had Skyline reeling throughout the first half, and they didn't let off the throttle in the final two quarters.
And it could have been worse early for Skyline.
G-Prep blew scoring opportunities on its first two possessions – a fumble out of the end zone and a halfback pass that a Skyline player knocked down in the end zone on fourth down.
"We wanted to hit them in the mouth early and we did," G-Prep coach Dave McKenna said. "They're a good football team and they beat some great opponents, obviously, but we were just a lot better tonight."
Stepping to the front for the Bullpups' offense was 6-foot-4 sophomore wide receiver Devin Culp.
Culp, who had to be talked into coming out for football, scored on reverse runs of 16 and 59 yards, and hauled in a 43-yard pass from Liam Bell on a nice play-action fake, setting up a touchdown from Evan Weaver, who walked in from 1 yard out.
"My mom made me come out," Culp said. "But I'm glad I did."
Jared Kutsch added a 27-yard field goal.
Skyline's best offensive series came on its last possession of the first half.
Spartans quarterback Blake Gregory hit Logan Wanamaker on a 46-yarder, putting Skyline on G-Prep's 17-yard line.
But the Bullpups' defense, as it has all season, stiffened. Josh Condon got a sack on third-and-2. Skyline settled for a 33-yard field to go into intermission trailing 24-3.
Skyline (12-2) came into the game owning playoff knock outs of three undefeated-at-the-time teams – Gig Harbor, top-ranked Camas and Lake Stevens last week.
G-Prep finished with 564 yards total offense. It could have been the Bullpups' best offensive performance all season – certainly with some much riding on the outcome.
Evan Weaver, G-Prep's 6-3, 245-pound star who has wreaked havoc at defensive end and running back all season, finished with 135 yards rushing and two touchdowns.
Quarterback Bell, who had to shake off a sprained ankle in the fourth quarter, also cracked 100 yards with 115.
Receiver Ryan Gross finished the series for Bell before he returned to hold on a Kutsch field goal.
"I got kind of twisted up in the bottom of a pile," Bell said. "I really don't know what happened but my ankle rolled. I was going to finish the game. My senior year and my last game."
Culp picked up 79 yards rushing and had the lone completion for 43 yards while scoring twice.
"We've been underrated all year," Weaver said. "We proved that an East Side team was here to play. It just shows how good we are."
Weaver got double- and sometimes triple-teamed on defense. That opened the door for middle linebacker Conor McKenna, who had a team-high 11 tackles.
"We came out strong and punched them in the mouth," McKenna said. "I don't think they were ready for us. We played a great game offensively and defensively. It's one of the more complete games we've played all year. The offense was amazing. We had complete and total trust in them."
"It's going to be a happy Christmas around the McKenna household," the coach said.
Culp said he played for the seniors.
"I knew coming out in the Dome I had to have a big game to help my team," Culp said. "I couldn't be here without my brothers (teammates) and my coaches. I know this meant a lot for the seniors."
G-Prep broke four offensive title game records – for rushing (521), attempts (83), first downs (29) and total offense (564).
---