News > Spokane
Kaiser's Trentwood plant continues to reinvent itself
Sun., Dec. 6, 2015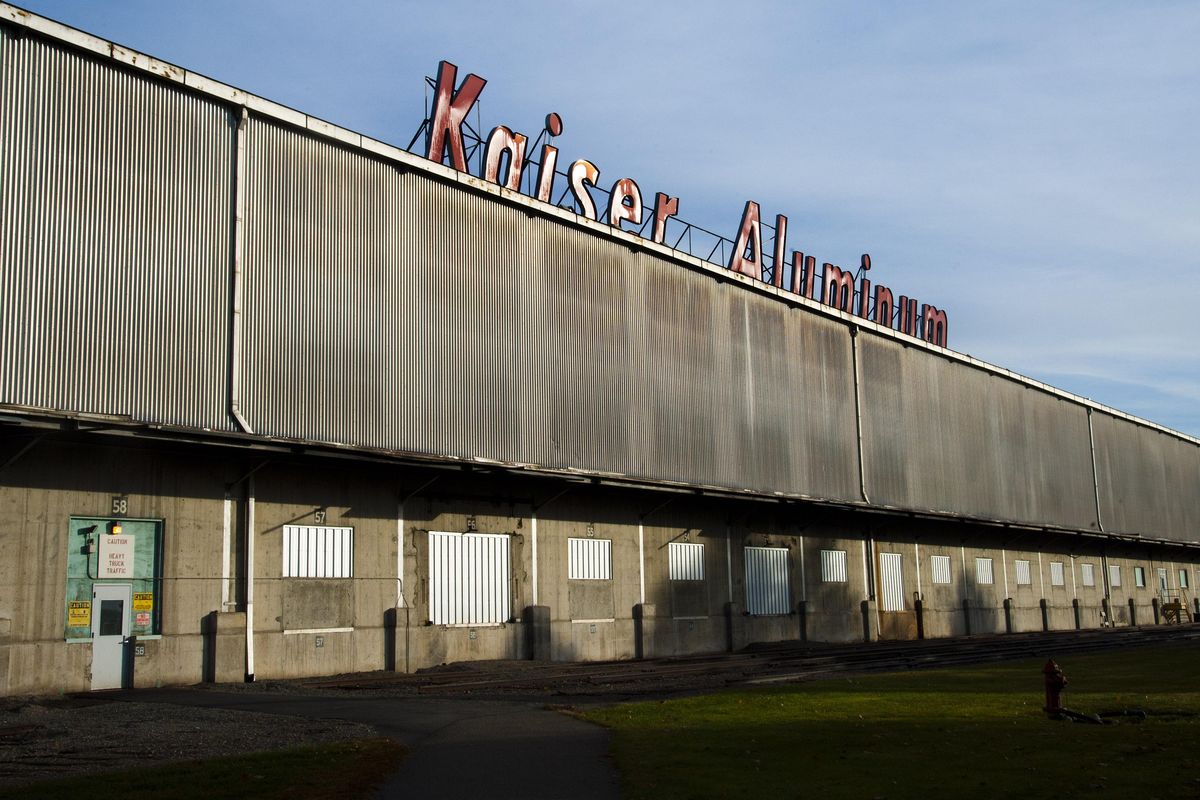 Kaiser Aluminum still displays its iconic sign atop the Trentwood facility. Instead of lighting with troublesome neon, flood lights now shine on the letters. (Dan Pelle / The Spokesman-Review)Buy a print of this photo
Jared Erickson grew up in Spokane in a family of eight supported by his dad's paycheck from Kaiser Aluminum.
He spent his early adult years on the road as a long-haul truck driver. But eight years ago, the 39-year-old was looking for a more settled job. Kaiser's Trentwood plant beckoned. He joined his father and brother-in-law there as a Steelworker.
To generations of Spokane residents, the Trentwood rolling mill represented steady, blue-collar employment, with the kind of paychecks that bought homes, put kids through college and paid for family vacations. Landing a union job there is still possible, though it's a smaller operation than in the past.
To compete in a worldwide market, the plant has reinvented itself in the past dozen years, changing its product mix and embracing lean manufacturing. About 900 people work at Trentwood and a nearby finishing center – far fewer than the 2,100 that Kaiser employed in Spokane County during the mid-1990s, before the company went through a bruising two-year labor dispute, filed for bankruptcy and shut its Mead smelter.
But Trentwood has added workers this year – a validation of the plant's new direction, company officials said.
Being on Kaiser's payroll still carries bragging rights in Spokane. When people find out where Erickson works, they often ask about how to apply.
"There's a lot of interest in how to get on here," said Erickson, who is an aluminum plate conditioner on the production line. "It's one of the better places to work."
'It set the standard'
Kaiser Aluminum's illuminated red sign has been a fixture in Spokane Valley for nearly 60 years.
The sprawling Trentwood plant incorporates 60 acres under one roof. It was part of the nation's rapid industrial buildup to fight World War II, where workers rolled aluminum into sheets for bombers and other aircraft. After the war, the government sold the factory to industrialist Henry Kaiser.
For decades, Kaiser's Trentwood plant and a now-defunct company smelter in Mead paralleled the rise of American manufacturing. For workers, a job at Kaiser was a ticket to a middle-class lifestyle.
"If there was ever a larger private sector employer in Spokane, I don't know who it was," said Shaun O'L. Higgins, The Spokesman-Review's retired marketing and sales director, and a long-time observer of the region's economy. "Those were happy days…. There were more than 2,000 workers earning good paychecks, with great benefits. It set the standard. It was real money, with real disposable income."
By the early 2000s, the bloom was gone.
A two-year strike and lockout, finally settled through arbitration, undermined Kaiser's reputation for job security.
The company closed its Mead smelter in 2000, concluding it was more profitable to sell the smelter's low-cost allotment of electricity from the region's big federal dams rather than run the plant.
The company then defaulted on underfunded retirement programs for both hourly and salaried workers, requiring a $555 million bailout from a federal agency that insures corporate pension programs.
And Kaiser itself was no longer the same company. In 2006, it emerged from bankruptcy as a much smaller operation than the old Kaiser, a vertically integrated corporation that mined bauxite ore, smelted aluminum and sold the finished product. Trentwood was one of Kaiser's 12 surviving plants.
It was time to chart a new future for the Spokane Valley plant and its workers, said Scott Endres, the company's vice president of rolled products.
Trentwood purposefully kept a low profile while the plant went through a $240 million overhaul, he said.
The operation adopted lean manufacturing principles, finding ways to speed up production, cut energy use and make better use of raw materials.
Company officials also took a hard look at Trentwood's products. The plant stopped rolling aluminum for the highly competitive beverage can industry even before its bankruptcy, and focused instead on semi-fabricated plates, sheets and coils for aerospace and other high-end manufacturing applications.
"We specialize in the hard-to-do stuff," said Kyle England, Trentwood's human resources manager.
The Boeing Co. is one of Kaiser's largest customers, accounting for about 10 percent of the company's overall sales. Trentwood also produces aluminum for Airbus, a European aircraft manufacturer, and for U.S military jets.
Trentwood built its new reputation on aluminum alloys that perform flawlessly when they're machined into airplane parts, Endres said. In addition, the aluminum processed at the plant is sold for other manufacturing applications, such as molds for computers, cell phones and iPads.
The niche represents just 5 percent of the world aluminum market.
"We decided to focus on one small segment of the market and be very, very good at it," Endres said.
The plant's transformation occurred with the endorsement of the Steelworkers.
"All of the changes were necessary," said Dan Wilson, president of United Steelworkers Local 338. "We want good wages and benefits and job security, and to do that, you need a thriving company."
Labor relations have improved dramatically since the strike and lockout, both sides say.
The labor dispute "represented a massive failure and it did a lot of damage to Kaiser as an organization," Endres said. "We hurt a lot of people in the community."
"You almost have to compare it to the Civil War, it was so divisive," Wilson said.
As part of Kaiser's reorganization following the bankruptcy, the Steelworkers select four of the 10 members on the company's board of directors.
"It's an exceptional relationship in the industry," Wilson said.
United Steelworkers Local 338 signed a five-year contract at the Trentwood plant earlier this year. It was negotiated months ahead of the old contract's Sept. 30 expiration date. That's an indication of the cooperative spirit between union and management, both parties said.
Company officials were mum on the contract's details, saying they don't reveal pay scales – or even the precise number of Trentwood workers – for competitive reasons. Wilson, however, said that some of the plant's beginning positions pay in the $18-per-hour range. And several years ago, company officials said the plant's payroll was in the $47 million range.
In Spokane County, the average wage in the manufacturing industry was $51,900 last year, compared to an average of $42,650 for all industries.
Endres said Kaiser's customers are keenly interested in the status of the company's labor relations, because they don't want any supply chain interruptions.
"They're looking for ways to reduce risk," he said.
Overseas competitors, carbon laws still pose challenges
But Trentwood isn't out of the proverbial woods. The plant's future depends on its ability to compete in a global aluminum market.
Aluminum prices have dropped by 30 percent over the past year amid industry reports that Chinese producers were flooding the world market.
The price drop affected Alcoa, another U.S. company, which announced it would idle two aluminum smelters in Washington and a third in New York as a result of falling prices.
Kaiser isn't directly impacted, because it shut its smelters years ago and makes a semi-fabricated product instead of a commodity. Demand for its aluminum alloys remains high from the aerospace industry, with manufacturers experiencing years-long backlogs in orders of planes, company officials said.
But during a third-quarter earnings conference call, a financial analyst asked Jack Hockema, Kaiser's president and chief executive officer, about the potential for low-cost aluminum imports to erode prices for Kaiser's higher-end alloys.
Hockema said the company is more concerned about competition from Western Europe and South Africa than China. The company also counts Russia as an emerging competitor for the aluminum alloys it produces.
In the push to make lighter, stronger airplanes, aluminum produced at Trentwood also faces competition from other materials, such as carbon and titanium. In Trentwood's research and development laboratory, there's an ongoing effort to create new products to serve customers' evolving needs, Endres said.
Carbon legislation could also impact Trentwood's global competitiveness, Kaiser officials say. Trentwood is among 35 Washington factories and other facilities that emit 100,000 metric tons or more of climate-warming greenhouse gases annually. Under proposed state rules, large emitters would have to find ways to cut greenhouse gases or purchase carbon offsets.
Metal manufacturing is energy intensive, said Bud Leber, Trentwood's environmental engineering manager. The furnaces used to melt the aluminum are heated to temperatures between 1,700 and 2,000 degrees, which requires natural gas, he said. "It's not something you can substitute wind power or solar energy for."
In the past five years, Trentwood has cut its energy use per unit of aluminum produced. Company officials said they'd like credit for the emission reductions that have already occurred.
"We've staked our company on being a North American manufacturer," Endres said. "The global market is growing and it will be served by somebody. Is it better to be served out of Spokane, Washington, or to be served by China or Russia?"
Trentwood's future requires constant watch on production costs, company officials said.
"Not only do we want to finish our careers here, but we want the next generation of workers to have jobs here," Endres said.
That's the hope of plant employees, too.
"It's a fascinating job, what we do here and who we produce metal for," said Erickson, the aluminum plate conditioner."I will probably retire out of it."
Local journalism is essential.
Give directly to The Spokesman-Review's Northwest Passages community forums series -- which helps to offset the costs of several reporter and editor positions at the newspaper -- by using the easy options below. Gifts processed in this system are not tax deductible, but are predominately used to help meet the local financial requirements needed to receive national matching-grant funds.
Subscribe now to get breaking news alerts in your email inbox
Get breaking news delivered to your inbox as it happens.
---