Sports > Gonzaga women
Stocktons reunited in Gonzaga women's 65-52 win over Montana State
Sun., Dec. 6, 2015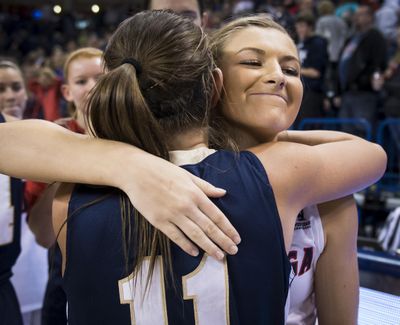 Homecomings always should feel this cozy.
At one end of the McCarthey Athletic Center floor on Sunday afternoon, Laura Stockton was signing autographs after Gonzaga's 65-52 win over Montana State.
Not 100 feet away, her sister Lindsay and her teammates emerged from the visitors' locker room. In the hallway, their father, John, was waiting with cookies – baked by his wife, Nada.
Minutes later, the Stockton family gathered, exchanging hugs. Then the Bobcats had a bus to catch.
"It was fun to be on the floor with her again, but I really miss my sister," Laura said.
Other families gathered, too, on this Homecoming Sunday. There was MSU sophomore Hannah Caudill, once a teammate of Laura's at Gonzaga Prep; and Bobcats sophomore Delany Junkermier, formerly of Mead. Since the beginning of the season, they've been getting some extra coaching from John Stockton, who couldn't suppress a smile at their combined stat line: 15 assists.
"He does know a little about the game," Lindsay said.
Watching from the stands was another matter, even for an NBA Hall of Famer.
"It's a little different," John Stockton said. "It's hard when you like everybody from both teams. It was difficult, but it was a joy."
No one missed the moment. The crowd of 6,000 gave it up for Lindsay and Caudill in pregame introductions before both teams settled in for an emotional game that brought out the best in both teams – defensively, anyway.
The Bobcats (5-3) came in determined to stop GU's inside game, and largely succeeded. The Bulldogs led 25-22 at the break despite shooting 9 for 31 from the field.
"I just felt that we need to settle down a little," said GU coach Lisa Fortier. "They were trying to take away our inside, but we were still forcing it a little bit."
Slowing the pace and improving their shot selection, the Bulldogs began to find the range. They hit 48 percent from the field in the second half and finished 8 of 16 from 3-point range, but MSU kept pace.
GU led 44-35 going into the fourth quarter, but Lindsay Stockton took a feed from Caudill and scored a layup that made it 46-41 with 6:31 to play. Suddenly, the Bulldogs were reliving Thursday's game against Wyoming, when a late slump led to overtime before they pulled out a four-point win.
It didn't come to that on Sunday, mostly because of Gonzaga's depth. No Bulldog finished with more than 11 points – which pleased Fortier – but most of them made key contributions down the stretch.
Post Shelby Cheslek – who also had a game-high nine rebounds – got the last of her 10 points on a put-back, and freshman Jill Barta added a 3-pointer off a pass from Laura Stockton.
That made it 51-42 with less than five minutes left. Barta added two free throws and another trey to make it 56-49 before Elle Tinkle hit a short jumper and Zhane Templeton made a layup to give the Bulldogs their first double-digit lead, 60-49, with 1:29 left.
Tinkle had a game-high 11 points and Barta had 10. Each had six rebounds.
Said Tinkle, "It all came together with all of us being selfless … letting our plays develop, trying to adapt to our roles and not playing outside of ourselves."
That will be even more important as the Bulldogs (6-3) begin a difficult five-game road trip that begins Tuesday night at Washington State. On Friday, GU is at Dayton, then at Colgate two days later.
West Coast Conference action begins Dec. 21 at Pepperdine.
Help is on the way. Sophomore post Emma Wolfram was back in action Sunday for the first time since undergoing offseason shoulder surgery. She played just eight minutes and scored two points, but showed promise for the future.
"She just brings another dimension to what we can do in the post," Fortier said. "She's not 100 percent … but for team morale, it's great to have her out there."
Local journalism is essential.
Give directly to The Spokesman-Review's Northwest Passages community forums series -- which helps to offset the costs of several reporter and editor positions at the newspaper -- by using the easy options below. Gifts processed in this system are not tax deductible, but are predominately used to help meet the local financial requirements needed to receive national matching-grant funds.
Subscribe to the sports newsletter
Get the day's top sports headlines and breaking news delivered to your inbox by subscribing here.
---