No. 20 Gonzaga holds back Montana's spirited effort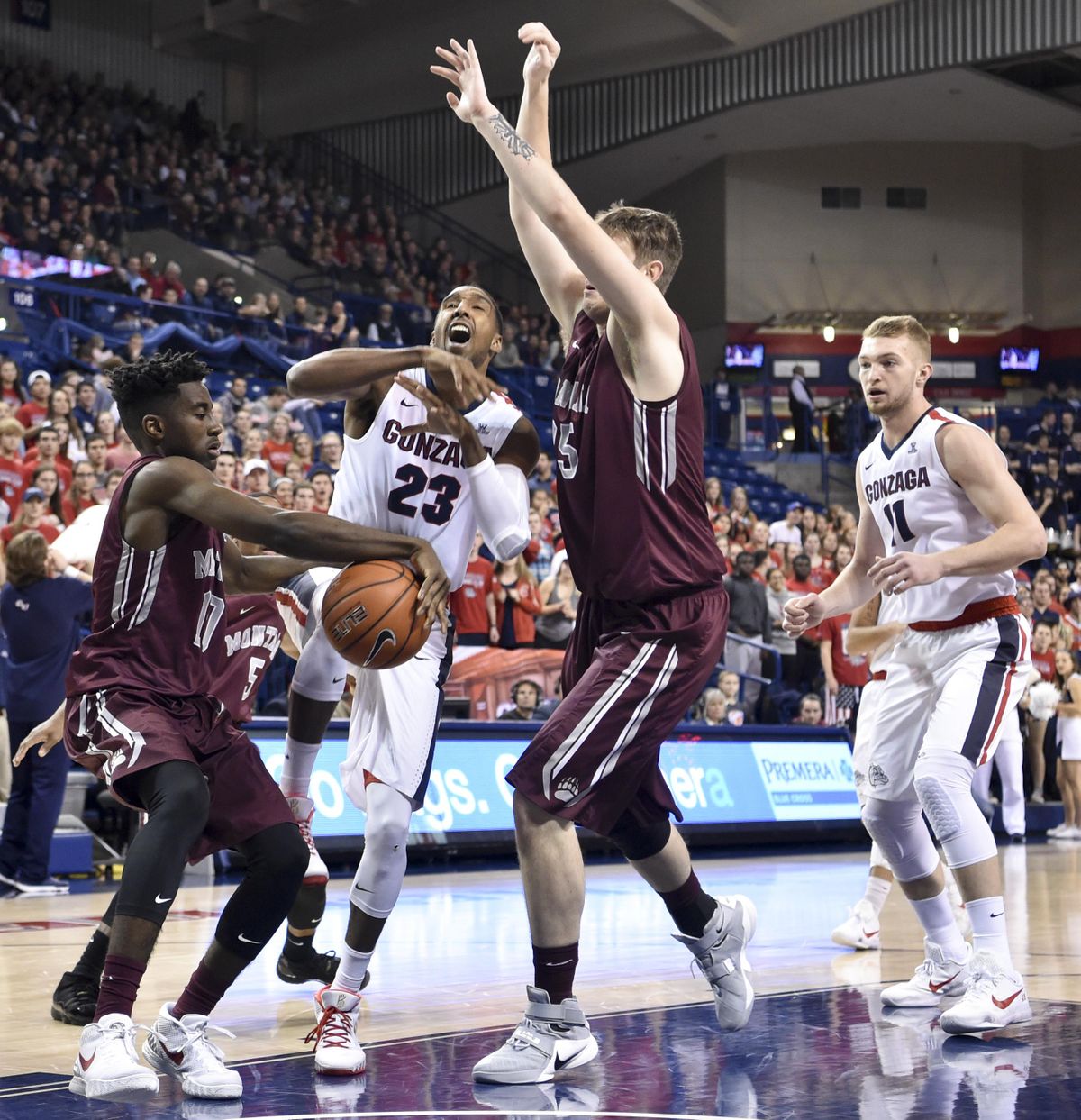 Gonzaga got back in the win column Tuesday, but it wasn't easy.
Coaches and players used words like "ugly" and "fortunate," and phrases like "we're getting in our own way right now."
They were also able to praise a couple of clutch plays late, and those were just enough for the 20th-ranked Zags to pull out a 61-58 nonconference victory over Montana before an announced crowd of 6,000 at the McCarthey Athletic Center.
Gonzaga (6-2) scored the final five points in the last 60 seconds to prevent Montana's upset bid.
"Crazy, exciting game, and we were really lucky and fortunate to survive and get the 'W.' " said Zags coach Mark Few, who added: "Again guys, we're 2-1 without Przemek (Karnowski) and very well could have been 3-0. He's a huge part of who we are. I think these guys are performing admirably without one of their best, most important players on the floor."
Karnowski sat out for the third straight game with a back injury that Few noted "doesn't seem to be getting much better."
The Zags were coming off a 68-63 loss to Arizona in which they scored 25 in the second half. The points didn't come any easier against the Grizzlies (3-4).
GU led 29-23 at half despite making just 34.5 percent of its shots. Montana used a 12-0 run to go on top 35-33 before Josh Perkins' jumper ended a 6-minute, 40-second dry spell and a streak of 10 empty possessions.
The Zags went up by seven, but Montana fought back to take the lead on a rare five-point play with 1:07 left. Colfax High product Brandon Gfeller hit a 3-pointer just as Gonzaga's Kyle Dranginis was called for a foul for knocking over a screener. Jack Lopez made two free throws to put Montana on top 58-56.
Perkins made the first of two free throws, and Domantas Sabonis tipped Perkins' miss out to a teammate. The redshirt freshman point guard connected on a 16-foot jumper to give Gonzaga a 59-58 lead with 38 seconds remaining.
"Both (defenders) went with (Kyle) Wiltjer, I had an open shot so I had to knock it down," Perkins said.
That was by design.
"They've got All-Americans and those guys make plays and Perkins, who hadn't been scoring a lot of points for them, we were going to force him to win the game for them and take shots away from Wiltjer," Grizzlies coach Travis DeCuire said. "He was ready to go. He jumps up and makes the shot."
Montana forward Martin Breunig, who scored 18 of his 20 points in the second half, missed from the middle of the lane. Wiltjer made two free throws with 7.5 seconds left and Gfeller's open 3-point attempt bounced off the iron at the buzzer.
"Coach drew up a good play, my teammates set some good screens," said Gfeller, who was 3 of 10 beyond the arc. "Got to knock that one down."
The Grizzlies made just 36 percent of their shots, but they converted 13 GU turnovers into 14 points.
The Zags, who entertain UCLA on Saturday, shot a season-low 40 percent from the field. Wiltjer, who led GU in scoring in the previous five games, and Sabonis shared team-high honors with 16 points. Sabonis grabbed 10 rebounds for his third double-double. Perkins added 13 points and Eric McClellan contributed 11.
"We're getting in our own way right now, but we'll fix it," McClellan said. "We don't want to be playing our best basketball now. We want to be playing it in March. It's a marathon, it's a process."
---