Sports
Adam Helewka's return gives Spokane Chiefs big spark
Thu., Dec. 10, 2015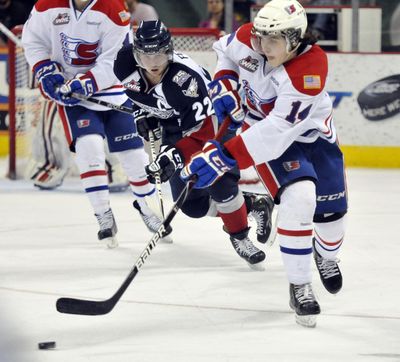 The Spokane Chiefs became a different team earlier this season when their best offensive player returned after participating in the training camp for the San Jose Sharks.
After missing 12 games, forward Adam Helewka instantly added punch to Spokane's first line. Helewka has fueled a run by which the Chiefs have won 15 of their last 19 games.
When Helewka gets the puck, defenders gravitate toward him. With a combination of speed and grace, Helewka becomes instant offense for either himself or teammates around him.
In only 17 games, Helewka leads the team with 16 goals, including a hat trick last Friday. Helewka's 28 points are second only to Kailer Yamamoto's team-leading 40.
"I think he brings leadership and scoring," coach Don Nachbaur said of Helewka. "We need both of those things out of him. He sets a good example for our young guys. He's that one catalyst from the group that we had returning who has the ability to score."
Helewka, 20, from Burnaby, British Columbia, is playing his last games for the team he has called home since 2011.
Helewka was selected in the fourth round of the NHL draft (106th overall) last June by the Sharks. He returned to the Chiefs in late October after he was released from his amateur tryout agreement with the San Jose Barracuda of the American Hockey League.
When he takes the ice, opposing teams often send two defenders to slow him down. But Helewka relishes those moments, when he said everything tends to slow down.
"It's an amazing feeling. My happiest time is when I'm heading down the ice, breaking down a 3-on-1 or a 1-on-2 and heading for the goal," he said.
Helewka brings speed and his body finally started to fill out to provide the strength he needed to fend off defenders. Nachbaur said he saw Helewka's transformation last year as the forward led the team with 87 points, including 44 goals.
"Last year, he was a lot stronger player with the puck. The scouts took notice of that," Nachbaur said. "That translated into him scoring more and making plays. He wasn't getting knocked of pucks … like years past."
When Helewka gets the puck, he seems to move without effort. But defenders clearly struggle to catch up to his fluid skating.
"I would say he could be our quickest guy on any given night. When Adam is good, he's on a mission," Nachbaur said. "When he slows it down, he becomes just another junior hockey player. But when he brings it, he's hard to contain.
"That's the challenge for every hockey player, is finding that game that is consistent."
Helewka admitted as much, especially after taking part in the Sharks' training camp.
"It was an unreal experience just to see the work that NHL players go through to stay in shape. You obviously have to have skill, but it's also how hard you work," he said. "As you get older, it gets easier. But at the next level, nothing is easy."
In addition to his goal scoring, Helewka's offensive ability provides openings for teammates. For instance, against the Everett Silvertips on Nov. 29, the game had just started when Helewka fired a shot that Riley Whittingham deflected into the net for the game's first goal.
"He's a great player to play with," Whittingham said of Helewka. "He always finds you with the puck. I wouldn't have scored if not for him."
Helewka said he remains focused on finishing the year strong as he chases his dream in the sport he started at age 6.
"We need to take the team as far as we can," he said. "Then I hope to jump to the AHL and keep working my way up. Skill can only take you so far. It also comes down to working hard and being smart, as well."
In the meantime, Spokane fans will get their last chances to cheer for a player who becomes a missile with a stick when the puck comes free.
"I love the game," Helewka said. "I can't see myself not playing it. I want to play as long as I can."
Local journalism is essential.
Give directly to The Spokesman-Review's Northwest Passages community forums series -- which helps to offset the costs of several reporter and editor positions at the newspaper -- by using the easy options below. Gifts processed in this system are not tax deductible, but are predominately used to help meet the local financial requirements needed to receive national matching-grant funds.
Subscribe to the sports newsletter
Get the day's top sports headlines and breaking news delivered to your inbox by subscribing here.
---