Sports
Sun Bowl: Miami on high after series of lows
Fri., Dec. 11, 2015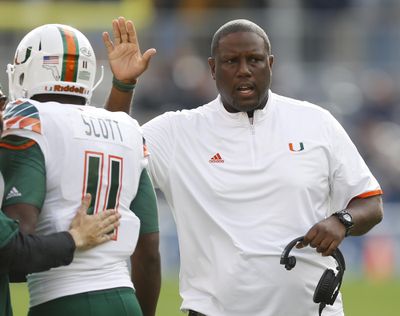 On the day his team was selected to play in the Sun Bowl, Washington State coach Mike Leach admitted he didn't know much about the Miami Hurricanes.
Mike, join the rest of the college football world. Since the beginning of the season, the Hurricanes have been an enigma even to their fans.
On Dec. 26 in El Paso, the Cougars will face a team that has run the emotional gamut from exhilaration to despair, from the worst loss in school history and the mid-season firing of coach Al Golden to the incredible eight-lateral kickoff return to beat Duke on Halloween night.
The Miracle in Durham helped Miami win four of its last five games under interim coach Larry Scott to finish 8-4. That set the stage for an unlikely matchup with the Cougs, who have every reason to be wary of a team that's as predictable as a loose roller-coaster.
"We've been talking to the kids about having pride, and absolutely, as coaches you take a moment and take pride in what we're doing as well," Scott said after a season-ending 29-24 win at Pittsburgh.
"Around the room there was a high pride factor about what we were able to accomplish. We accomplished it all together, which made it sweeter. It wasn't perfect, but it was a fun ride," Scott said.
The journey isn't over, and even the coaches don't know their final destination. Many, perhaps even Scott, will be looking for new jobs at the end of the year after the hire of former Georgia coach Mark Richt.
Miami's journey has been bumpy from the start. Before the season opener against Bethune-Cookman, a plane flew over Sun Life Stadium trailing a banner that called for the firing of Golden, who went 6-7 the year before. Miami won that game 45-0, but not before a lightning storm forced a 75-minute delay.
Lightning struck twice that month, forcing another game delay before Miami picked up a 44-20 win at Florida Atlantic.
Darkness soon descended on the Canes, who blew a 24-point lead to Nebraska before pulling out a 36-33 overtime win, then dropped two straight road games, at Cincinnati (34-23) and No. 12 Florida State (29-24).
Miami seemed to get back on the right foot with a 30-20 win over Virginia Tech, so no one could foresee what would happen when sixth-ranked Clemson arrived.
The result was a 58-0 loss – the worst in the program's 90-year history – and the stands were empty by halftime. Golden was fired the next day, replaced by Scott, the tight ends coach.
After praising Golden's commitment to the program, Miami athletic director Blake James said in a statement. "We have a proud tradition of excellence at Miami, not just in football but in all sports, and we want to compete for ACC and national championships.
"I simply believe that now is the time to bring the Hurricane Family together and rally behind our young men," James said.
The Hurricanes did just that. The same day Golden was fired, defensive back Artie Burns' mother died unexpectedly. The team and school rallied around Burns, ultimately raising $40,000 to help his family through a GoFundMe account.
Before the next game, at No. 22 Duke, Scott encouraged the players to have fun and believe in each other. That came in handy after Duke took a 27-24 lead with six seconds left. Miami's only chance was to return the kickoff for a touchdown; eight laterals later, they did just that.
Said Scott after the game, "You don't see many of those plays in college football. My heart goes out to those kids and it's all about them. It's about us as mentors and teachers rallying around what we needed to rally around for them, and they came through in the end."
That was only the beginning; Miami won three more games, finishing 8-4 for a two-game improvement over last year's 6-7 campaign.
After a 29-24 win at Pittsburgh, Scott fought the lumps in his throat and tears in his eyes as he addressed the media.
"It's been fun and rewarding to watch the kids to see how they're responded. They've been resilient. … Having it come together for the kids was pretty emotional for me," Scott said.
Local journalism is essential.
Give directly to The Spokesman-Review's Northwest Passages community forums series -- which helps to offset the costs of several reporter and editor positions at the newspaper -- by using the easy options below. Gifts processed in this system are not tax deductible, but are predominately used to help meet the local financial requirements needed to receive national matching-grant funds.
Subscribe to the sports newsletter
Get the day's top sports headlines and breaking news delivered to your inbox by subscribing here.
---
Subscribe and log in to the Spokesman-Review to read and comment on this story