News > Spokane
ATF agent who's been part of some of the region's biggest news stories to retire
Mon., Dec. 14, 2015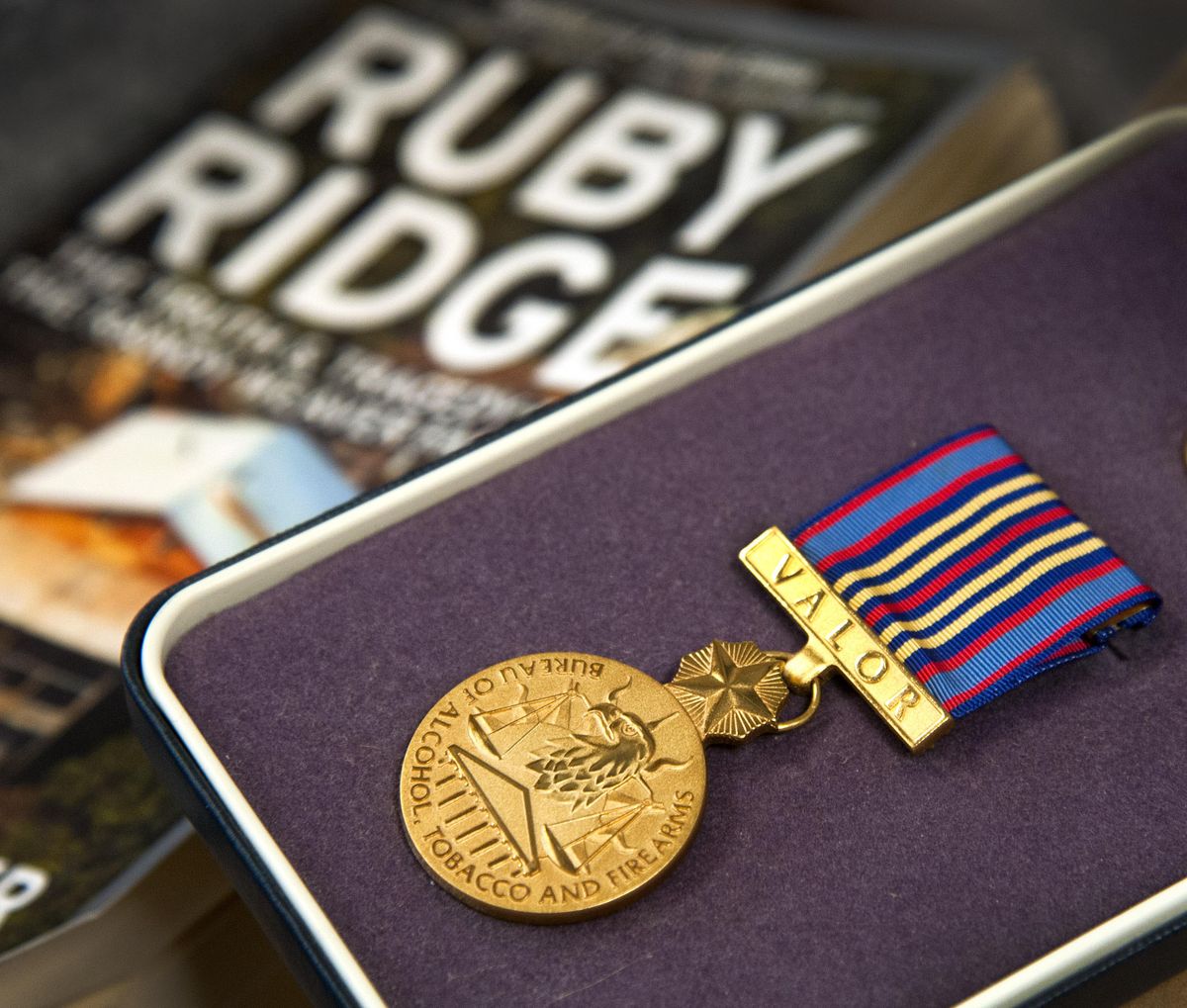 ATF Special Agent Lance Hart was awarded the Medal of Valor for his efforts when he saved a nine-year-old girl from drowning in a lake. Hart also arrested Randy Weaver before the Ruby Ridge standoff and is now retiring after nearly 29 years of service. (Dan Pelle / The Spokesman-Review)Buy a print of this photo
Special Agent Lance Hart never intended to spend his career in Spokane. When he joined the Bureau of Alcohol, Tobacco, Firearms and Explosives in 1987, he was asked to rank four northwest cities for assignment: Portland, Seattle, Boise and Spokane.
Hart had never been to the Inland Northwest, and he assumed Spokane looked like Central Washington.
"Spokane was dead last," he said, laughing. He didn't realize the Seattle agent in charge of assignments had a habit of sending new recruits to their last-choice city.
Twenty-nine years later, Hart, 56, is retiring at the end of the year from a life of arson and firearms investigations. The job has taken him around the country, but he says he doesn't want to live anywhere else.
"It was a blessing," he said of his original assignment.
Hart started his ATF work after serving as a Navy pilot. At the time, the bureau was developing a flight program that drew his interest. The program was scrapped, so Hart instead worked on firearms investigations, where his long hair made him a convincing undercover agent. ATF was under the Treasury Department when Hart started work, so he got to spend a few nights on the 1988 campaign trail, helping members of the Secret Service guard George H.W. and Barbara Bush and Michael Dukakis.
In January 1991, another ATF agent, Herb Byerly, asked Hart to join him in arresting Randy Weaver, who was suspected of illegally selling two shotguns to an informant. Hart and Byerly posed as broken-down motorists on a bridge below Weaver's cabin and made the arrest after Weaver stopped to help them.
Hart said at the time he had no idea Weaver's arrest would lead to a 10-day standoff that would leave a U.S. marshal and Weaver's wife and son dead.
"He felt taken advantage of," Hart said of the original arrest.
Hart joined other federal agents on the hill during the Ruby Ridge standoff and said they worked to find moments of humor in a tense situation. At one point, the ATF agents put up a "toll bridge" sign, pretending to charge FBI agents for crossing the bridge ATF was holding.
"It was very stressful because it was a waiting game," he said.
After almost a decade working guns and drugs, Hart applied for fire investigator training and spent two years at the University of Maryland. He's been an arson specialist for more than 15 years and said he prefers unraveling the story of a fire to the cut-and-dried work of firearm investigations.
"It's a whodunit, and you have to put a lot of the pieces of the puzzle back together," he said.
Hart is a member of the National Response Team, which responds to high-profile explosions and arsons around the country. He spent three weeks at the Pentagon following the Sept. 11, 2001, attacks, helping agents comb through the wreckage in search of flight recorder data. Work has also taken him to the 2002 Winter Olympics in Salt Lake City and the Miss Universe pageant in Puerto Rico. In 2000, the ATF awarded him a Medal of Valor for an off-duty rescue of a girl who nearly drowned in Long Lake after stormy weather rocked her boat.
In Spokane, Hart worked with local agencies to investigate Robert Wood, a man accused of strangling his 11-year-old son, Chris, and burning down his house in a 1999 insurance scheme. Hart used the ATF's national fire research laboratory in Maryland to create a mock-up of the house and test his theory of how the fire spread. He was prepared to testify, but Wood hanged himself in the Spokane County Jail before a trial could begin.
"I was so angry at that time because I wanted to be able to prove that he set that fire," Hart said.
Of the hundreds of cases he's worked, Hart said arson homicide cases are the most memorable and often the most satisfying.
"All of the arson homicide cases I put a lot of work into trying to seek the truth and prove the case," he said. Sometimes, he'll get cards years later from a victim's family members, he said.
In particular, Hart said he enjoyed working on an Anchorage, Alaska, case in which his testimony helped convict a landlord who murdered a 21-year-old college student before setting her apartment on fire.
Anchorage detectives asked for his expertise in the 2003 disappearance of Bethany Correira, whose body was found in a gravel pit. Hart testified at the trial of Michael Lawson, the landlord, and remembered seeing Correira's father carrying a backpack with his daughter's remains into the courtroom.
"He brought her to court every single day," he said.
Hart isn't all business. He enjoys scuba diving and has become a proficient guitar player, thanks to weekly lessons over the past few years.
After a stressful day at work, "there's nothing like going down into the basement … and being your own rock star," he said. About two years ago, he played Bryan Adams' "Cuts Like a Knife" at a benefit show at the Knitting Factory, an event he called "the most stressful part of my life."
"My brother drove all the way from Portland" for the show, Hart said. "He goes, 'I want to see this train wreck.' " In spite of his stage fright, the performance went well, Hart said.
Over the past few years, Hart has worked on several cases involving explosions caused by people using butane to extract hash oil from marijuana. He was part of an ATF team that investigated a January 2014 explosion at a north Spokane apartment building that injured several residents. The U.S. attorney's office was able to charge Donnivan Whitcher under federal arson law for the resulting fire, the first time that law has been used to prosecute someone for making hash oil. Whitcher took a plea deal and was sentenced to five years in prison.
With his retirement just a few weeks off, Hart has started to pack up his books. Stacked in boxes along his office wall, they range from scientific explanations of fire chemistry to accounts of the Ruby Ridge standoff.
"The bookcases have all been claimed" by other agents in the office, he said.
Retirement will give Hart more time to spend with his wife and children, but he's not planning to stop work entirely. He's starting a consulting business with a retiring fire investigator from Spokane Valley to determine the cause and origin of fires for the insurance industry.
"I'm hoping things will be quiet," he said.
Local journalism is essential.
Give directly to The Spokesman-Review's Northwest Passages community forums series -- which helps to offset the costs of several reporter and editor positions at the newspaper -- by using the easy options below. Gifts processed in this system are not tax deductible, but are predominately used to help meet the local financial requirements needed to receive national matching-grant funds.
Subscribe now to get breaking news alerts in your email inbox
Get breaking news delivered to your inbox as it happens.
---